There is love everywhere -- Mt. Mansfield
Submitted by Nancy

Stats
Mountain: Mansfield (elevation 4,393 feet)
Date: June 20, 2011
Time: 5 hours
Weather: Sun and clouds, breeze, 70s
Miles: 3
Trails: Long Trail, Cliff Trail

---
"When one has once fully entered the realm of love, the world - no matter how imperfect - becomes rich and beautiful, it consists solely of opportunities for love."
~Soren Kierkegaard

"Your task is not to seek love, but merely to seek and find all the barriers within yourself that you have built against it."
~Rumi



We're back on the trail! Yippee!

Pat and I haven't hiked since our Boott Spur hike in the Whites and then our Grand Canyon adventure last September, except for a few Monadnock excursions this winter and spring.

A lot has happened since then. On Boott Spur we faced the fact that hiking didn't hold the magic it used to for us. The realization was gut wrenching. Then we went to the Grand Canyon where we did the most difficult hiking we have ever done; heavy packs, grueling hot temperatures, rough unknown trails. It tested our strength, courage, stamina and friendship. We came back exhausted in all ways and I concluded that I wasn't supposed to be hiking anymore. For weeks after Pat and I were lost in a painful place of feeling the loss of hiking yet not knowing what might replace it. Then I had an epiphany. I didn't want to stop hiking. I just didn't want hiking to define my life. I wanted hiking to be a part of my life.

In the midst of the turmoil around whether we were going to hang up our boots, I was talking with a publisher about my book. I had finally let in what so many people had said to me, Nancy - write a book. I decided to follow the grace wave and figured if I was really supposed to publish a book, then it would happen. I gave Sarah Bauhan of Bauhan Publishing the finished manuscript in November 2010. The book came out this April - 60 inspirational stories and 245 color pictures. It's beautiful! Since then Pat and I have been traveling all over New England giving our It's Not About the Hike presentation and selling the book. And that is where this hiking story starts.

####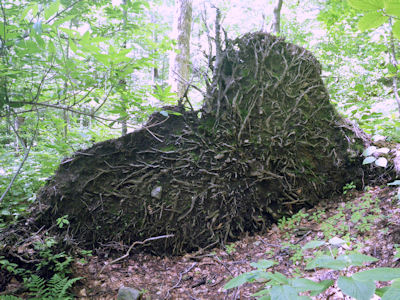 In the past few weeks, we've hiked Avalon and Willard, two 52-With-a-View mountains, Monadnock and Moosilauke, a 4,000-footer in the Whites. Those hikes served to clean out the cobwebs that had formed in our bodies and on our packs over the winter and spring and get us back into hiking mode. The questions like - What do I put in this pack? How does this go on? What is this strap for? were cleared up. The concerns over what to wear, what might still fit given I've gained some weight and how tight a pair of shorts can be before they are uncomfortable were sorted out. And after forgetting to bring almost everything on the first two hikes, oh, like a raincoat, my camera and a bandana, I started to get back into the hang of packing my gear.
The choice of what mountain to hike is a grace wave decision. Pat and I set aside Monday, June 20, to hike. On Sunday we are talking about where we should go and I suggest Mansfield, a 4,000-footer in Vermont. It just comes out of me, not sure why, but it is there so I say it. We've climbed Mansfield a few times - took Don to the top once and climbed it in winter and also turned back once. I remember being disappointed we didn't get views when we climbed it with Don. The mountain had been in a cloud and it was spitting rain. So the plan is set...Mansfield.
I get home that afternoon and have an e-mail from a guy named John Walters from Waterbury, Vermont, who says he is hosting a radio program on WDEV, had found my book and thinks I'd be a great guest. Could I be interviewed on Monday? Well - that is an easy answer - no, Pat and I are hiking.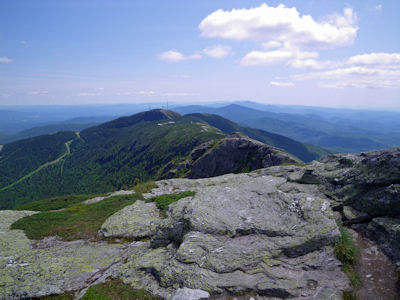 I write him saying I can't make it and then take the dogs for a walk. As I walk through the woods, my head clears and a thought pops into my head. I wonder where Waterbury, Vermont is. When I get home, I look on the web and find that it is 20 minutes from Mansfield. I call Pat and tell her the grace wave is taking us for a ride. Then I call John Walters and tell him we'll be there at 9 a.m. for the radio show. I'm not sure what is going to happen on Monday, but I am sure we are supposed to be on the radio program and climb Mansfield.
We find WDEV, no problem. John Walters is a peach. He did his research and is ready for the interview with great questions and a keen interest. Pat and I enjoy our live radio hour.
Then we drive to the trailhead and head up the Long Trail. Dejah and Pinta are happy to be on the trail. Pat is in front of me, barreling up the mountain. We'd gone maybe half a mile when I see a tree that has toppled over revealing it root. The mass of roots and earth form the shape of a huge heart. It seems to be saying to me, look, love is absolutely everywhere.
The trail is not terribly steep - just a continuous up. Before long I am huffing and puffing and have assumed the oh-holy-shit-this-is-hard stance - my hands on my hips, my thumbs tucked under the waistband of my shorts and elbows back maximizing my lung capacity so that I can get as much air in as possible.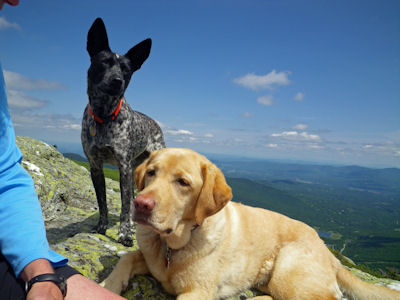 We reach the intersection with the Profanity Trail. Love the name, right? The Profanity Trail is the "Bad Weather Bypass," because it stays in the trees, as opposed to the Long Trail that brings you up steep ledges exposed to the weather. Although the name Profanity Trail makes me wonder what we will encounter, we take it, worried how the dogs would fare on the ledges. The trail is very steep but definitely doable. I am hiking up, wondering when I am going to start swearing when something happens and I find myself on my knees, holding on to a rock for dear life, my thumb screeching in pain. I gradually stand up and realize I am okay, except for my thumb, which looks fine but really aches.
I try to just hold on knowing that the pain will eventually go away. But boy it hurts - the kind of hurt that brings tears to my eyes even though I don't want to cry. I hear Pat yelling back to me, asking if I am okay, but I can't answer her. She comes back down the trail and joins me, concerned. I feel like I just need some time to stand there, when I start feeling nauseous and dizzy and have to sit down. That wave passes and gradually I begin to recover. My body is buzzing and my thumb is numb...ah, that's better. My thumb looked fine - nothing that would signal a serious injury. I feel stupid and spend a lot of energy judging myself as a wimp. Meanwhile, my body is tingling and my balance isn't all that good.
I am clear I want to keep going; we are so close to the top. As we hike up, Pat and I try and figure out what happened. I think I tripped when I was in the oh-holy-shit-this-is-hard stance, and I ripped my thumb out of my waistband and land with all my weight on that hand. I'm still not sure exactly what happened, and I realize it doesn't matter. We arrive on the top to beautiful views of the ridge along the top of Mansfield running out from our feet stretching for a mile, but I'm not fully enjoying it. I don't feel like myself and that unnerves me.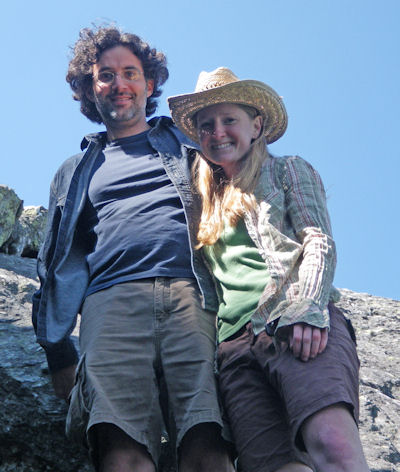 We walk along the ridge and come to a group of men and women in Army fatigues having lunch. I immediately think of Sean, my son-in-law, who served in Iraq for two years. I get emotional thinking about what Sean and all of these young men and women have to do and see everyday for those of us who are safe and sound at home. They experience and witness the horrible, and it changes them. My heart goes out to each and every service man and woman. And here they are, on the top of Mansfield.
"Thank you for your service," I say to them.
"You are welcome. Thank you," one young man says.
"You know," I add, fighting tears, "I wish I had more than just thanks. It doesn't seem enough given what you do."
"It's not so bad," he says. "Look where we get to have lunch!"
"I wish I had more than just words. But, thank you is all I have," I say. "So thank you, really, thank you."
My tears overflow, but I don't think they notice. There is love everywhere. Theirs in their service, mine in gratitude for what they give.
Pat and I find a flat rock to eat lunch. I am cold and have a fleece on my legs and two jackets and a hat on. I'm still not feeling like me. Pat suggests we go down a trail that would bring us to the top of the Stowe Resort gondola, called the Cliff Trail, and either take the gondola down, if they will let us, or walk down a ski trail. Either way, it will be easier for me than going down the steep rocky trail we came up since I can't use my left hand. I agree.
We head down the Cliff Trail to the gondola. It is steep! And it keeps getting steeper until we come to a section that puts my heart in my throat. Huge boulders, lots of space between them, a few rungs to hold onto. Dejah is anxiously running back and forth behind Pat who is easing her way down one of the boulders. Dejah finally gets up the nerve and jumps, landing hard, way down near the bottom below the worst part of the boulder trail. Pat extends a hand and I get across and down the worst of the section. We turn around looking for Pinta who is running back and forth on top of the boulders, crying. Pat goes back up to see if she can coax her down. No way.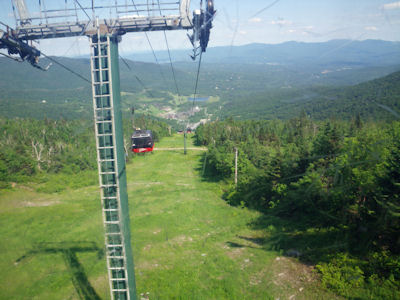 "You go down to the gondola," Pat says to me. "I'll go back up this trail and then down the one we came up. I'll meet you at the car."
"That doesn't sound like a good idea to me, Pat," I say. I realize, though, that if I am going to stick with Pat, which feels right, I have to get back up that awful boulder, and so does Dejah.
At this point a young couple comes up the trail, sees our situation and immediately offers to help. Jonathan, long-legged and strong, climbs on top of the boulder and Pat hands Pinta down to him and he gracefully and slowly carries her down the boulders. His friend Wendy guides his feet down the steep decline, since he can't see them, his arms full of Pinta, who is unbelievably calm.
"The trail is much easier from here on down," they reassure us.
"Thank you, thank you so much!" We say. Wow, they are so kind. No judgment, no drama, just strong hands and willing hearts. There is love everywhere.
We arrive at the gondola station and I hold the dogs while Pat goes in and talks to the guys running the lift. She tells them I am injured and asks if we can ride down. They ask if I am seriously hurt and need first aid. She explains I hurt my hand and that ice would be nice. They radio down to the bottom, tell the attendants that we are coming and then Pat, Pinta, Dejah and I climb onto the gondola and head down the mountain. Ahhhh...relief!
When we arrived at the base, we hear one of the attendants say as he guides our gondola to the exit point, "The woman is injured. No charge. No questions asked."
We get out of the gondola and another young man hands me a bag of ice and asks if I am okay. I tell him I am and he says to make sure to have my thumb checked if it isn't better tomorrow. He points the way to the trailhead where we had parked our car, not even a mile from the gondola station.
#####
Love is everywhere. John Walter at the radio station, the roots of the tree in the shape of a heart, Pat's care and concern for me when I fell, soldiers on Mansfield's summit, Jonathan and Wendy on the Cliff Trail, and the gondola and first aid crew at Stowe Resort.
There is love everywhere. That's quite a different message than the one I got growing up as a child, which was - there is danger everywhere. I'm not sure how I make sense of that dichotomy, but it seems crazy to live as though there is danger everywhere, when the grace wave is showing me that the opposite is true.
I realize that I often still live like I did as a child, holding the soft vulnerable belly of my self hidden from view, protected and unseen, afraid in my core that someone will hurt me. This is an old pattern developed to keep me safe as a kid. I live my life wary of the evil that exists in small quantities, instead of opening to the love that surrounds me. Until I hike. There is something about hiking that rolls me over, exposing who I am to the light of day and I let my vulnerability show more. Maybe that is the learning. The grace wave gets me out on the mountains where I can be more available, and then, when I am open to seeing and feeling, it shows me that love is everywhere, so I can begin to trust that it is always there.
You know, I think you get what you are looking for. If you want to see the world as screwed up and people as mean and evil, that is what you will see. But if you meet the world with an open heart, looking for goodness and kindness, that is what you will find.
So where do I want to live? Afraid of being hurt or reveling in the love? I want to live on the grace wave, seeing and feeling the love and the beauty in people around me. I want to let my guard down and be less afraid and protected. I want to really show me and relax into the world, trusting that love will take care of me.
This is what I choose.