Acknowledging the Truth on Boott Spur
Submitted by Nancy

Stats
Mountain: Boott Spur (5,492)
Date: August 1, 2010
Time: 9 hours
Weather: Warm, sun and clouds, very light breeze
Miles 7.6
Trails: Starting at Pinkham Notch -- Tuckerman Ravine Trail, Boott Spur Trail, Davis Path, Lawn Cutoff, Tuckerman Ravine Trail, Alpine Garden Trail, Lion Head Trail, Tuckerman Ravine Trail

---
Picture Gallery

"We all have our own mountains to climb. They may be 4,000-footers in the White Mountains, but they may be bringing up children, or caring for aging parents. They may be going to school, tackling a difficult project, dealing with an illness or searching for your passion in life. This presentation is not a presentation of look at us, look what we did. It is a presentation of look inside you, you can do this too."
"It's Not About the Hike" presentation



******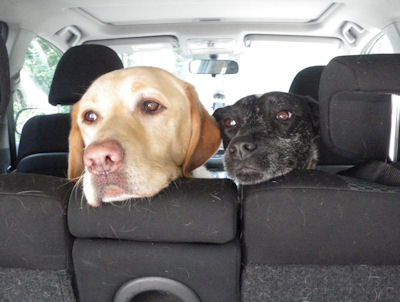 I stand on the Lion Head Trail, tears in my eyes. Pat stands opposite me, tears in her eyes. This moment had been a long time in coming. I hate the words as they come out of my mouth, but they are true. I have said them before. But this time, my heart is right out there next to the words, and I let myself feel their weight.
"I want our hiking to be magic, but it's not anymore. I want to love it as much as I did in the beginning, but I don't," I say. Silence wraps us up as if it were the wind that normally blows over the Presidentials.
Those words have been building inside of me for some time. Ever since Pat and I got our patch for climbing the New England 4,000-footers and Dejah got hers for the New Hampshire 4,000-footers, hiking in the White Mountains has lost its sheen. It feels regular instead of magic, normal instead of iridescent. And that wouldn't be so bad if I weren't a glitter kind of girl. I love the sparkles in life.
I have tried to soothe this discomfort by focusing on the mountain lists we are working on. We have 12 left of the 100 highest mountains in New England. They are all trailess peaks, so we will have to bushwhack through the woods using a compass to find your way to the top. Here's the thing. I wish bushwhacking appealed to me - but it doesn't. So my drive to climb the 100 highest is waning. In a similar vein, we have started climbing the Adirondacks in New York, but almost half of them have no trails to their summits. So that goal is not calling to me either. Great aspirations, but not for me.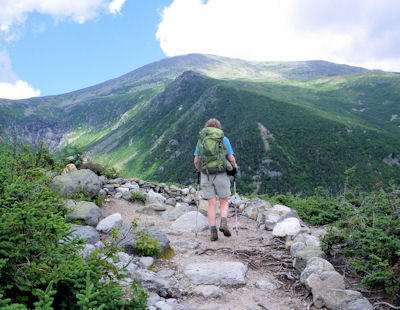 When we decided to climb the 67 4,000-footers in New England, I knew in my heart immediately that was what I was supposed to do. But I don't have that same feeling about our remaining mountain lists. At 56, I have a pretty good idea of who I am. I sometimes wish I were different, that I loved climbing the same mountain over and over, or that climbing over shrubs and through tree limbs was my thing - but it is not. And denying that just makes life incredibly frustrating. If I don't stay true to who I am and keep moving forward, I'll never figure out how I am supposed to leave my mark on the world. So I have to honor who I am and who I am not. I am not a bushwhacker and I am not a repeater.
How do I let go of hiking in the White Mountains? Just asking the question feels hard. Over the past five years it has brought me such great joy, pushed me past my comfort zone, and challenged me big-time physically and emotionally. It has come to define who I am - I am a peak-bagger. And if we are not hiking, what binds me to Pat, who has become my mountain-climbing sister? Is it just a matter of saying no, I don't want to hike in the White Mountains anymore? Wow, that feels hard; like my world would be drained of all its color without any clue of where to find the crayons.
I keep thinking that my next goal will materialize, like the marathon. This past December I had an epiphany I was supposed to run a marathon. And that is just what we did. Pat and I ran 26.2 miles on May 30th in Burlington, VT. The moment I crossed the finish line I knew running one marathon was enough. Now I am back in the mundane place of doing what I have been doing, bored and unsatisfied. My life feels like I am tossing and turning in bed, having a rough night's sleep. I can't find a comfortable position, the sheets are sticking to me, and there is no breeze. Even though I am uncomfortable, I don't want to stop doing the thing that has given me the most joy until I can find its replacement. But the next thing is not here yet, and the mountains no longer give me my sparkle fix.
*******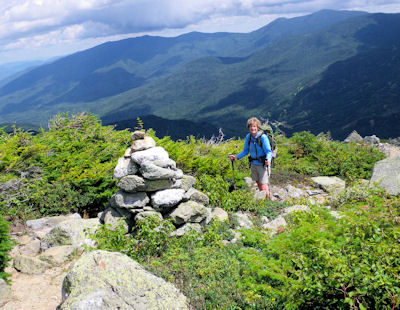 Our goal today is Washington. We start out from Pinkham Notch on the Tuckerman Ravine Trail with lots of other people. It is not long before the Boott Spur Trail takes us off the main thoroughfare and onto the trail-less-traveled for a quiet but steep ascent. Once above tree line, the sun plays a game of hide and seek using the clouds as cover, splaying the light around us in a huge paisley pattern on the green treetops way below us. As we climb the shoulder of the great Washington, I am teased over and over again by false summits, while the actual peak of Boott Spur remains elusive. Ah, there it is. Whoops, not quite. Maybe that is it. Nope, a bit more to go... When we finally arrive on the summit I look over at Washington and I am blown away. The trail from here to there is barely discernable, marked by huge cairns that gradually disappear into the jagged steel grey of the king's immense boulder-strewn surface. Mt. Washington's massive cone looks like an entire mountain and, although we know there are lots of people ascending the monster, we can't see them. I realize I don't want to climb anymore. I don't need to bag Washington. Been there, done that. I don't want to push myself, because I just don't feel like it. It is not important to me today. Boott Spur is a 5,500-foot mountain. We got our exercise.
As we eat lunch, I am pissy; angry that I am not loving this moment. I mention to Pat that we don't have to climb Washington and she agrees. We are tired and the magic and euphoria usually attached to our hiking is absent.
We head down the mountain. Walking along the ledge on the Lions Head Trail is pretty spectacular, but Pat and I are engaged in a moment of truth and I am not paying attention to the views.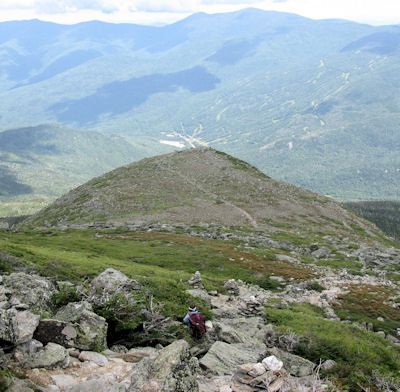 "I want our hiking to be magic, but it's not anymore. I want to love it as much as I did in the beginning, but I don't." Just saying the words aloud brings all my fear and grief to the surface. Now we can't pretend it's not happening.
"How do you feel about it, Pat?" I ask.
"Hiking has become a nightmare for me," Pat says. "I never know what body is going to show up. It's not fun anymore. I keep trying to make it feel like it used to."
We continue moving along the ridge towards the top of Lion Head. Once there, the views looking back and down into the ravine are tremendous and remind us of how far down we need to go. We don't stay long; we know what lies ahead will be challenging, so we start the steep descent that will eventually bring us into Tuckerman's Ravine and the 2.3 miles back to Pinkham Notch.
Much of our hike down is in silence. But it feels different than the silence that enveloped us during the first half of the hike. This silence feels heavy with the realization that life will be different now. I keep flashing on the question: What is next for me? For us? What if I never find something else that feels this good?
I can remember asking that exact question when I left Center Stage and the Pumpkin Festival, the event I founded in 1991 and ran for 7 years. I loved the magic and thrill of the event, and the meaning behind the festival. When I left, I was afraid that I would never do anything that big or that awesome or that fulfilling again. But I was wrong. Little did I know I had mountains to climb.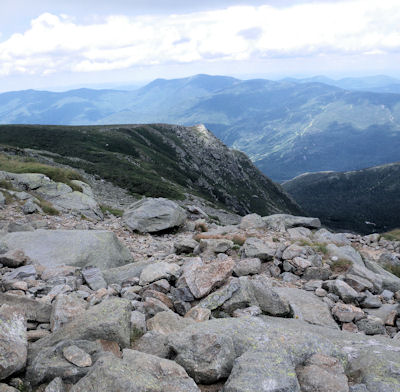 I have to let go of hiking in the White Mountains before I can find my new goal. And I know how to let go. I've done it enough in my life. I let go of my hope that my parents would love me. I let go of my prayer that my sister and I would be best friends again. I let go of the desire for Jess to keep her beautiful curly hair instead of straightening it. I let go of Rajah, my beloved golden retriever, as he slipped away from life. I let go of my daughters, year by year, as they grew out of my lap and into the world. And with each letting go I understood more and more that I couldn't really hold onto anything. I just have the moment.
The grief feels poignant nonetheless. I experienced such immense joy hiking with Pat. The accomplishment, growth, physical and emotional strength, personal confidence, and awe I have experienced has been nothing short of extraordinary. It is hard to let that go, to stop trying to recreate those feelings when they are no longer there.
So, I am feeling the loss of the wonder hiking in the White Mountains once held for me. As I write that sentence, I realize I am focusing on the loss. How about if I focus on the excitement of whatever is next? I could welcome in the delight that I know is hiding behind the corner just waiting for me to loosen my grip on what was.
It is a long hike down. We get back to our car at 6:30 PM. Dejah jumps in the back seat, stretches out from door to door and is asleep in moments. Pinta snuggles up on her bed behind Pat's seat and rests. We sit in the car and drink a cold drink and let our bodies sink into the car seats. I wiggle my toes. We know we have been to our edge today. As we rest in the car, we are quiet. It's a big space we are in. It feels good to have acknowledged the truth.
*****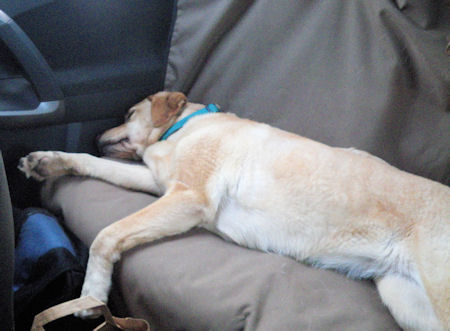 I had to write this. But the thought of putting it up on our website and sending out the link to all of you fills me with dread. For so long now we have been charging forward, pushing ourselves and inspiring you to come along with us. Many of you have kept in touch with us, told us how our hiking and our writing affects you, and how we have motivated you to move forward in your own lives.
But we are just human, doing the best we can at life, just like you. We share our journey, both the triumphs and the challenges, in hopes that we all will feel a little less alone.
After all, that is what it is really all about. We are all here to live our lives. And so often we do that by walking the trail on our own. But we don't have to. Having others walk with us, sharing both the joy and the uncertainty, makes the journey feel doable during the worst times and joyous during the best. That is who you are to us, friends walking alongside us.
If nothing else, may you all know how important you are to us. Your feedback and love have fueled us on many a hike. Many of you are It's Not About the Hike fans on Facebook. Know that it goes both ways. We want to continue to cheer you on as you climb your own personal mountains, as we discover and climb our next mountains. You have supported us and loved us through the experiences as we have shared them. And that has given our journey much greater meaning. Thank you.
The beginning of an end began on Boott Spur.
Luckily, it's not about the hike. Our hikes, website and hike reports have been an exploration into ourselves; an opportunity to discover what we are made of and who we really are at our core. So it's not about the hike, it's about the journey - and the journey continues. We are getting in shape to hike in the Grand Canyon in September. We will continue to hike, to write our reports and to share them with you as we look for our next goal.
Stick with us as we discover what is to come.