A Hike With Heart - Madison
Submitted by Nancy

Stats
Mountain: Mt. Madison (5,367)
Date: March 31, 2007
Time: Almost 9 hours
Weather: Sunny, very windy (forecast called for NW winds of 55-70 mph), temps at the trailhead in the 20s, below zero chill factor on the summit
Miles: 8.1
Elevation Gain: 4,019
Steps: 19,201
Trails: Valley Way to WATSON PATH (Oh My!) and back down Valley Way
Holy Shit Factor: Really high

---
Picture Gallery

"Let your heart guide you. It whispers, so listen carefully."
Little Foot's Mother, "Land Before Time"



I am talking with Pat as we huff and puff our way up the Valley Way Trail, and I'm not thinking; I'm just giving voice to what is in my heart. As I talk, I realize the past few weeks of intense confusion are evaporating into the cool crisp morning air. Each deep breath releases some of the racket that's been reverberating inside of me, easing the struggle every step I take. Until now, I've felt caught in the chaos of a massive class-five white-water rapid, unable to make this major decision in my life. But now, as I let myself air-out hiking, I feel miraculously released from the frothy white water and back in the calm of the wider river. I know what to do.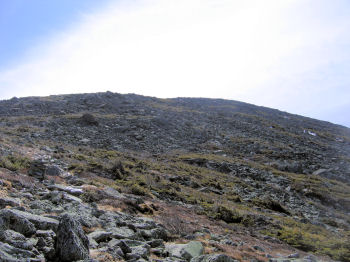 Hiking brings clarity. It seems that while pushing my body up and down mountains surrounded by all that is naturally beautiful and true, and supported in friendship by Pat, I unconsciously let go of all the inside noise and I'm able to listen.
"Wow," I say to Pat, "When I let my heart know what it knows, and stop fighting it, everything is so simple and clear." A few steps later I add, "The hardest part is believing in myself enough to follow my heart." Emotion fills my throat, confirming my truth.
Pat, Dejah, my daughter's 2-year-old yellow lab, and I hit the trailhead at 8:37 a.m. By 9:30 I've hiked through the clutter filling my head into my hearts' clarity and I'm feeling lighter than I have in months.
Just in case I have any doubts lingering about listening to my heart, confirmation comes up the trail. I'm waiting for Pat, who is taking a body-function break, and a guy breezes up the path and we strike up a conversation.
I tell him this is our second attempt of Madison and that we had to turn back the first time because of frigid cold and high winds (see Madison Attempt report). He shares that he worked in the Whites and has been on many search and rescue teams and has pulled 13 or so bodies off these mountains. In my mind I nickname him Mr. White Mountains.
"The hikes where you turn around are worth much more than the hikes where you get to the summit," he says. "You have to listen to your heart and your body, not to your head. Your heart and body are aligned, and there is a congruence between them that will keep you safe." When he says this, I feel a vibration of joy inside me; my heart is jumping up and down screaming, "Yippee! See, see - it's true! He knows it too! Listen to me!"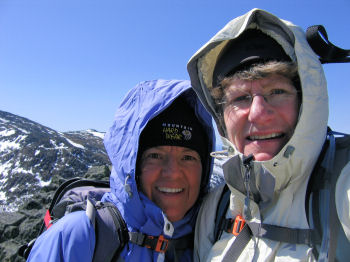 Mr. White Mountains disappears up the trail leaving as quickly as he appeared.
Our original plan is to take Valley Way to Madison Hut, drop our packs at the hut (I love this part of the plan), and bag Madison, then come back to the hut for lunch. Pat suggests an alternative - take the Watson Path up to the summit because it's a bit shorter, which might leave us more time to bag Adams too. I love Pat's plans. She adds an element of adventure to our hikes that takes us to an edge that I might not otherwise go.
So up the Watson Path we hike. Now we expect the trail to be challenging. Madison is 5,367 feet high -- the fifth highest mountain in NH. And the trail is less than 4 miles to the summit, so it has to be steep. Folks, this trail is VERTICAL! I've never seen anything like it. It is literally 1.5 miles of straight up. The snow, most of which has seen no one all winter, is hard-packed from time. With STABILicers on, we kick our boots hard into the snow's surface to break the slippery crust and get a foothold. I climb most of the way with hands grabbing onto tree trunks or limbs, boots barely clinging onto the snow. And below me all I can see is ice-crusted snow straight down, the slope a minefield of trees that would stop my out-of-control slide...painfully. One slip and...I can't think about that. I just keep digging my feet in and going relentlessly up. Climbing Watson Path takes all our concentration and our conversation diminishes to heavy breathing and periodic checks on one another.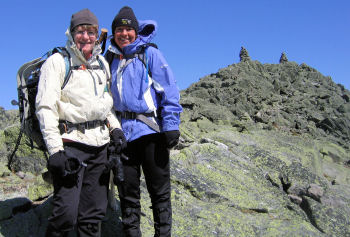 Once above the tree line, which, by the way, takes FOREVER, conditions change. We are on big boulders instead of snow; rock hopping and scrambling hand over hand. The wind is fierce and has a freezing sting to it that gives me an instant cold headache. One thing remains the same - we are still going up, mounting one discouraging false summit after another.
My quads are screaming, my lungs are sucking wind, my pack feels so heavy the small of my back is aching, my body is wet from sweat and cold from the furious wind, and my energy is depleted. I am out of my comfort zone. I try to absorb the spectacular views, land disappearing into a blur of blues and grays as far as I can see, but my fear blocks the euphoria of seeing the incredible expanse of earth that lies at my feet.
The voice in my head says: just get to the top and get down; keep going. The rest of me wants a warm haven from the wind, where I can talk with Pat. Climbing in these conditions is isolating. You can't hear each other and you have to keep moving. The only goal becomes getting off the top and onto safer ground.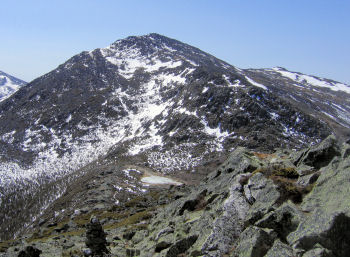 We get to the summit at 1:18 p.m. Pat holds the camera at arms distance and snaps a picture for our summit portrait. We immediately start down, following the cairns, when we see Mr. White Mountains approaching. I turn to Pat and yell, "Hey, we beat him!" and give her a low five so he won't see. He stops to acknowledge us and says he's just summitted Jefferson and Adams. Okay, Nance, reality check! We are having trouble bagging one peak and he is on peak number three in the same amount of time?! Wowserinoes! He heads off to bag the peak and we continue down.
I have only one thought screaming at me. Get me off this mountain, NOW. I hear it and, being the very smart girl that I am, I heed the call. I am on a mission, moving as fast as I can, trying to get to the hut which is less than half a mile below us. I want back in my comfort zone, off the top of Madison, out of this biting cold and whipping wind. I'm making progress, but don't see Pat in my periphery. I yell back over the howling wind, "Pat, are you OK?"
"No!" she yells. "I'm having a really hard time."
Everything stops for me. My panic morphs into strength as I turn around and head into the blast. My urgency melts into concern. I'm back in the calm waters of my heart, thankful for my friend's courageous vulnerability. I hug Pat. I look her in the eyes. I know exactly how she is feeling. I'd been in the same emotional space the first time we tried to summit Madison and we turned around as a result. Slowly we head down Madison's cone, linked in friendship and in our efforts to descend.
We get to Madison Hut around 2 p.m. and, standing in a weather-protected corner outside the building, share a sandwich and a smile. We head down Valley Way Trail, leaving Adams for another day.
We are both thoroughly used up and the short but steep 3.8 miles back down feels like an eternity. We arrive at the car nine grueling hours after we started. Sitting down sends electric pulses of relief through every worn out cell of my body. And I just breathe. We made it!
I went out for a hike, rediscovered my heart, and remembered I have all I need within me.
43 out of the NH 48
49 out of NE 67
51 out of the NE 100 Highest