Training Round on Madison and Adams
Submitted by Nancy, comments in blue italics by Pat

Stats
Mountain: Mt. Madison
Date: January 7, 2007
Time: 10 hours and 15 minutes
Weather: Sun and clouds, temps ranging in the 20's with wind chill below that
Miles: 8
Trails: Airline Trail to Adams Summit to Gulfside Trail to Valley Way
Holy Shit Factor: Blow-us-away high

---
Picture Gallery

Video Clip
Trailhead Video



The original idea is to climb Madison which expands to including Adams since Adams is right there - so why not? (I have to say that when I saw the possibility of a loop that was shorter (by .1 of a mile) to Madison, I jumped at the chance of suggesting we go up Airline and down Valley Way. I thought the wind was predicted to be calm. That was the only reason I suggested the more exposed trail. In retrospect, we should have gone up Valley way as planned and decided whether or not to bag Madison once we got to tree line and the Madison Hut. Live and learn.)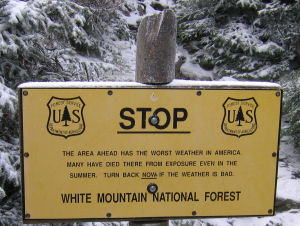 We leave Keene at 5 a.m., Pat driving the 3 plus hours to the trailhead. Pat has been fighting a debilitating depression that pushes her into a terrible black hole, unable to enjoy life or even our hikes. But today Pat is excited about the hike, smiling, sharing, and back to her old self. YEAH! I have missed her! What a blessing it is for me to have my friend feeling good again. (It is hard to put into words how relieved I felt as I started walking up this huge pile of rocks. I was so relieved to be back in myself, happy, laughing, joking. So relieved.)
Dejah, my daughter's two-year-old lab, Pat and I are on the Airline Trail by 8:15 a.m. There is no snow at the bottom and footing is fine. It is a steady climb up and about half way we put on STABILicers to make our way over the icy trail. (Of course we are halfway up a steep gully of ice when we stop to put them on so it's a bit tricky because we had to keep our packs on and stand on a small non-icy area. My stress level with the STABILicers on dropped considerably. Making headway was much easier.) I can hear the wind howling above us and make a comment to Pat that I hope the wind dies down before we get there. By the time we hit tree-line, my feet are not happy. I don't like my winter boots, my feet move around inside no matter how many socks I wear or how tight I tie them. So my heels get sore. Add the weight of STABILicers to my boots and I am not a happy camper. Plus I fell on Monadnock a few weeks ago and hurt my knee and it is still sore - what's up with that?
We change our clothes just below tree-line, put on our down sweaters, wind hats, gloves and balaclavas (total head and face covering) before heading out into the howling wind. I am perfecting the art of changing into dry non-sweaty clothes in the freezing cold. My system includes a specific order of packing and way of folding my clothes, having hand warmers warmed and ready and saying "Holy SHIT" over and over while moving fast and furiously.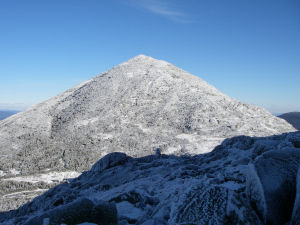 Above tree-line it is stunningly beautiful; snow has drifted into pockets around rocks, although the rocks are mostly bare, rime ice is plentiful, and clouds move across the majestic summit of Madison, showing hopeful sections of blue. The temps are in the twenties and the wind - well, the wind is the story. It is howling and whipping around us, as if to say, You are not welcome here - get out of my way or I'll blow you away! Although I've been in windy conditions, on Camel's Hump in Vermont and Knife Edge on Katahdin in Maine, I had never experienced this strength of wind for any considerable length of time - which would be the case here. At first it feels exhilarating, but my feelings concerning the wind deteriorate from there. (I was surprised by the intensity of the wind. Calm winds had been predicted, and maybe they were on their way, but at 11am when we came out into the rock pile, the wind was ferocious. It was such a strange dichotomy to see sunny blue sky and feel such savage wind at the same time. My sense of rightness wanted clouds along with the wind, not sunny skies. I found keeping my footing a challenge and staying upright was almost impossible. As soon as I leaned into a gust, it stopped and I would almost fall. Then before I could recover the wind would hit again. There was no respite from the pummeling except behind a few larger rock piles along the trail. But it was too cold to stop; we had to keep going.)
OK, key question here; where the hell is Adams? Madison is on the left and there is a humongous pile of rocks to our right that disappears into the clouds and I assume, silly me, that is Adams. It looks far away (according to the sign .8 miles) but I can do that. We begin our ascent. The trail starts out like a trail but quickly morphs into rock hopping and scrambling over boulders. As we get higher, the wind gets stronger, with bursts that force me to lean over and hold on to whatever is on the ground. Is this safe? Should we be up here? I'm moving slowly and concentrating on holding my body steady and upright against the wind, which works, until wind gusts force me to hunker down and pay homage to the trail. And the wind is so loud, it's hard enough to think, much less communicate with someone else. And if that's not enough, my clothes are flapping in my ears, increasing the level of distraction to almost unbearable.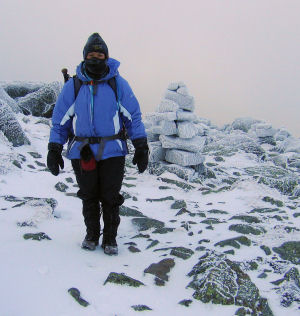 I feel I have all I can handle dealing with the wind when my clothes start beating me up. A strap attached to who-knows-what (there are straps attached to EVERYTHING in hiking gear) is whipping around my face and smacks me directly in my right eye. Ouch, that really hurt! My eye is watering, and for the moment I can't see shit. Pat comes over and winds the strap around something to keep it in line. We start walking again and another strap attacks my left eye. Pat fixes it and we continue on, following the cairns. OK folks, at some point we start to head AROUND this massive cone instead of up it. This has me concerned.
I scream at Pat over the wind, "Is that Adams?" pointing up at the cone of rocks.
"I don't know," she yells.
Then I see it. I point to a peak on the horizon mostly shrouded in clouds and say, "Is that Adams?"
"I don't know," Pat yells back. How is she supposed to know - is she the Presidential Mountain Mama?
We look at the map. OK folks, have you ever tried to open and read a newspaper outside on a blustery turn-your-umbrella-inside-out day? Well, just opening the map is a challenge, much less trying to figure out what it says and I can't see squat with out my reading glasses anyway - you know that happens after 50.
I yell, "Well, we're closer to Adams than Madison, right? So let's at least bag Adams." Translation - I'm in semi-distress and I can't do both peaks.
Pat nods and up we go.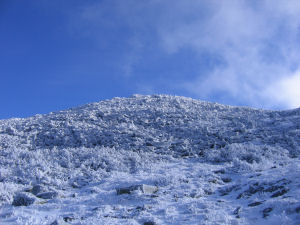 I look up at what-I-wish-is-Adams-but-I-bet-it's-not and see clouds whizzing across the summit propelled by the extreme winds.
I look at Dejah. Her ears are furiously flapping back against her head, her eyes are slits and there are frost crystals on her nose. If I wasn't so scared I'd laugh. Is she OK in this wind and cold? Will she get frost bite?
A gust almost knocks me over.
"Pat, I am scared of the wind and I'm not sure I can get to Adams if it is that peak way the hell over there," my voice barely audible above the wind.
It's tough to admit I'm scared. But the simple fact is the wind puts me completely out of my comfort zone. We have been trudging up toward Adams for perhaps 45 minutes in this wind, gusts of about 45-55 mph (Pat has a wind gage and is brave enough to use it!) and I am done, finished, kaput. Bagging the peak is no longer important to me, I want to feel safe. I want out of this wind. Why don't I just say, Pat, let's get out of here! But I don't. I am ashamed of my fear. I don't want to take the summit away from Pat and she is trudging forward.
My emotions kick in because I'm fighting a raging battle inside myself, as well as one with the wind and cold, and tears result. Now crying while wearing a balaclava is not much fun. You immediately have nose problems. Where is all that snot supposed to go anyway? I pull the balaclava down and wipe my nose with the side of my mitten. My nose glides along a hard plastic bar made to wipe the face of goggles. Ouch! OK, bad idea to put that there, mitten manufacturers! The wind is whipping my tears away; tossing them towards Adams, where ever it is! I pull my balaclava back on -- backwards -- and struggle to turn it around so the holes are at my eyes, nose and mouth. Again, had I not been so far out of my comfort zone, I would have been hysterical.
Pat sees my state, we stop and scream over the wind and decide together to go back to the Madison hut and regroup. The climb down to the hut is long - I can't believe we climbed that high. We are starving, but I am determined not to eat until I re-entered my comfort zone, which I feel sure will be at the hut, in the sun, protected from the wind. (I am trudging forward but I am rapidly losing my sense of wanting to keep going. I can't tell where we are exactly - the map is hard to read in the wind and I'm hungry. I had felt hungry all day and I needed food. There was no place to stop, so we either had to go forward or back. I agreed with Nancy that it was time to go down to the Madison Hut and regroup.)
We finally arrive at the hut and eat lunch. The cone of Madison, our original destination, just behind us shinning against a now clear blue sky, is only .4 miles to the summit. The winds are still howling and I am not up to bagging the peak, although that goal pesters me, pushing me to re-examine my heart's decision. Pat looks at my tears and says she has had enough as well. We head down the Valley Way Trail back to the parking lot at 2:30 p.m. (I was tired and though Madison was .4 miles away, that meant .8 out and back, and I barely tasted my lunch and power bars weren't doing the trick. I drank a little Gatorade and still felt hungry. This wasn't our day - but we had done a great hike, made a huge effort, and I somehow found a way through the need to bag a summit and listened to my body and saw Nancy's tears. Enough. Time to head back - and I felt that the hike back down was going to be a tough one.)
The walk down is L-O-N-G! We put on and take off our STABILicers a number of times dealing with ice. I figure we have got to be at least half-way down the 4 mile trail when we pass a sign saying we have 2.9 miles to go. 2.9 MILES TO GO!! You have got to be kidding! We don our headlamps at dusk and finally make it back to the parking lot at 6:30 p.m., both of us sore and really DONE!
What did I learn?
The beauty of nature is stunning, the power astounding, especially in winter. Having the opportunity to be in the ferocious glory of it all reminds me of my fragile and rather insignificant existence on the planet and my limited ability to absorb the moment. Thank goodness we take pictures.



Hiking straps + wind = blinding danger!



Distances can be VERY deceiving.



Winter hiking is harder than hiking the rest of the year. Your pack is heavier because you need more gear. You eat less because it's too cold to stand still and your food freezes; you drink less because it is frozen. When conditions are extreme, especially above tree-line where you are exposed, it is even harder. The outside stimuli of wind, ice and cold overwhelms you. Your focus narrows to concentrating on surviving while putting one foot in front of the other, and that takes all of your energy. Thinking and communicating, once taken for granted, become tasks requiring huge effort and energy.



I am incredibly lucky to have a hiking partner who is willing to hear me and appreciate all of me - my weaknesses and my strengths.



We are hiking to have fun together. When I am that far out of my comfort zone, I can let the tears come, feel the fear, believe myself and speak the truth. I know Pat will hear me. I know there is learning in pushing oneself past the comfort zone. Perhaps for me the learning is in recognizing my fear and discomfort and knowing I don't have to bag the peak today, I can turn around. By acknowledging my feelings, I am loving myself.



Madison and Adams will always be there. We will be back.