Second Time Out - This Time with Dejah - North and South Kinsman
Submitted by Pat

Stats
Mountains: North (4,293) and South (4,358) Kinsman
Date: May 16, 2009
Time: 9.75 hours
Miles: 10 miles
Elevation Gain: 3,465 feet
Steps: 24,573
Trails: Lonesome Lake Trail to Fishin' Jimmy Trail to Kinsman Ridge Trail and back

---
Picture Gallery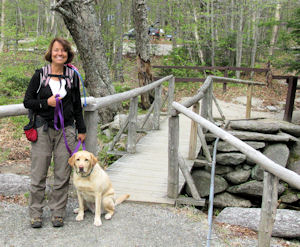 We originally plan to climb Moosilauke because Dejah doesn't have this peak on her list. Dejah is Nancy's daughter's yellow lab, who has tagged almost half the NH 48. She'll be with us for a year so we are hoping to get her a patch too. We are a little worried because she has gained some weight and is not in the same shape she was when she climbed in 2008. But we figure we'll watch her carefully and if she falters we'll turn around.
I pick up Nancy at 5 a.m. As we near Concord, I realize that Dejah has climbed Moosilauke, two winters ago - vivid image of her scrabbling up the steep icy trail, patiently waiting for us to catch up. So we need a Plan B - we stop at the Tilton Diner for breakfast and bring in our map. We decide on the Kinsmans, with the possibility of Cannon if we have any energy left at the end of the day. The weather is partly sunny and breezy. A perfect hiking day. Lots of beautiful wildflowers and lime green tree leaves at the lower levels.
We park, gear up and head up through the Lafayette Campground. Both of us remember the first time we climbed Cannon and the Kinsmans in August of 2006. What a long, grueling day that was - and forgetting our headlamps nearly finished us off.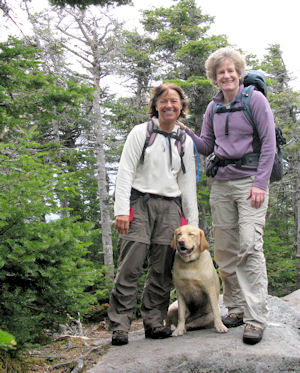 Today we decide to add Cannon only if we feel great after we've finished the Kinsmans. We have our headlamps and are ready to go. This hike starts off rather steeply - we warm up as we pass through the campground, and then start to climb on Lonesome Lake Trail. Major trail maintenance happening - new water bars made or repaired. We thank the trail workers. When we reach Lonesome Lake we see our first snow. Easy to bare boot. We stop for a minute at the hut to catch our breath and head on up Fishin' Jimmy Trail.
Now that's a pretty steep trail, Fishin' Jimmy - almost completely straight up, boulders, ladders and wooden steps somehow formed into the rocks to give us footing. Dejah doesn't like the steps so she just bulls it up rock face with pure strength, nails, paws and power. Strong, young dog. We stop worrying about Dejah around this point in the hike. She is going to be fine.
It's great to be hiking with Dejah again - her silly little habits - darting out front only to immediately stop and come back behind the first hiker, nose to calf, tongue lolling, a beautiful smile on her face.
Nancy and I feel good. We talk a lot about the presentation we gave for Founder's Day at Keene State College on Friday. It is one of the best we have ever done. Nancy feels it was the audience, their presence and receptivity that make the difference. They feed us. Oohing and aahing and laughing during the opening video. It is a big one for me - the It's About Friendship story was the best I have done it. I don't know how moved they are by our story until afterward. I receive the strongest and longest hug I have yet received after a presentation.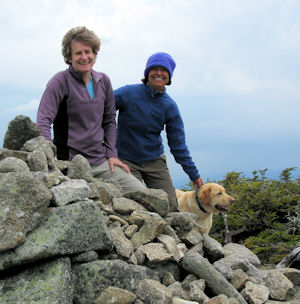 We encounter some snow and are able to bare boot the whole way. We reach North Kinsman at 12:09 p.m. - we are hungry and it's windy at the top so we walk down the trail a ways and sit in the sun to eat our lunch. By 1:30 we are on top of South Kinsman - a deceptive summit - it feels like we reach the height of land and then look to the right and see the true summit with the cairn off in the distance. The summit views are dramatic since the clouds are high and the wind gusty.
We stand up there. I look at Nancy as she is taking pictures and feel a huge rush of emotion - how much I love it up there. Nancy smiles - she knows - and we start back toward the trail intersection. The walk back is long - we decide we will save Cannon for another day and cut a mile off the return trip by going back down Fishin' Jimmy rather than taking the Kinsman Pond trail. I use my poles all the way down - my knees are sore, but I feel different than I did coming down from Lafayette/Lincoln last week. My knees are sore but my muscles don't show the same warning signs that they are going to be sore. Wow, one tough hike and then next weekend I am better. Whoo Hooo!
I take a tumble on the way down - lose my footing and slip, fall down between some rocks, bang elbow and left thigh. I am lucky - just bruises - nothing broken, nothing bleeding. We are tired by the time we arrive at Lonesome Lake, more tired than we were coming down the Falling Waters Trail last weekend. The exhilaration of exhaustion wraps its happy arms around my body and won't let go. We arrive in the parking lot at 6:15 p.m., ready for our Diet Peach Snapple and Diet Pepsi. Dejah is sound asleep before we even pull out of the lot.
Nancy and I high five, grinning like two happy hikers, celebrating Dejah's 24th and 25th 4,000 footer. It feels so good to be back.