Major Lessons Learned on Cannon and the Kinsmans
Submitted by Pat

Stats
Mountains: Mts. Cannon (4,100), North Kinsman (4,293) and South Kinsman (4,358)
Date: August 22, 2006
Time: 12 hours and 7 minutes
Miles: 16.76
Elevation Gain: 4,856
Steps: 50,604
Trails: Lonesome Lake Trail -- Hi Cannon Trail -- Kinsman Ridge Trail -- Fishin' Jimmy Trail -- Cascade Brook Trail -- Lonesome Lake Trail

---
Picture Gallery

Short Video Clips
High Five for #20
Nancy Climbing



Our return to the Whites after hiking Katahdin. Nancy wants to do a gentler hike, a hike with great views and maybe an exposed ridge above the tree line, something where we have plenty of time to sit on a hot rock, take our boots off, and chill. I suggest she pick the hike and she does - North and South Kinsman, with the option of adding Cannon on the way back. I don't do the research that I usually do when I pick the hikes - I usually read trip reports, look at elevation gain and get a sense of what we are in for. For some reason, I walk into this hike simply not knowing what to expect, and strangely without my usual interest and need to know. When I look at the loop she has chosen, I suggest we hike up to Cannon first since the map shows the Hi Cannon Trail to be quite steep. I think it will be easier to go up the steep section when we are fresh. I completely disregard Nancy's original plan of heading up Fishin' Jimmy. I don't know why I push to bag Cannon too; on the map, it doesn't look so hard.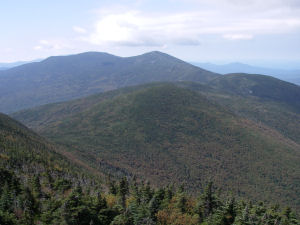 Well, we hit the Lonesome Lake Trail at 8:45 a.m., then turn right up the Hi Cannon Trail and begin to climb. I like going up - I like pushing and sweating, especially when I have fresh legs, so I don't think much about it. We stop to sit on a rock for 20 minutes, eat a granola bar and look at the view. Little do we know that this short break will be the only true break we will experience. Lesson learned: When you see a potential bliss moment, take advantage of it. Don't put it off thinking another one is just around the bend -- it may never come! As Nancy is scrambling off the rock back to the trail, her full Nalgene bottle decides to take a dive out of the side pocket of her pack and roll off the cliff, falling hundreds of feet below. I wonder if it actually breaks. I'm just glad Nancy doesn't try to go after it because she definitely would have broken when she hit the bottom. When we arrive at the summit at 11:08 a.m., we have only hiked a little over 3 miles. The temp at the top is 66.5 and windy. We climb the summit tower, take some pictures, and hike back to the intersection of the Kinsman Ridge Trail. When we are on top of the tower, I orient myself to see how far South Kinsman really is - oh, my. It looks really far away and the dips in the landscape are not gentle and kind.
Off we go - down the steep steep section of the Kinsman Ridge Trail off Cannon. Wow - that is a steep descent and it goes on for a long time - up and down and up and down the trail goes. There simply is no relief - no easy rolling ridge walk, this one. Just false summits and the silence of a late summer day. The sun is playing hide and seek with the clouds and mostly it stays hidden. We meet up with an AMC trail crew that is battling erosion by building water bars, moving huge stones to create steps, and building ladders and bog bridges. They break for lunch just as we start climbing back up after Cannon - their twenty-something legs leave us behind as we gasp and push our way up the trail. It is noon and we probably should stop for lunch but there is really no place to do that - no flat rocks, no views, just trees and moss and mud. We push on, finally arriving at the intersection of Fishin' Jimmy and the Kinsman Ridge Trail at 2:15 p.m. Without the sun, the temperature has dropped to 60 degrees. We decide we have to eat so we stop for 15 minutes and eat.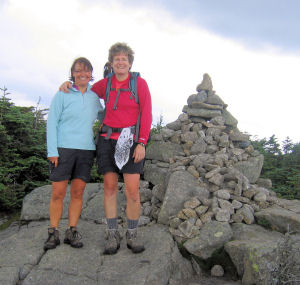 Back on the Ridge Trail toward North Kinsman at 2:33 p.m. The summit is unmarked, just a sign pointing toward a view and the fact Nancy read somewhere that the summit is marked by a view sign give us a clue that we have tagged #20. We pass a group of four hikers who don't say much except to tell us the summit of South Kinsman is within reach. We tag that peak at 4 p.m. We take some pictures, put an offering on the cairn, and start back. We meet the same group of four hikers on the summit of South Kinsman. One of them has taken a nasty spill on the way up and needs medical attention. Neither Nancy nor I have medical training, certainly nothing beyond cleaning a cut or dealing with blisters. We don't have an ice pack either and that would have helped the man since he hit his head when he fell and has a large blue bruise on his forehead. His arm is scraped and his knee is swelling up like a balloon, although he is able to put weight on it.
This incident really shakes me. It brings out the harsh reality of what we are doing. How fragile we are and how far away from medical assistance. Wow. I keep thinking about how I would feel if Nancy or I had taken that kind of fall - what would we do? How would we manage? Are we prepared for injuries like that? It can happen to anyone at anytime. One misstep and snap goes the ankle bone. Man, it freaks me out. Lesson learned: bring a disposable ice pack.
I withdraw into my head after that and the laughter we had shared earlier in the hike feels like a distant memory. I have no laughter inside me at all. Stone serious and driven - that is me. We arrive at the Lonesome Lake Hut out of water - another misjudgment - at 5:22 p.m. We fill a Nalgene bottle to share, thinking that will be enough and keep on hiking. When we reach Lonesome Lake, we commit another error in judgment. Instead of pausing, reorienting and looking at the map, we see the sign for Lonesome Lake Trail (Lakeshore walk) to the left and start off walking fast on the bog bridges. We make good time, reach another sign and again make a wrong choice, despite looking at the map, and end up back at the Hut and the spot on the lake were we started. We groan, knowing we have just lost over 30 minutes of hiking time and with the overcast darkness is coming very quickly.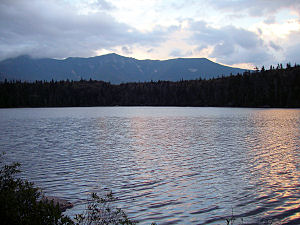 Another mistake: neither of us has brought our headlamps. Why should we? It is going to be an easy hike, right? We'll be off the mountain in plenty of time. Why add more weight to our already heavy packs? Lesson learned: Always bring a headlamp. Frustrated and a little freaked out, we practically run back to the trail intersection and start down the Lonesome Lake Trail toward the Lafayette Campground. At 7:45, we realize we are a mile and a half from the parking lot and it is getting really hard to see. I am still hiking with my emotions hidden inside my head so it comes as a shout of joy when I remember that I have a small Maglite in my pack. What a relief. We will be getting out on our feet instead of crawling out on hands and knees.
It is not easy once darkness hit, but we establish a rhythm. Nancy leads and keeps the light pointed in front of her. I stay as close to her as I can, looking at the light and memorizing the location of rocks and trail so I can keep pace. It isn't always possible because the trail is uneven with roots and rocks, but we stay with it and walk out to the parking lot at 8:52 p.m. Two tired girls with very sore knees and hurting feet. Twelve hours, another mini death march. Damn. And this is supposed to be Nancy's confidence building hike. Yeah, right. We learn some lessons though and we will do better homework before committing to a trail. The drive back to Keene is a long one and having to get up at 6 the next morning is even harder. But we do it and our friendship is still intact and no one got hurt and we learned more lessons.
19 of NH 48
19 of 67 in NE
19 of the NE 100 Highest