Fort Mountain
Submitted by Pat

Stats
Mountain: Fort Mountain (3,842)
Date: June 26, 2012
Time: 10 hours
Weather: Cloudy, occasional steady rain, 50s
Miles: 10
Elevation Gain: 2,936
Trail: Marston Trail, bushwhack and back

---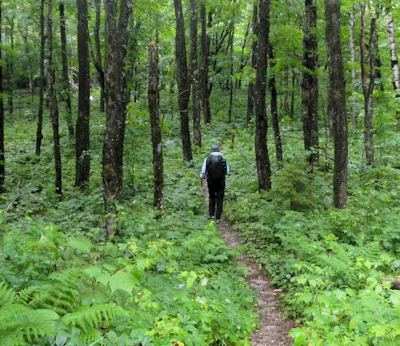 OK, I have to say I was one excited 57 year old when the day finally came for the trip back to Baxter State Park with Nancy - this time to finish climbing Fort Mountain, our 92nd Hundred Highest mountain in New England. The weather forecast calls for rain, heavy at times, between 1 and 2 inches of accumulation by the day's end. We are going no matter what the weather. The grace wave chooses a wet one for us and we take it on the chin with a smile. We drive up in the Mango Tango, Nancy's orange Jeep, with her driving. The truth is, as a passenger in a car, I SUCK! I hate just sitting. I can't read or I get car sick. I can't rest or sleep. And I don't do well just sitting in the same position for an hour, let alone seven hours. I am an ADHD passenger, moving, shifting, and never settling down. I live for our occasional rest stops.
We drive through some nasty, heavy thunderstorms near the Dover/Portsmouth area and move into Maine feeling a little tense. It's stressful driving through that kind of heavy rain at highway speeds. We stop for a while in Freeport to check out LL Bean and have lunch, then back on the road until we reach the Big Moose Inn just outside of Millinocket, ME. Our first time staying there. We stay in Room 4 of the Inn, a room with just enough space for two queen beds, a chair on my side and a bench of her side and not much more. We bring in our gear then head for the River Driver Restaurant, which has moved from its former location to about a mile from the Inn. Last time we dined there we were presented with a beautiful menu of eclectic and tasty cuisine. This time, despite having a reservation, we are seated in the bar next to a TV set blaring nothing for no one's viewing pleasure. We ask to have it turned off and the waitress does so with a smile. The menu has changed - gone are most of the entrees, replaced instead by standard pub fare. I choose a Haddock burger and Nancy chooses a salad and we split some onion rings.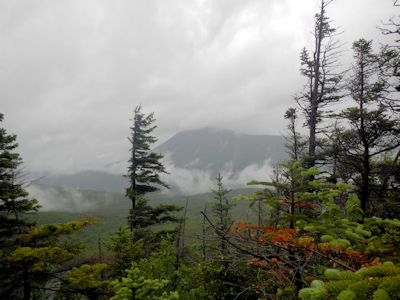 She also has a glass of Merlot, the first time she has drunk any alcohol in my presence in many, if not, six years. She asks if it will bother me, totally prepared to abstain, but I encourage her. She has driven seven hours, some of it through steady downpours, and her shoulders are somewhere up around her ears. I don't have an issue with others drinking. It doesn't make me want a beer. I used to feel left out when others drank in my presence, especially if it was a celebratory occasion, but not anymore. She enjoys her wine and I enjoy watching her shoulders relax.
We go to bed early, with the tiny window air conditioner pumping cool air into the room. I sleep well, thanks to Tylenol PM, but Nancy is too hot and sleeps poorly. We are up at 6 AM, dress and go downstairs for breakfast. Nancy chooses a couple of eggs over easy and some Canadian bacon. I go the cereal route and stuff my face with carbs. Then back to our room to pack and load our gear into her Jeep. It is sprinkling and inexorably overcast.
The drive to the Gatehouse at Baxter State Park takes forever. I have forgotten how long it feels before we finally arrive to pay our fee and talk to the Ranger on duty. She is kind of a sour puss and new at the job and gives us incorrect mileage information from the gatehouse to the Marston trailhead. We try to be friendly and light hearted but she won't bite. So our track record with Baxter State Park having the rudest, least friendly Rangers holds true once again. We escape as soon as we can and head out on a narrow gravel road. With a speed limit of 20 MPH it takes freaking forever to get to the trailhead 12 miles later. I know it is going to be a long drive out after a long hike and am not looking forward to it.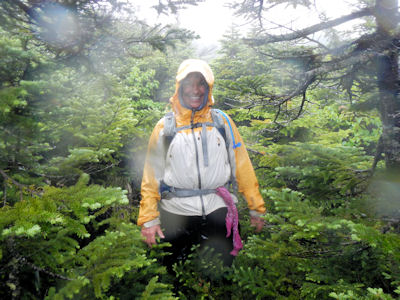 We look for moose and see none. Just a park truck passing by. We drive and drive until finally we reach the Marston trailhead, take care of last minute packing, pull on rain jackets and throw on our packs. It is 8:20 AM and raining lightly when we start up the trail. The trail starts out relatively flat. I remember that fondly from our hike up Mts. Coe, South and North Brother in September of 2007. We stay pretty dry for the first 2-3 miles of the hike. As we climb higher, though, the pools of water covering the trail become more frequent and deeper. At one point I am trying hard to skirt a deep pool when I slip and fall in and that as they say is that. No sense trying to keep my feet dry anymore.
From then on we walk through the water and mud covering the trail and it rains on and on. We are soaked, but it's about 10 degrees above hypothermia temperatures. I am soaked but I am warm. I take Nancy's hand to see how she's doing and am surprised to find her hand is warmer than mine. Wow! These synthetic wicking clothes really work! As we move higher, the trees surrounding us grow smaller and change in species and condition. Before we move above treeline, we put on rain pants. Yum, plastic rain pants over wet nylon feels really good. We cross the line between trees and krummholz and continue up the path toward the summit of North Brother. It's noon, but it's pouring and there is no protection from the wind and rain so we don't stop to eat. We spy the cairns marking the herd path to Fort and move on.
Taking a compass bearing from the map would lead us to the summit in a straight line and we would have to struggle through thick spruce, forging our own way through the brush. We know from our reading that we have to follow the herd path. I set a waypoint on my GPS on the top of Brother. Now on a sunny day we would be able to take a compass bearing on the summit of Fort, but today we can't see anything but white, wet clouds and the trail just ahead of us. After ten minutes we hit a junction. I can see herd path forking straight ahead of me and to my left. Nancy and I discuss the situation and decide the faded surveyor's tape tied to a branch on the left fork, plus the fact the left path looks more heavily used, assists in our decision making. But even though it feels right, there is a lurking doubt. What if we have chosen the wrong path? We are out in the middle of freaking nowhere. And where did that other path lead? There's nothing out here but the summit of Fort and the 1944 crash site of a C-54 bomber:
On June 20, 1944, a C-54-A cargo plane on the Newfoundland to Washington, D.C. leg of trans-Atlantic TWA Flight 277 from England was pushed 70 miles (110 km) north of its planned course by stormy weather, which prevented obtaining visual or radio location fixes. The crew was unaware the aircraft had entered mountainous terrain and was still flying at the 4,000-foot (1,200 m) elevation appropriate for passing over Bangor, Maine. The single passenger and all six crewmen were killed when the aircraft hit Fort Mountain. The aircraft burned, but some large pieces are still accessible and reasonably well preserved. - Wikipedia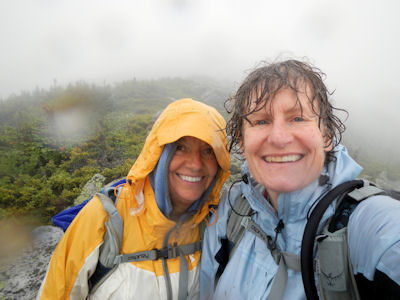 Shortly after turning left we are faced with another decision, to go straight on the path or turn right and head into the spruce. The path straight ahead looks used, but I am certain it is heading in the wrong direction. I hate the doubt that creeps under my skin. I am pissed at having this decision point in front of us. If the path to the right goes to the summit of Fort then where the hell does the path leading straight on go? We decide to turn right and head below treeline and into lower spruce and fir. It's a tight fit - the branches have overgrown the path so we can't see our feet and we need to see where we are walking because there are any number of obstacles, ankle busters and shin kickers on the trail. It's raining and water pours off every branch we push through.
I miss a turn and head maybe 10-20 feet off course before realizing my mistake. We stop and I am shocked by how fast and how completely a person can get lost in these woods, even with the path a few feet away. There's no sign of it now so I ask Nancy to stay where she is and start walking in circles away from her. Almost immediately I find the path and both of us heave a sigh of relief. We shudder to think how fast we can lose our bearings; it's humbling. Back on the path it turns from a clear herd path to a less clear path and back again.
I feel 80% confident we are on the right path and lead us forward. But again we haven't eaten anything but protein bars and the need for real food is starting to show symptoms of irritability and poor judgment. I am frustrated with Nancy. It doesn't matter why - I am just too hungry. The path only loses a couple of hundred feet of elevation so we aren't heading steep down and back up. It's more like a dip. We had read some trip reports where hikers had made it across in 25-30 minutes and others in an hour. It takes us an hour and a half. We frequently stop to check and make sure we are on the trail whenever we feel unsure and we feel unsure a lot.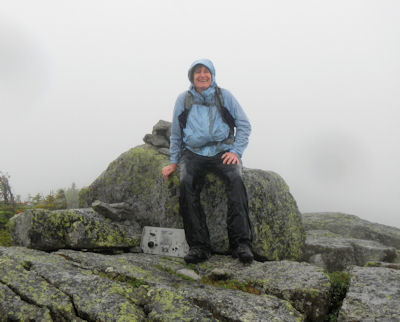 When we move above treeline and spot the two summits of Fort, we're not sure which is the real summit. There are no trees. The views on a clear day would have been spectacular. Today we are walking in clouds. So I scamper up the summit to our left, find nothing, and return. Nancy leads us up the right summit and there we see the old radio someone had removed from the plane that crashed in 1944. No summit canister, but the radio does the trick. We high five for #92 and head back across to North Brother.
By the time we get down from Brother and into the woods again it has been raining so long and so hard that we find ourselves walking in a stream of water. Since our boots are soaked we just walk through it, and our feet stay relatively warm in our Smart Wool socks. The steady descent through the water leads to a flatter section of the trail. Here, instead of a gushing river there are pools of water and mud to wade through. I wonder when/if this stream of water will ever stop. The need for trail maintenance - water bars - at the high end of the Marston Trail is more than clear. Nothing to stop the water from flowing down the quickest way - an eroded trail is the perfect route.
It's a long walk back to the car, but we finally do walk out of the water to relatively dry ground. We pass the lake that marks a flatter section after a nasty, long, steep descent. It is a relief to see something we recognize and know we are an hour or so from the car. We walk and we walk and we walk, talking occasionally, and thinking about a cold drink, dinner, and a shower. It has stopped raining heavily as we walk the last mile and the mosquitoes come out to flit in our faces, looking for a blood meal. We walk straight through the stream crossings and I raise my arms in joy when Nancy leads us out of the woods to where her Jeep patiently waits for us. There is an outhouse at the trailhead so I grab my dry clothes and a towel Nancy thought to bring for me and change clothes as fast as I can. I am beat. Bone deep tired and proud and happy and ready for a meal. Nancy goes to change and I wait and swat at mosquitoes and sip my cold Diet Pepsi and wait some more. It takes her a long time to peel off all that wet stuff and drag dry clothes over clammy skin. But eventually she appears and we clink drinks in a toast before starting the long drive back out of Baxter.
The drive out feels longer than the drive in and there are more cars to dodge, but no moose. We arrive at the gatehouse to check in with the Ranger. He is actually friendly and arches an eyebrow and looks at us when we tell him we have taken the Marston Trail to North Brother and then over to Fort. He is impressed. We finally reach the Big Moose Inn and we drag our wet gear into our room and hang it up the best we can and, skipping a shower, and head down to the Pub for dinner. I have a Swiss burger and Nancy has a Panini sandwich. We share a cone of steak fries. Yum! And for dessert some sort of berry concoction for Nancy and an apple crisp that is neither crisp nor really that good for me. I eat it all. My body feels like it's still hiking. Legs sizzle, feet throb, triceps quiver, and it feels great!
We are actually doing this - bushwhacking, finding summits on our own, and finishing the 100 highest after a 3 year hiatus. I am happy. I am proud. I don't want this place of connection and focus to end.
We have decided to break up the drive home tomorrow with a stop in Rangeley to climb East Kennebago so we are up with the dawn and on our way.
Here's a link to Nancy's trip report for our East Kennebago adventure.
#92 out of 100 Highest in New England