Believing Myself on East Kennebago
Submitted by Nancy

Stats
Mountain: East Kennebago (3,791)
Date: June 27, 2012
Time: 5 hours
Weather: Warm and rainy
Miles: 4
Elevation Gain: 1,330
Trail: Logging roads and bushwhack

---
Don't you hate it when the outside world tells you something different than what your experience tells you? I do! It forces me to choose. Am I going to believe myself or am I going to give away my power and let the outside world dictate my experience? This hike was a test, which turned into a learning and ultimately a gift.
***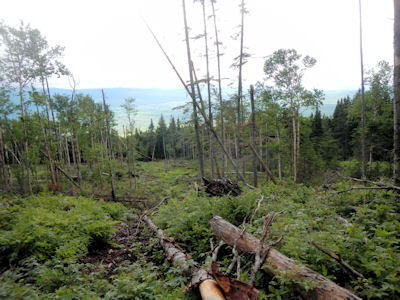 It is Tuesday, June 27th and Pat and I are going to hike East Kennebago, a trail less mountain -- our 93rd of the Hundred Highest Mountains in New England.
We've been on the road for four hours this morning, driving from Millinocket (we hiked in Baxter State Park yesterday) to Rangeley, ME. We finally arrive at the maze of dirt roads described in the East Kennebago hike reports I found.
The ditches the loggers made for the water drainage on these dirt roads are deep - good practice for me driving my jeep. I put it in 4-wheel drive and make it up and over each one easily. Thanks to good directions in the hike reports, Pat and I find the place to park and start our hike. We check the elevation and it matches the research - about 2,500 feet. So far, so good.
We chose to hike East Kennebago because the hike reports I found describe the hike as an easy two hour hike: a short walk up a logging road until you reach a cairn that marks a four-wheeler trail. Take that left uphill and you will reach the town boundary marked by a yellow stake and a narrow boundary cut to the left. Follow the boundary cut to the herd path that will lead you to the top of the mountain.
In the safety and comfort of my office at home I figured we could leave Millinocket, ME, early, drive the 4 hours to Rangeley, get there by 10 or 11 in the morning, bag another of the Hundred Highest in 2 hours, drive the 5-6 hours back to Keene, NH, and still be home for dinner. But now, standing in the rain, looking out at the wild, scoured, torn-up black earth scattered with logs, branches, stumps, up-ended roots and huge boulders, my heart sinks. The recent logging activity has changed the face of this land since the hike reports were written. There are no longer any grassy paths and no cairn that we can see.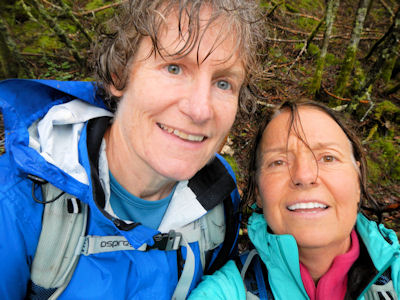 We follow the logging roads, heading up whenever there is a choice, both of us constantly scanning to the right and left, looking for a boundary swath, or a yellow stake, or a herd path. All we can see is the mess the loggers left behind. We follow the logging road as far up as we can go, both of us feeling frustrated. We eventually find ourselves at the logging road's end. In front of us are woods as far as we can see.
I am angry. It is taking me some time to adjust to the unexpected circumstances. Mostly I am disappointed that we might not get to the top of this mountain today after all of this planning and driving and hoping. You see, once I decided I was willing to go for the Hundred Highest (Pat was already raring to go), we are on a mission to complete the remaining 12, all trail less summits, this summer. Although bushwhacking is definitely not my favorite thing, and I anxiously await my first hike back on a trail, the lure of accomplishing this goal was just too much for me to resist. So my hopes for bagging another Hundred Highest this weekend, since we got Fort in Baxter State Park yesterday, are definitely dwindling. I'm also nervous about finding the top of this mountain. We cannot see the summit in the rain and clouds and we have no idea where the logging roads have taken us on the mountain, so getting a compass bearing is impossible. Pat has a relatively new GPS. Unfortunately, she forgot to load it with the Maine maps, but it does give us an accurate waypoint for the summit of East Kennebago which we can use as our guide for the bushwhack.
We look at each other. I can see Pat is angry too. But I also sense in her a thirst for the summit of this mountain. I can feel it in me too -- an awakening to the rain, the unexpected challenge, and the tension of not knowing exactly where we are going and if and when we might arrive. I don't want to turn around defeated without giving it my best shot. We decide to start the bushwhack. It is steep going, although not as thick with spruce as we have encountered before. That is a gift.
We are both nervous about finding our way back so we start to tie surveyor's tape on the way up so that we can follow our path back down, assuring ourselves that we will get back to the car. I know, I know, we're not supposed to use tape when bushwhacking - but my concern for safety wins out over trail etiquette.
Up and up and up we go. My hopes for an easy hike have finally dissipated, and my anger and frustration along with it as my thirst for adventure and my desire to get another Hundred Highest rise to the top. I am in the moment, fine with what is happening, not wishing for anything else.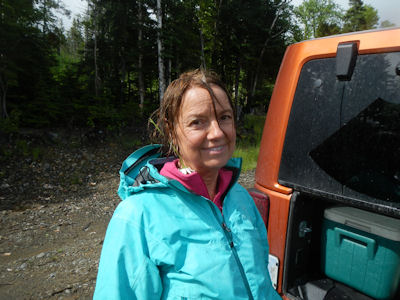 Finally I glance up and see bits of light through the trees straight ahead of us. As we continued to climb I see more and more light all around us. We are closing in on the height of land.
Two hours into the hike, we arrive at the top of East Kennebago. Or do we? We are clearly on the top, but we can't find the canister. I have come to rely on the canisters on the summits of the Hundred Highest bushwhacks as the sign that we have found on top. Signing my name on the pad of paper in the canister is proof positive that I stood on the summit. We look absolutely everywhere for that damn canister. The longer we look, the angrier we get. We start walking all around the top, eventually heading down in each direction we choose. Once we realize we are losing elevation, we turn around and head back to the height of land and look around some more for the canister. After forty-five minutes of looking both Pat and I are exasperated. We are looking under fallen trees, high up on tree trunks, yelling back and forth to each other, "this MUST be the summit!"
I re-read the hike reports in my pocket, now soaked with rain, to see if they talk about a canister. "We were able to follow the herd path all the way to the summit canister," says one report. Oh My GOD! Have we climbed the wrong mountain? Is there a ridge and we are on a false summit? Is there a West Kennebago? Did a logger hike up and take the canister down? Did the tree that the canister was on fall, burying the canister is a heap of needles and branches? WHERE IS IT?
Finally we give up and decide to head down. It does not feel good. It feels crummy. I am leaving filled with doubt that we bagged the summit and angry that we couldn't find the canister.
In my heart, I feel sure we reached the summit.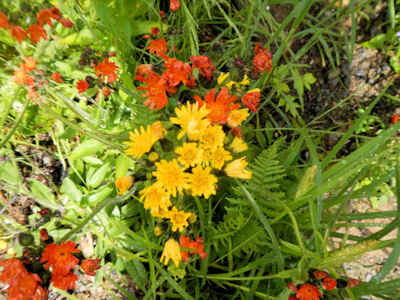 We untie all of our surveyor's tape on the way down, leaving the mountain the way we found it. We are quiet as we bushwhack. Part way down, my frustration begins to mellow out and I start to feel better about the experience. I know I reached the top. I don't need a canister to confirm that. I choose to believe in myself and my experience and know that I reached the summit. And I can hold onto that belief until someone gives me information that suggests otherwise. If that happens, then we'll simply go back and try again.
Immediately I notice how much better I feel when I believe in myself, when I let myself know what I know. The frustration melts, sureness returns. The fight and anger seep out, replaced by an acceptance of myself that brings with it peace and wellbeing. Ahhh, that feels better. We arrive back at the jeep, change our clothes and head home, another of the Hundred Highest under our belts.
We talk about not finding the canister on the way home. Pat's deep disappointment brings my frustration back to life in seconds and I begin to doubt myself all over again. And that is the gracewave. Now I have a second chance to feel how each choice - to believe myself or let the world rule -- affects me.
I realize that whether I believe in myself or doubt myself, it doesn't change the fact that we got to a canister less summit. It just changes how I FEEL about the experience. I feel tense, anxious and angry when I doubt myself. It feels freeing and even peaceful to believe in myself. What a relief!
That is how I want to live. I want to live in the peace of believing in myself and let go of the doubt and worry, and the struggle, fear and anger that goes along with living my life based on what the outside world says. I want to live first from within. And I know that if I find out that I am wrong, then I will have another chance to get it right.
It feels so much better to live my life according to me instead of to others. The world according to Nancy...I like the sounds of that.
#93 out of 100 Highest in New England