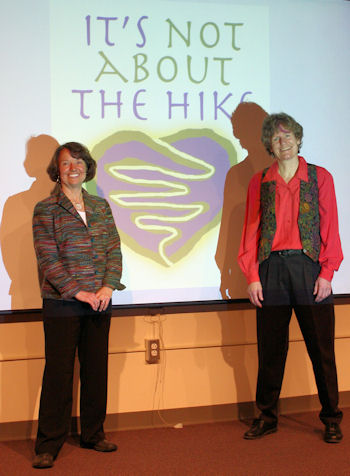 What Our Audiences Are Saying
"You literally knocked my socks off and made me want to put on a pair of boots and a backpack and take the first step."
"Your presentation led me to tears, laughter and a new sense of strength and determination to fulfill some dreams."
"Inspiration personified!"
"What a GREAT presentation! It was ... exciting, uplifting, inspiring, moving, very emotional, breathtakingly beautiful and FUN too."
"Your story is a real inspiration for people like me who have definitely felt helpless about their personal issues by making very clear that anything is possible if you put your heart into it."
"I have to tell you how very, very moved I was by the presentation... I was touched by all that you shared. It was pure gift and I thank you greatly."
"I truly loved your presentation at the Highland Center. I wanted to share with you that every time I tell a friend or family member that I am off to do another 4000 footer and they say why, I use your words and tell them "It's Not About the Hike" and explain to them why I am saying this."
"I really enjoyed your presentation. The timing was perfect as there is a challenge in my life that is a steep climb!! There is no question in my mind that putting your head down and continuing the climb is the only way to reach the goal!!!!"
"Nancy and Pat, I just had to write to tell you both what a pleasure it was to have you speak to our group; you were a big hit! The evaluations came back as all excellent with raves of "fantastic" and "awesome." I wish I could have brought all my friends and family along. The Board thanks you for making our annual meeting memorable.
Thank you for traveling and I hope your trip home was easy."
"I just wanted to say thank you for the wonderful presentation you gave at Keene Public Library last week. I really enjoyed it. it was inspirational, comical, and motivational. It was sort of what I expected but a whole lot more. It was so great to sit in the audience and laugh out loud, when appropriate, and clap out loud, again when appropriate. I was very impressed. I hope to soon read the book."
"Just another big cheer from one of the many who were at your presentation at the KPL on November 27!! You are both amazing women, and my friends and I LOVED your presentation! It really does speak to each and every one of us about our inner selves and our life journey."
"Had to scoot out right after your talk yesterday, but wanted to let you know that it was great. I think I could happily watch your slides every day. They're just beautiful! Your adventurous spirits, enthusiasm and courage come through loud and clear. Thank you again for being such fabulous role models for us older "athletes."
"Your presentation at the Milford Library was spectacular! Your sense of humor and role playing of experiences was a hoot. I envy what you have accomplished. At one time I had thought of doing the 4000 footers in NH but could never pull it together. Now, at 74, I am content to just spend as much time as I can enjoying nature and exploring new places."