Mt. Wolf
Submitted by Nancy

Stats
Mountain: Mt. Wolf (3,478)
Date: June 12, 2010
Time: 8.5 hours
Weather: Raining, then cloudy, 60's
Miles: 9.2
Elevation Gain: 2,540
Steps: 29,207
Trails: Kinsman Ridge Trail
---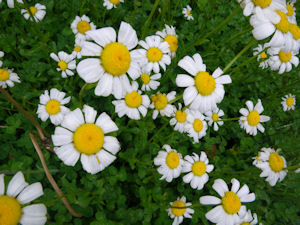 "Thousands of tired, nerve-shaken, over-civilized people are beginning to find out that going to the mountains is going home; that wildness is a necessity; and that mountain parks and reservations are useful not only as fountains of timber and irrigating rivers, but as fountains of life."

John Muir (1838-1914)
"Life is what happens to you while you're busy making other plans."
John Lennon
Picture Gallery
We took a break from our hiking to train for a marathon starting this past January. We crossed the finish line after running 26.2 miles on May 30th and now we are back on the trails and it feels so good. It's raining as we hike up the Kinsman Ridge Trail, and even that is okay today. I'd rather be hiking in the rain than running in the sun.
As I hike up the very steep pitch - no warming up the legs on this trail - I am thinking of how running and hiking are different.
We ran on asphalt, we hike on earth.
We ran past houses and schools and businesses, we hike past clintonia and ferns, babbling brooks, rock ledges and views of mountains beyond mountains.
Running took my breath away when I first started, seeing the never-ending views from the tops of the mountains always takes my breath away.
When I run it is all about the mileage called for in our training schedule. When I hike it is all about the experience. I run to get it done, I hike for the adventure.
Running, we don't stop to eat. Hiking we stop and admire our surroundings and at lunchtime, find a hot rock, take our boots off and relax in the sun for a delicious sandwich.
I feel replenished from a hike, blessed by the views that remind me of the beauty that is this planet. I feel drained after a run, just glad to take my running shoes off.
We often ran the same route in Keene, but we hike new trails and new mountains all the time. I love not knowing what is around the next bend.
Hiking gives me what running doesn't -- the opportunity to helicopter up above the fray and experience the calm of the world spreading out below my feet, all my cares and worries 4,000 feet down the mountain.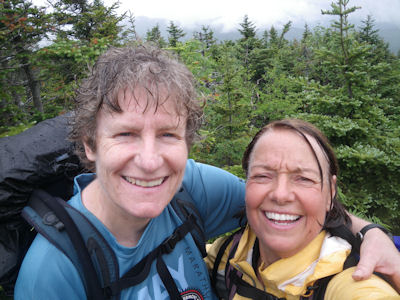 We are both glad we ran the marathon, and we are both really glad to be back in the woods. As we hike we talk about our future hiking plans. We are working on climbing the 100 highest mountains in New England. We only have 12 left. And those 12 mountains have no trails - we have to find our way to the top, called bushwhacking. And we are climbing the Adirondacks - over 20 of those with no trails. As we hike and I share with Pat, I realize, perhaps not for the first time, that I am most deeply touched by the beauty in hiking. That for me, bushwhacking, crawling around, under and through trees and branches where there is no trail to find the top, does not call to me as much as hiking in places I've never been, seeing incredible beauty for the first time. Pat agrees. We know where to need to go to find that…Arches National Park, Olympic National Park, Canyonlands and Zion, Yosemite…We start getting excited about hiking in our national parks - some of the most beautiful places in this country.
As we hike up, Pat falls farther and farther behind. I find myself adopting last year's pace, trying to slow down a bit, then turning around and waiting or heading back to Pat.
It's back...
It happened for the first time maybe a year ago. Pat developed difficulty breathing that slowed her down, turned her legs into jelly and made hiking much more difficult and way less fun. This past year, we have played a game with the symptoms from pretending they are not there, to figuring that since they are not consistent they mean nothing until, now, we can't ignore them any longer.
This problem doesn't fit into our picture of Pat and I hiking together. And we have so many more mountains to hike, so many more beautiful places to go - nothing can stop us...right? We're supposed to go to the Grand Canyon in September...please may we be able to hike the Canyon, my heart says. But maybe life has other plans.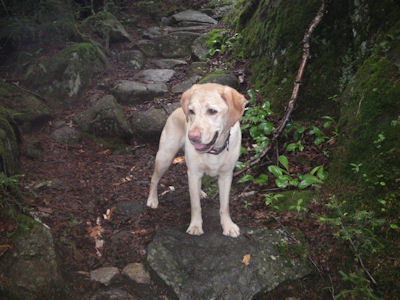 Hiking Mt. Wolf, Pat's symptoms, absent while running these past four months, come back with a vengeance on the mountain and the hike gradually turns from a celebration of being back on the trails to a hike of disappointment, worry and, on Pat's part, sheer will to get down the mountain. It is a difficult and disappointing experience for both of us. Pat is shaken by the severity of loss of strength...hardly able to stand the last 100 feet. I feel numb. We drive home, a three-hour drive, and are able to just barely touch on the experience. It is hard to know what to say.
So, doctors and questions, and worry and waiting. And a big course adjustment. We have all kinds of mountain lists and hiking plans and goals and dreams that could take us years to accomplish. And then life enters the picture and says, "Hey, not so fast! I'm in charge here." We don't control life - it happens to us. All we can do is choose how we respond to it. Pat went to the doctor and they are doing tests. I have never seen her give up on anything. Really, she never gives up and, with that determination, has accomplished incredible things. And that is the tack she is taking…trying everything, talking to everyone, struggling to put the pieces together to solve the medical mystery.
I hiked Washington by myself on Saturday, missing Pat. She hiked up to Monadnock's Bald Rock on Sunday, saying later that she felt good.
So our plans sit in the hopes and dreams pile, now pushed to the side, but not forgotten, just waiting. Maybe we will get back to that pile, but for now, while Pat tries to find answers, we wait to see what life has in store.
20 out of 52 with a View