Dejah Bags 48 with Grammy
Submitted by Nancy

Stats
Mountains: North (4,180) and Middle Tripyramid (4,140)
Date: November 8, 2009
Weather: Warm, blue skies, windy where exposed
Time: 8.5 hours
Miles: 9.4 miles
Steps: 38,567
Elevation Gain: 3,450 feet
Trails: Pine Bend Brook Trail, Tripyramid Loop and back

---
Picture Gallery
"I think we are drawn to dogs because they are the uninhibited creatures we might be if we weren't certain we knew better."
~George Bird Evans
"In order to really enjoy a dog, one doesn't merely try to train him to be semi-human. The point of it is to open oneself to the possibility of becoming partly a dog."
~ Edward Hoagland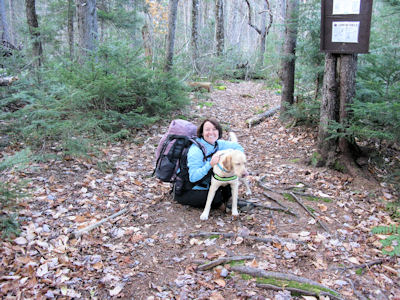 This is a very special hike, and there's lots of evidence. The most obvious is that Dejah, my daughter's 4-year-old yellow lab, is wearing a bright orange vest with a white computer-generated sign pinned to it that says, "#48 today". Now, before you shake your head, I NEVER dress dogs. But today feels like she has bragging rights and I'm just helping. In my backpack, I have a hand-made blue ribbon with a gold "48" in the button's center, for the special moment when she actually stands on her 48th peak, having climbed all the 4,000-foot mountains in New Hampshire. I also have two marrow bones for Dejah to celebrate with Pinta, Pat's trail dog, and two Lindt White Chocolate Truffles that are melt-in-your-mouth marvels for Pat and I to commemorate the long-anticipated moment.
We are hiking up the Pine Bend Brook Trail, our second attempt at the Tripyramids. Pat and I climbed this trail in the winter and it will be interesting to see what it is like in November, before snow...maybe.
We arrive at the trailhead at 8:15 AM and open the back door of the Peakbagger mobile and the dogs explode out of the car, more than eager to begin the hike. The trail is generous in giving us time to warm up our legs. The woods seem to go on forever on either side of us, birches and hardwoods, bereft of leaves, letting us glimpse further into the inner world of wilderness. The trail is covered in foot-deep dried leaves that hide the rocks and mud underneath, so I don't know I've stepped in a mud hole until I sink in. I love the crunch of walking in the leaves as I shuffle through them. It reminds me of when I was a little kid and we used to pile the leaves up into a huge mound and I would run and jump in, screaming with glee, letting the leaves envelop me. I loved the feeling of being covered; pieces of the leaves would get down my shirt and my pants and in my hair and I would be so uncomfortably happy.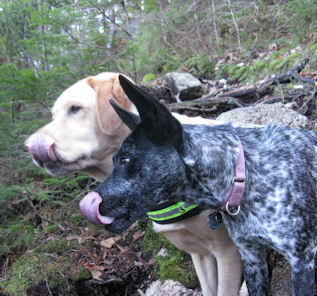 The Pine Bend Brook is on our right as we hike. "Huh," I say to Pat, "I remember the brook being on the other side of us when we did this in winter." She rolls her eyes and smiles at me. Uh oh...we're going to have to cross the brook. In winter, the water crossings were frozen and covered with snow. This time of year they can be challenging if the water is high and the temps are low. It is not long before we reach our first of many water crossings and it is a breeze, boulders just where we need them to stay dry. The dogs splash across, slurping up some cool refreshment along the way. Now the brook is on the left and everything feels right.
I watch Dejah galloping up some stairs that trail workers back-breakingly built for us. I am always touched by the incredible work volunteers do to make it possible for hikers to reach these summits. The strength and energy it takes to build bridges over brooks and granite steps up mountains is hard to imagine. I am indebted to the trail workers. Pat and I clap and cheer for them whenever we are lucky enough to run into them on the trail.
Dejah turns around on the steps to look at me, checking to make sure her Grammy is with her. I look at her and instantly smile, my love bubbling up in a spontaneous response of joy. "Hey Dej" I say in my higher-pitched, softer, I-love-babies-and-animals voice. "How ya doin'?" She looks at me with her beautiful dark brown eyes and tilts her head, as if to say, "What are you saying, Grammy?" The second our eyes meet, her tail starts to wag, which then wiggles the entire back half of her body. That's her love coming back to me.
******
I met Dejah when she was three weeks old, when I accompanied Jess to pick out her puppy from the lab litter. When Dejah was two, she and Jess moved home to live with Don and I while Sean, her fiance, was sent to serve in Iraq. That was back when Pat and I were climbing the 48 4,000-footers in New Hampshire and we took Dejah with us. At the time I thought I was doing her a favor, getting her exercise.
We established a morning hiking ritual that continues today. I tiptoe upstairs and crack open Jess' bedroom door at 4:45 AM. Dejah, who I am sure has heard me getting ready, has her nose to the door. As I crack it open she literally erupts out of the bedroom, slamming her tail on the walls of the hall, snorting and twisting and turning with uncontrollable exuberance. She runs down the stairs, jumps over the last half of the staircase, and turns around waiting for Grammy to catch up. As soon as Dejah sees Pat's car coming up the driveway, she runs and gets one of her stuffed toys and stands nose to door, tail wagging furiously, anxious to greet Pat. She hops in the back of Pat's car with Pinta and immediately lies down and starts sucking on her stuffed zebra, like a child sucking her thumb, quieting herself down for the long drive she knows is ahead.
For a year and a half we enjoyed Dejah's company on the mountains, hiking through all four seasons. Then Sean came home from Iraq, and reclaimed his loved ones and they all moved to Texas. I lost my daughter and my trail dog. I was happy for them, devastated for me. Pat and I finished up our 48 in New Hampshire and moved on to completing the 67 4,000-footers in New England.
About a year after moving to Texas, Jess called Don and I and told us the terrible news that Sean would be sent back to Iraq for another year. She didn't want to live alone in El Paso, so she and Dejah came home and we welcomed them with open arms.
I'll never forget Dejah's greeting. She burst into the house and Jess says, "Say hi to Grammy!" Dejah is almost on top of me, wagging her tail with unbridled elation as it bangs on the coffee table and knocks over my water, her whole body wiggling with anticipation, circling continuously around under my hands, snorting with excitement while holding a stuffed dog in her mouth. It's a special Grammy greeting. She remembers me!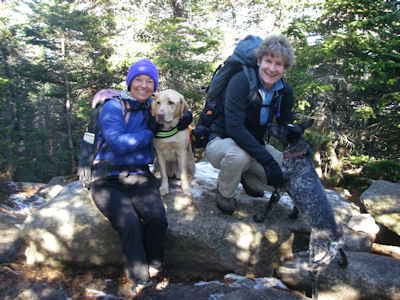 Dejah is back...but not to stay. Sean will come home in the spring; he and Jess will get married and they will move to wherever he is stationed. So I have Dejah for one year...huh...I wonder...I run to my computer. I could feel the tingling thrill of a goal materializing. How many mountains did she climb with us, I ask myself, as I start going through pictures and hike reports? Twenty. She had climbed 20 out of the 48. Could Pat and I get her up the remaining 28 mountains before she has to leave us again? Get her 4,000-footer patch this coming spring? Yes - I think we can!
But first I needed to get her back in hiking shape. With both Sean and Jess working all day in Texas, Dejah didn't get the exercise she was used to and she gained 16 pounds. Grammy to the rescue -- diet food, fewer treats and daily hill walks, and she starts to look like the Dejah I remember. Her first 4,000-footer hike after coming home was in May on the Kinsmans. Now it is November, and we are only two mountains shy of our goal.
******
As Pat and I continue up the Pine Bend Brook Trail, we are amazed that we did this hike in January. Not only did we do it, but we broke trail in 3 feet of new snow for most of the hike. Incredible. We are impressed with ourselves as we climb up what feels like a never-ending steep ravine. It's fun to be amazed by ourselves when no one else is around to think we are bragging. We are strong fit women and it feels so good to let that in. I glance at Dejah who is bounding up more man-made steps in this perpendicular section of the trail, looking svelte and fit, totally unaware of the feat she is about to accomplish. She is in the moment and doesn't need to feel good about what she has done or will do...she just feels good while she is doing it. What would it be like to live life that way?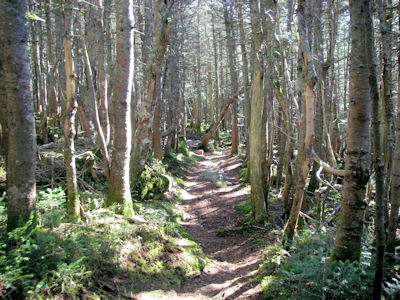 The trail gets very steep, then rewards us with a more gradual climb, then levels off. We are on top of a knoll, the trail winding gently through the flat woods and I glance off to my right and I see this massive monster mountain standing like a giant peering over my shoulder. I am hoping that is not North Tripyramid, while simultaneously knowing it is. But, I remind myself, it is always easier than it looks. It's like a 1,000-piece puzzle that is incredibly daunting when you take it out of the box. I always think, NO WAY, are you kidding? But when I stick with the one-piece-at-a-time mentality it becomes possible. Of course, Dejah doesn't look at the mountain, or care about what is to come. She is happy hiking with Grammy and Grammy's best friend. No worries, just contentment in the now.
As we get closer to the summit, the trail gets very steep, more like boulder climbing, pulling ourselves up with our arms as well as our legs. We start seeing snow and ice, although not enough to put any traction on our feet. I hear voices and realize there are people on the top. Oh goodie, I think to myself, someone to celebrate with! We crest the top at 11:30 AM and whooo hooo and clap for Dejah's 47th. She is busy sniffing everyone, which gives them a chance to read her sign. A few hikers say congratulations.
We head off to Middle Tripyramid, Dejah's 48th, and as we walk I remember the gentleness of this ridge from our winter hike. It is kind and mellow, with an easy down from North Tripyramid and then a gradual up to Middle Tripyramid, giving us a chance to walk in a more relaxed manner in the beautiful woods. I find myself thinking about the fact that we are about to reach another goal. Yippee! Well, not so fast...then what?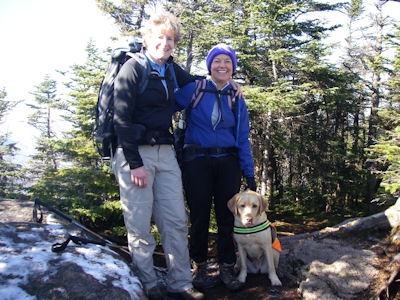 You see, my theory is that I'm on a grace wave. It's pretty amazing how it works. Before Dejah came back, I was feeling that old familiar yearning of dissatisfaction, which means I need something big to strive for. Then Dejah bounds in the door needing 28 mountains in order to earn an embroidered piece of fabric and I am alive again. That's the grace wave handing me a purpose. Big goals push me from the inside out, and I love that feeling. When I'm not striving for the next big thing, I feel empty and directionless. Once I put the blue ribbon around Dejah's neck and finish this Hike Report, I will be back in the what's next phase of life. And that place of not knowing is the hardest of all. I dread it. But no need to go there quite yet.
It takes us half an hour to walk the very pretty ridge between the mountains. Dejah is in her usual spot, right behind me, her nose almost touching my calves. We reach the tree-covered summit of Middle Tripyramid at 12:10 PM for the big celebration. It is a bit anticlimactic because Dejah is not celebrating. Pat and I are smiling, whooo hoooooing and clapping. She is busy visiting others on the summit who are eating their lunches, hoping for a handout. I call her back. "Sit" I say and she sits and looks very hopeful. I give Dejah and Pinta marrow bones and they gnaw on them while Pat and I eat lunch. I present her with her blue ribbon, which she sniffs and then ignores. We take a few pictures, snapping our fingers, calling her name and whistling, trying to get her to look at my digital camera at the exact second it decides to click. One of the other hikers takes her picture too. She is a celebrity and I am pleased, she is clueless and happy.
We head back to North Tripyramid and then down the mountain. It's steep and the boulders are wet, so we spend a fair amount of time scooching down the wet rock faces on our butts, which are soon cold and wet. Dejah keeps looking back at me wondering why Grammy goes so slow when all you have to do is jump down! But she waits patiently, her tail wagging as I get closer.
We arrive back at the trailhead at 4:45 PM just as darkness is settling in after eight and a half hours of hiking. Dejah and Pinta jump in the car and immediately settle into sleep. We don't hear anything from the back of the car until we turn into my driveway three hours later. Don greets us with a standing ovation, but Dejah runs right into the kitchen to see if there are any leftovers from supper on the floor. She is oblivious to the fact that she claimed a prize today; that she has done what only 100 other dogs have done. I lower myself slowly onto our purple sofa with a sigh of relief. Dejah immediately jumps up, lies down, puts her head in my lap and closes her eyes. I love this part...feeling the exhilaration of exhaustion as I relax with Dejah. An hour later I head to bed. I bring Dejah up to Jess who is watching TV in her bedroom. "Night, Dej," I say. She turns around and looks at me, wagging her tail, as if to say...It was a great day! Thanks Grammy. I blow her a kiss. Maybe Dejah is my basic training for when my kids have kids and I am a real grandmother. Now I know what to do. I will take my grandchildren for walks to get them in shape, give them treats, hike the 4,000-footers with them so they earn their patches, and cuddle up with them on the couch at night.
You know, in the beginning I thought I was climbing these mountains for Dejah. Now I know I did it for me. I got the gift of Dejah for 48 mountains and had a few years of being a Grammy. There is something so incredibly special about being with Dejah. She is free, totally unencumbered and completely uninhibited. She does not worry about water crossings, steep or slippery trails or the humongous mountain ahead. She does not care what people think, or about goals, accomplishments or patches. She is full of never-ending curiosity, wild enthusiasm, boundless energy and irrepressible love. She lives and loves so everyone can see.
I hope some of her has rubbed off on me.