Tripyramids, for Dejah's 48…ahhhh, not so fast.
Submitted by Nancy

Stats
Mountains: North (4,180) and Middle Tripyramid (4,140)
Date: October 31, 2009
Time: 6 hours
Miles: 7 miles
Steps: 20,620
Trails: Livermore Trail - North Slide

---
Picture Gallery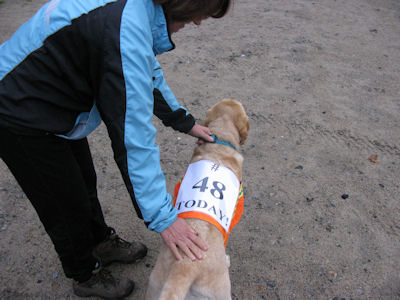 You know how dogs turn around and around and around to get themselves in just the right position, their cozy nests just perfect, then they plop down on their beds, lay their heads down, close their eyes and go to sleep? That turning around and around and around...well, I got to thinking about that as I pondered our quest to hike the NH 4,000-footers with Dejah, my daughter's 4-year-old yellow lab.
We turned around on Adams on April 14, 2007 because we were hiking in a cloud, everything was white and we couldn't find the trail above tree-line. It just wasn't safe to continue, so we turned around.
It happened again May 22, 2007 on Jefferson. Here is an excerpt from my trip report that day, "I am half way up a wall of rock, trying to figure out how I am going to get up because I see no footholds or handholds. Dejah, my daughter's yellow lab, is crying because she can't figure out a way up either. Her distress upsets me and I abandon my struggle to find a way up to help her. I try to lift her up to the next ledge. I'm not sure what I'm thinking, she weights 70 pounds and I'm already precariously balanced on this ledge with a heavy backpack. Her leap isn't high enough and she lands in my arms and I lose my balance. For a very long agonizing instant I realize my mistake and what is going to happen. We fall. I don't fall the whole way down, or I wouldn't be writing this report. I land on a corner of jutting rock on my butt and side. I hear Pat yell as I fall and she is there when I realize I am alive and barely balancing on a rock precipice. Together we scootch down to safe ground. I am shaking, discombobulated, emotional, trying to get my bearings. I sit for a while as Pat does her best to comfort me. I know places on my body hurt, but as each second goes by, I also realize I am in one piece. Dejah, thank God, is okay too."
We continued hiking up Jefferson that day and we got a half mile from the summit and I knew I could go no further. The adrenalin from my fall had worn off; I was in pain everywhere and felt totally wiped out. We turned around.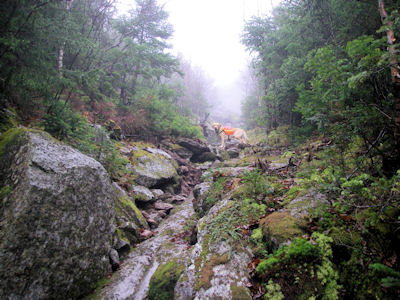 And last Saturday, we tried to climb the Tripyramids. It was to be Dejah's 48th and both Pat and I were so excited. The walk up the Livermore Trail was fine; the day was grey, but warm. We reached the bottom of the North Slide and it was really wet, and very slippery. My danger alarm bells started ringing right away. Even the dogs, Dejah and Pinta, Pat's trail dog, were challenged to get their nails to grip the wet slippery rock. Three hikers came up behind us and passed us. Perhaps 20 minutes later they came down saying they were in the clouds, the wind was very strong and every fourth step was treacherous. They said it was more than they wanted to risk that day. They headed down and Pat and I looked at each other. I knew turning around was what we should do, but I dreaded going all the way back down the parts of the slide that we had just climbed up. It had been tough getting up, it would be tougher going down. I was disappointed, but knew it was the right thing to do. We turned around.
OK - so three turnarounds. It makes me think of all the times in my life I have tried something more than once before I got it right and how frustrating and difficult that turning around experience is for me. Each time Pat and I have turned around it has been a humbling experience accompanied by some form of anxiety and disappointment. To me it feels like failure.
Wow...wait a minute. What if, instead of getting frustrated and disappointed, instead of feeling like a failure, we just knew that turning around was part of the process. That it was just going to take three tries before we got it right...just like Dejah turning around three times before she sleeps. Dogs model the behavior perfectly. They don't seem to mind going around and around and around, it's just how it is. They don't act like each turnaround is a failure. On the contrary...it is just what they do. Each turn-around gets them closer to the moment when they drop onto their beds. What if every attempt we made in our lives, every time we had to turn around and try again later, was all just part of the process and got us a bit closer to where we were going?
Three turn-arounds, then dogs seem to deem everything is according to plan and successfully plop. So I am thinking that is a good omen. We have had our three turnarounds.
We plan to hike the Tripyramids again this coming Sunday, November 8. Dejah will be decked out in her "#48 Today" best. If you see her, cheer her on!