Our Last Hike with Dejah on Tom and Field
Submitted by Nancy

Stats
Mountains: Mts. Tom (4,051) and Field (4340)
Date: February 23, 2008
Time: 6 hours
Weather: Clouds, sun, temps in the teens
Miles: 7.2
Elevation Gain: 2,800
Trail: Avalon Trail to A-Z Trail, Mt. Tom Spur, Willey Range Trail, back down Avalon Trail
Summit Counts: Tom and Field are our 12th and 13th winter 48 and our 89th and 90th mountain we have successfully climbed since May of 2006.
---
Picture Gallery
This trip report takes the form of a letter to my 22 year-old daughter:
Dear Jess,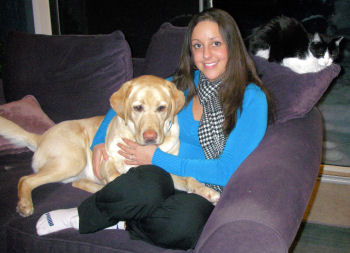 Today is my last hike with Dejah, your happy-peppy-3-year-old yellow lab and my beloved trail dog.
It's 5 am. Dejah is awake and way-too-feisty as she hops in the back of Pat's RAV 4 with her stuffed toy giraffe. We drive past your U-Haul trailer parked in the driveway and head off to Mt. Tom in Crawford Notch, to put at least one, maybe two more notches in our winter hiking belts.
Dejah knows when we arrive at the Highland Center parking lot and immediately starts going crazy, crying and jumping, totally ready to get out of the car and start hiking. I am a bit less enthusiastic. Having just spent the last 17 days in Chile, hiking, white water rafting, kayaking and camping in the summer sun, I am not sure I can face winter. Did I really used to do this? Put myself deliberately out in the freezing cold and hike thousands of feet up a mountain? Was I sane? I have lost my winter hiking nerve and am no longer confident I can do this. My apprehension as I put on my hiking boots is just short of dread. But I certainly can't stay in the car listening to Dejah cry - so out of the warm car and into the cold outdoors we go at 9:30 am.
Dejah is so happy to be outside she hops and skips with joy, bounding toward the trail ahead of us, impatiently turning around every so often to make sure we are following. How can I not feel happy seeing her so euphoric and clearly wanting to include me in her jubilance? Her joy rubs off on me like her hairs rub off on all our furniture at home.
We start up the gentle slope of the Avalon Trail, which is hard-packed snow and ice with a couple of inches of new light snow on top. As my snowshoes flick the soft snow off the trail, you are on my mind, Jess. In ten days, you and Dejah will move to El Paso, Texas, to be with Sean, your fiance stationed at Fort Bliss. By the time I get home today, Sean's dad will have picked up your U-Haul, jam-packed with your treasured possessions, to drive to Texas so your stuff will be there when your flight arrives. So while you are packing, Dejah and I are out for one last adventure.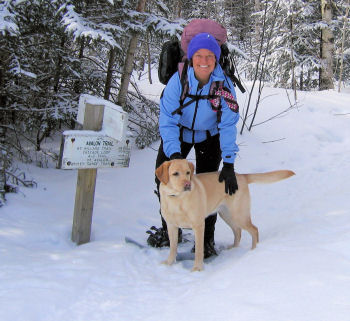 Knowing our hiking moments together are limited, I watch Dejah more closely today; trying to collect for my memory banks all the cute, quirky, sweet things she does on the trail.
Dejah, as usual, gets her initial puppy spurt of frenzied energy out the first 15 minutes and then remembers who she really is at her core, a dog who likes to be as close as possible to those she loves. So she runs back down the trail towards us and gets behind the leader. Nose-to-calves. She is the middle girl, right between us, just where she wants to be. And there she remains throughout the rest of the hike. Every once in a while, when she steps on my snowshoes, I stop and encourage her to get in front of me, which she does because she wants to appear obedient. And she stays there for, oh, maybe 10 seconds before she turns around, glances up at me, and gets right back behind me.
Dejah reminds me of you, Jess. She knows her mind and she does what she wants to do. And she is so darn cute doing it, that although it may not be what I want her to do, I can't help but love her. Dejah also reminds me of me. She knows whom she loves and she wants us close. If I had my way, both you and Kelly would always live close to Dad and me. I miss Kelly terribly so far away in Florida.
An hour on the trail and I am beginning to get reacquainted with winter hiking. I can do this. It's not so bad. Actually it is beautiful. The snowflakes on the tree limbs are so big and fluffy that you can actually see the individual crystals. This is why I hike. I feel centered again in my heart and home. I've successfully transitioned back to winter hiking in New Hampshire. I turn around and check on Pat who smiles back at me.
We stop for a water and breathing break and Dejah bounds down and sits opposite me, looking at me intently, praying in doggy language that this is also a treat break. Her tail wags sporadically, swinging back and forth wildly in moments when her hopes are high, and becoming sluggish when her hopes dip. She tilts her head to the right, looking oh so optimistic. I stand there and look at her and she tilts her head to the left, continuing to look as endearing as possible. She is just too adorable for me to resist and I reach for the treats. Her tail starts wagging frantically with glee, already telling me how grateful she is as she patiently waits for her reward.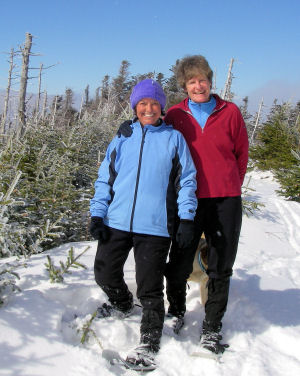 On the way up we meet a large group of backpackers who exclaim excitedly when they see Dejah. She's a pretty dog, if I do say so myself. She is strong and fit, a soft cream color, big brown eyes, bright white teeth when she smiles, and she's sporting a new turquoise collar today. She returns the group's excitement initially and goes off to greet the hikers. She takes a quick whiff of each as they pat her. But she doesn't stay around for the extra attention. It is as if she realizes her heart belongs with Pat and I and she is back by our sides in no time.
We hit the junction with the A-Z Trail and head up to Tom. By 11:30 the trail has gone from moderate to pretty steep, our pace has slowed and we slog up the headwall. I guess I should speak for myself. I slog up the headwall. Dejah never slogs - she trots, runs, slides, bounds with glee, jumps with abandon, but never slogs. Dejah is much like you, Jess. She is so full of life sometimes she can't contain herself. When I look at your smiling face, Jess, I can't help but feel proud of the beautiful, capable, strong woman you have become. It is a gift to have had you living with Dad and me over the past two years, while you've been Finance and Insurance Manager at Nissan and Sean was in Iraq. We have loved sharing your life, being on the sidelines watching you live, work and play. Your joy has been our joy. Like Dejah, I love having you near me.
We make it to the top of Tom at noon, take some summit pictures and head down. I am dreading what lies ahead -- I am going to have to change my sweat-soaked clothes into dry warm ones. And when I am already absolutely freezing, the thought of standing near the top of a 4,000-foot mountain and taking my clothes off is...well, crazy. But I know it is my only hope of getting warm, and Pat and I have a system that ensures the process is quick. So off come my hat, gloves, jacket, and shirts, until I am standing in the frigid cold with my bra on. Then one by one I don my second set of clothes. Dry polyester shirt, warm fleece, zip up the jacket, hand warmers, another pair of gloves and a different hat, then I just stand there for a few minutes and let the warmth very slowly seep into my being. My muscles let go, I start to breathe again. Dejah is jumping anxiously to get started. I begin to move and I realize I am going to be fine.
The switch from wet clothes to dry clothes on top of Tom and from summer hiking in Chile back to winter hiking in New Hampshire are transitions -- moving through an ending to a new beginning. I find transitions difficult. Especially this one that is immanent. On March 5th we will take you and Dejah to the airport. I dread saying goodbye. I know I will cry. Although this is an ending for both of us, it is the beginning of a new and exciting life for you, Jess. And maybe this will be like other transitions for me -- the anticipation being the worst, the change difficult but fast, and then I will adjust to a much quieter, less hairy, emptier home.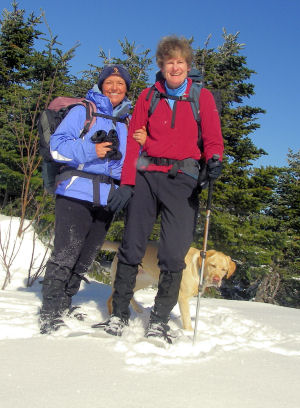 The hike along the ridge to the top of Field is a pretty steady up and we take it slow. We get to the summit at 1:15, and set the camera timer to take our summit pictures. Dejah won't pose with us, but ends up in most of our pictures, because she is never far from us. There are tiny flecks of snow in the air swirling around us, sparkling, as if we are in a snow globe. It is wondrous.

We start down the mountain on the Avalon Trail. Even when I am leading and I can't see Dejah, I know her warm loving self is right behind me. I feel her presence, her joy, and her trust and innocent full-on love. How can I not savor every moment Dejah is with me when she is so filled with delight and passion for the moment, for the mountains and for me? I turn around to catch a glimpse of her and she looks up at me, confused as to why I have paused, but thrilled that I am paying attention to her. She has been on so many of our 4,000-footer and hundred-highest hikes. I remember her on Adams. She was so pooped she almost fell asleep during a break on the hike down. On Wildcat she tried out her new packs, but they confused her because she kept getting jammed in between rocks that she thought she could fit through! She took a mud bath on the Sharon Ledges and she made it up the ice slide on Moosilauke six weeks ago when another dog had to turn around. Her spirit is indomitable.

The Avalon Trail is steep and we slide down on our butts much of the way, sometimes going too fast and getting a bit out of control. Dejah slides and skids right along behind the leader, her entire back end furiously wiggling as fast as we are flying. She gets very excited when we slide, her nose inches from my backpack until I come to a halt and she bounds around me jumping with excitement. Please, Grammy, can we do that again, huh? Please, Gram please?

We survive the sliding and finally reach the Mt. Avalon spur. The sign says the Avalon summit is only 100 yards up but we decide to leave it for when we come back to bag Willey. We head down, reaching the car at 3:30. We put our backpacks in the back of the car and let Dejah spread out on the rear seat, as a treat. Her back legs are straight out behind her, and she stretches from door to door. She is asleep before we pull out of the parking lot.

I am home. My body is hiking tired. Don, my husband of 30 years, is in his reclining chair to my left. I am curled up on one side of the purple couch and Dejah is where she always is in the early evenings -- curled up beside me, her head lying on my blanketed feet. Jess, you are upstairs packing. And I, I do not take this scene for granted. I know in life it is only the relationships we have with others that really matter. I cherish this moment surrounded by those I love.

Good-bye Jess and Dejah - I will miss you.

Love,
Mom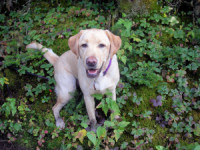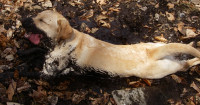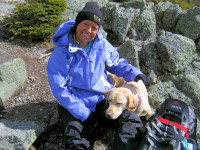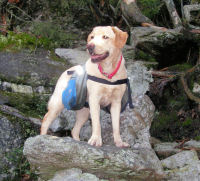 13 out of the Winter 48