Mount Snow (Chain of Ponds)
Submitted by Pat

Stats
Mountain: Mt Snow (Chain of Ponds) (3,960)
Date: July 31, 2012
Time: 4.5 hours
Weather: Partly sunny, 70's
Miles: 7.5
Elevation Gain: 2,267
Trail: ATV road and herd path

---

As we are driving on Rte 27 we miss the turn off to the right onto North Road and turn around. Nancy and I are leading and we take a wrong turn which leads us to a logging area where a couple of men are running huge machinery. We drive up after consulting with Bernie and Eileen and ask one of them where Snow Pond is. He directs us back down and we find where we went wrong and keep going, hitting the end of the road and the trail 20 minutes later.
We walk two long miles up an ATV/logging road and gain only 900 feet in elevation. The herd path must be wicked steep. I'm tired from this morning's effort and the idea of climbing an even higher mountain almost puts me out of my comfort zone, but I dig in and dig deep to find reservoirs of whatever it takes to get me to the top.
The herd path is an old firewarden's trail and it's in pretty good shape. We don't lose it or go astray. It's steep though and we huff and puff all the way up. On the summit is an old fire tower with only the metal skeleton of the tower left. Bernie climbs it to take pictures of the views above the trees. The three of us sit and rest and eat. We're tired and not thinking clearly. #99 gets away from us without a summit shot. We simply forget.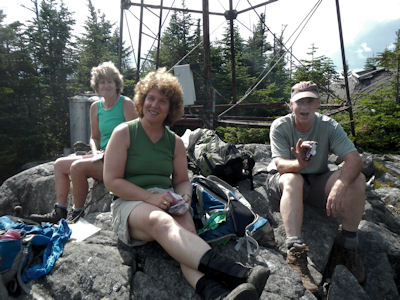 The summit canister is a box with a spring loaded piece of wire mesh that pops open, startling Eileen when she first touches it. We sign the register and read other entries, enjoying the rest and something to eat. The summit is ugly, littered with trash, old wire, glass, propane tanks, and an old wooden shack. I'd love to be part of cleaning it up. We decide to head down and Nancy tries to put the notebook back in the wooden canister and close it back up. What happens next is a series of hilarious attempts by Nancy, Eileen and Bernie to close the damn box. It will not close, no matter what anyone does, and we leave the summit with the bottom open a crack. I take a movie of their efforts that is hysterical.
We make good time on the way down, and we are almost to the car and walking on the ATV/logging road when Nancy asks us all to raise our arms and enjoy the perfect breeze to cool us off. I raise my arms and seconds later hear a thud as she falls behind me. She trips on a log that was lying in the trail and falls forward onto her knee and hands. A hard fall that leaves her breathless at first, but she recovers quickly and although I know it is a hard fall she is not in shock. She is going to be sore tomorrow so we head to the car and pull out a disposable ice pack to start rehab.
We have made such good time that we arrive in Rangeley before the restaurants close. We get an outside table at Parkside and Main, but after a while we become chilled and move inside. Good food, though they forget Bernie's cole slaw and our waitress is lousy. Tomorrow is a rest day. We all need it, especially Nancy whose knee is stiffening nicely. We are hoping to climb our 100th mountain on Thursday.
99 out of 100 Highest