Scar
Submitted by Pat

Stats
Mountain: Scar (West Peak) (3,774)
Date: June 20, 2012
Time: 9 hours
Miles: 7.2
Elevation Gain: 3,391
Trail: From Loon Mountain Resort - Lower Walking Boss, Upper Walking Boss, herd path, bushwhack and back

---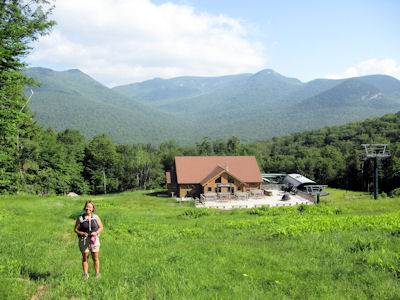 Nancy and I are climbing Scar Ridge on the hottest day of the year. It's our second bushwhack together and if we are successful in reaching the summit Nancy will catch to me in our bid to climb the 100 Highest mountains in New England. Last night we did our 126th presentation at the Highland Center and today we buy sandwiches at the Mountain Bean (to eat on the drive home) and breakfast at Munroe's. We are parked at Loon Mountain and walking up a service road by 8:30 or so. It's hot already and predicted to get much hotter. I don't really care about that. I'm glad to be hiking and excited about the challenge ahead.
Part of the service road is in the shade and the breeze feels wonderful on our shoulders. Nancy takes pictures of butterflies and wild flowers along the side of the road. A short time later we reach Lodge III and the climbing really begins. We start up Lower Walking Boss, the left-most trail of Loon Mountain's Ski Resort. The grass is relatively short, knee high at its highest, but the slope is steep. Neither of us have any love for trudging up ski slopes. It's just plain old hard work. But this one offers something that keeps our spirits up. It offers us a view of the White Mountains north of the Kancamagus. Nancy identifies the sharp summits of Flume and Liberty. As we get higher we see Lafayette, Lincoln, Cannon and the Kinsmans.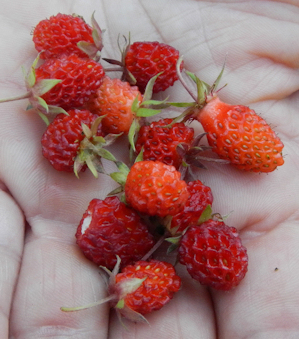 We hit a few switchback maintenance paths that provide relatively flat footing. We follow these little paths wherever we can. The first thing Nancy notices are the wild strawberries. She picks a few and eats them. Her eyes are alight with pleasure and our pace slows to meet her picking needs. I'm not a strawberry lover, but I pick a few and they are warm and ripe and deliciously sweet. Wow! I remember so well climbing this slope with Bernie and Eileen last October. I'm glad to be back walking it again with Nancy. We are on a mission!
The climbing seems to go on forever and the black flies are vicious. An occasional breeze keeps us cool and forces the black flies away from us, but it's not consistent and they swarm. We reach the summit of North Peak and take a few pictures. We don't dawdle as the flies are crazy making. I can understand why livestock go insane from their swarming and biting. I am flailing and anxious to get going, but stop and get a compass bearing as is prudent.
I find the entrance to the herd path as I remember it. It's very overgrown and hard to see if you don't know where it is. After about 50 yards the herd path becomes clearer and we make good time. I am using the starting point Bernie provided me, which was an excellent line up. Compass bearing 122 degrees SE. We reach the spot and I offer Nancy the lead. Smiling, she takes a bearing and starts up to the ridge. At first the going is pretty easy - in fact, most of the way is easy - it's a perfect line, not too many blow downs, no tight, nasty spruce areas to push through. We are wearing short sleeves and shorts. It's too hot for long pants. We'll take the scratches for temperature control.
We head right toward the summit. As we near the height of land we find the large rock with a small cairn on it and I know we were close. Yup, I look and there it is - the summit canister. Woo Hoo! The black flies, however, are vicious so Nancy writes a quick note, we sign it, and start back.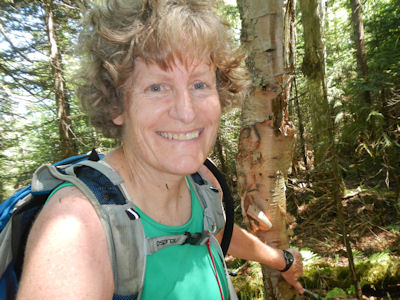 Critical moment here. Because of the black flies and the fact that we haven't eaten lunch yet (the flies are so bad we can't stop to eat) we both want to get down fast so we get onto the first herd path we see and begin our descent. Checking the GPS I see we are off our line, but we decide we should keep descending and ease our way back to the original line to the left. What I don't notice on the map is that the line we came up followed the ridge line, and the line we are taking down falls off the ridge line to the right as we head south. I keep trying to edge left, but we are trapped by blow downs and spruce hell. Checking my GPS we never seem to make any progress toward the left and our original bearing.
We make it all the way to the top without a scratch, not an ounce of blood shed, but the way down was another story. We are hungry and frustrated and unsure and the line down is pure and utter hell. We are scraped and blood is definitely the order of the afternoon. My tension is very high. I hate this kind of tension. It takes me outside of myself. I am not the calm, cool, determined me. I don't feel safe or happy and I snap at Nancy when she tries to ask questions. She is scared and so am I. Not a good combination. I know we have to be careful or we will miss the herd path so when I see on the GPS that we actually have passed the intersection with the herd path I realize we have to hike up toward the ridgeline if we are going to find it.
Nancy doesn't have a lot of confidence in me about now and neither do I, but despite all the mistakes I made I feel this is the right decision so I start back up. Nancy follows. After ten minutes of struggling we arrive at a flatter area and after looking around for a minute I spy the herd path. Oh my god, seeing the path feels so good. It is such a relief. Now all we have to do is follow the path to the ski slope and head down to a delicious Mountain Bean sandwich and cold drinks snuggled in our ice-filled cooler.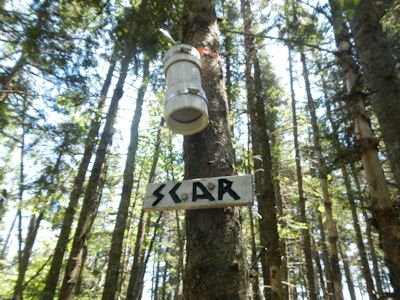 The herd path goes on forever and because we have only eaten a couple of protein bars we are cranky and very ready to be off the path and onto the ski slope where there is the possibility of some breeze. We are maybe 100 feet from the end of the path. I can see the ski slope and I lose the path. I try going left but nothing looks the same. I backtrack and nothing looks right. And the ski slope and freedom from bushwhacking is right there! I can see it! So I decide to bushwhack and the line I pick sucks. Blow downs, nasty spruce, a real kick in the ass to end our day in the woods.
But we finally crawl out and land on the slope. Off come the boots, on go dry socks, on goes more insect repellent. Once again the black flies are swarming and they make me crazy. Let's keep moving...please. I don't care about the views or the fact we are out and in sight of safety. I just want to get away from the damn bugs. So we start down and down and down and down, toes mashing into the front of our boots despite careful boot lace trying with a surgeon's knot. It is hot and I feel the sun burning my shoulders. I am almost out of water and only have a bit more Gatorade. I'm on a mission. We both are, and we move steadily, if slowly, down the mountainside. We hit the access road and find some shade, but the road goes on and on and on and I am exhausted.
Nancy takes a moment to thank me for accompanying her on this hike. #91 for her and we are tied. From now on every mountain summit we claim we will both be subtracting from the total of 100. I am glad to do it, but wish I had not taken such a bad line down the ridge. It made what was a relatively easy bushwhack into hell. The lesson I take away is no matter what is happening - hunger, bugs, weather - take the time to look at the map and make an informed choice for a heading back. Doing that would have saved a lot of anxiety and wear and tear on our bodies. I also see that sometimes it's not so easy to pause, concentrate, look at the map, talk to my hiking partner, coordinate and agree. So on this descent we learned how bad bushwhacking can be, and how hard it can be to stay focused, connected and true to ourselves.
#91 out of 100 Highest in New England