Pico Peak...a Reminder

Submitted by Nancy

Stats
Mountain: Mt. Pico (3,957)
Date: November 24, 2007
Time: 5 hours
Weather: Sunny, clear skies, teens and low 20s
Miles: 5.8
Elevation Gain: 2,134
Steps: 14,514
Trails: Appalachian/Long Trail to Pico Link Trail
Holy Shit Factor: Comfort zone all they way

---
Picture Gallery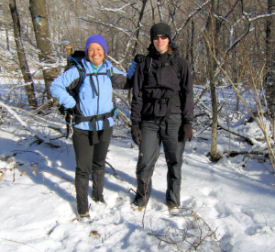 It's not often we get to have a special guest join us for a hike. Carin Taylor, a niece of my dear friend Marty, joins us for our Thanksgiving weekend foray into the mountains. She's young compared to us (31), in great shape and is looking forward to "moving" her body! We need a successful hike desperately after our past two attempts on Sleeper where we ran into water crossings that ultimately stopped us cold. We decide to hike Pico Peak in Vermont. Given Pico is relatively close and only a 6-mile hike, we get to have a leisurely morning, breakfast and bathroom time, and leave in the daylight! Halleluiah!
What a difference a few hours makes! Pat and I usually leave at 5 a.m. Now folks, Pat probably gets up at 3 something, giving herself plenty of time to really wake up and have breakfast and then she drives the half hour to my house. On the other hand, I roll out of bed at 4:36 a.m., immediately gasping because our bedroom is freezing and the heat has yet to kick on. As I walk to the bathroom in a stupor, I gaze outside and see nothing but pitch black. I moan, and ask myself what the hell I am doing. Pat arrives and I can barely open my eyes (which doesn't matter because it is still pitch black outside), and I have no hope of being able to complete a thought verbally. I can't even think about breakfast. Who gets up at 4:30 a.m. to do anything? We are supposed to be asleep! That's why it is dark - to facilitate sleep! Who am I to question the wisdom of nature? Anyway, it's sheer rapture to leave at a reasonable 8 a.m.!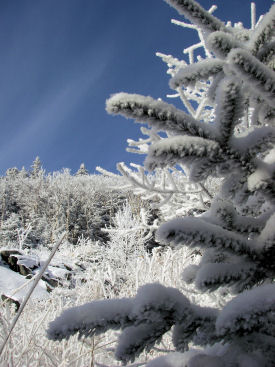 We drive to Sherburne Pass, Vermont, and I am keeping an eye on the temperature gauge in Pat's car that is reading in the teens. It's chillsterinoes out there and I can feel my cold anxiety kicking in. We turn into the trailhead parking lot, entering the world of winter. Snow is on the ground and the trees are covered with a light dusting of the white stuff. The sky is clear blue and the sun is full, reflecting off all the snow and making everything eye-squintingly bright and clear. I take a deep breath of the crisp cold air and immediately start coughing. Dejah, if possible, is even happier and peppier in cold and snow. Pat is psyched to hike and immediately dons sunglasses to protect her eyes. This is her first hike without glasses. She had Lasik surgery last weekend (and I watched!). We head up the Appalachian Trail.
Within the first ten minutes we realize our Stabilicers (rubber soles that have cleats on the bottom) would make climbing much less stressful as there's lots of ice on the trail. It is a relatively gentle (for which I am always grateful) but steady up. On the climb we have the chance to learn about Carin who is in the midst of deciding what to do with the rest of her life. Pat and I share our learnings from our hikes about the messages we have received from our heads and hearts and guts and suggest she listen to her gut.
We continue up, traversing a ski trail at 2 miles, with great views, then head back into the woods before arriving at Pico Camp at 2.5 miles. We find the Pico Peak Trail behind the Camp and hike the last steep .4 miles to the top. Part way up this last section we hit an open area where the sky is so blue and the trees are covered with snow, glistening in the sun. All I can do is stand there and gasp at the beauty. After taking a few pictures and stalling as long as possible, I reluctantly continue on, knowing I will get a chance to pause here on the way back.
At the top we meet a snowboarder who tells us the ski patrol hut is open and the heat's on - wowsers! We enjoy lunch in the relative warmth of the hut around 12:20 p.m. How awesome is that? Otherwise we would have had to eat on the move; it is just too cold to stop for any length of time. Lunch is Thanksgiving day-after wraps that Pat made and they are delicious!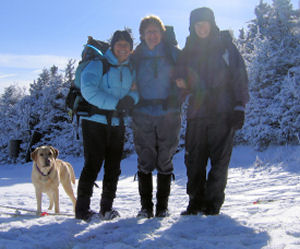 Then we head down. I am looking forward to hitting that open section where the snow is sparkling, as if sprinkled with fairy dust. As the trail opens into the expanse of white, it looks like a picture a child would paint; florescent white snow piled high with glitter generously dumped everywhere, all backed by the dazzling blue skies. The first time I see snow each year it always seems brighter and whiter and more beautiful than I remember from the year before. This first snow has yet to take on the weight of winter. Instead, it is made up of king-size three-dimensional flakes that take up lots of space, so the snow is fluffy and light and unbelievably shimmery and magical.
I stop and stand in the sun, feeling its warmth, and soak in all that beauty. Scenes like this bring me into a bigger deeper place inside of myself where I am totally insignificant, where the world of wonder and mystery and awe live, where there is more love and meaning than I can fathom, and where everything is connected. I don't really understand this place, but when I am there, I know all things are possible. There's nothing to do but breathe it in. I hear Pat taking a deep breath next to me. We are in the same place. Lucky girls.
The hike down using our stabilicers is relatively easy and we arrive back at the car around 3 p.m. I am really looking forward to HOT Dunkin' Donuts coffee. I can't wait for that first steaming sip. Ahhhh...
You know, every hike, starting around November and going though to Spring, I get out of a warm car into the freezing cold parking lot and wonder what the hell I am doing hiking in winter. Jess, my 22-year-old daughter, recently asked me that very question. "What are you thinking, Mom, hiking in the cold?" she asks. "Really, Mom! I get cold just walking from my office to the car!" Today, near the top of Pico Peak, I am reminded of the answer.
67 out of 100 Highest