Passaconaway #24
Submitted by Pat

Stats
Mountains: Mt. Passaconaway (4,043)
Date: February 11, 2012
Time: 5.5 hours
Weather: Cloudy, snow flurries, 30's at the bottom, upper teens on top
Miles: 9.2
Elevation Gain: 2,950
Trail: Dicey's Mill Trail out and back


---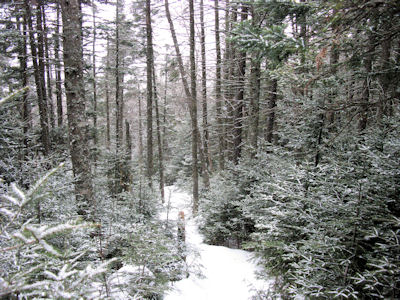 A week ago we attempted to climb Mt. Passaconaway from the Kancamagus via the Oliverian Trail. I had taken that trail up to Square Ledges earlier in the fall and it seemed like an easy approach. It was a beautiful day and we were greeted by unbroken trail and 8-10" of fresh power. It was easy walking when we started out, but hours later, when we were trying to figure out which trail led to the summit cone (the map wasn't matching what we were seeing) I realized I was dead tired and pushing myself up to the summit felt like more than I could do and also get all the way back to the car again. I felt disappointed in my lack of conditioning and really stupid for choosing the Oliverian Trail as a winter option; the south side via Dicey's Mill would have been much saner. I suggested to Nancy that we turn around and she agreed.
Long walk back to the car. Lots of time for thinking. Not much to say.
The weather for today's southern approach of Mt. Passaconaway via Dicey's Mill is much different than last weekend. It's not very cold, 30's at the trailhead, snow flurries, grey skies, and the trail has been packed out. We put on microspikes and use them for the rest of the hike. We bring snowshoes but take them off our packs are stash them behind a tree after a couple of tenths of a mile go by. Why carry the extra weight?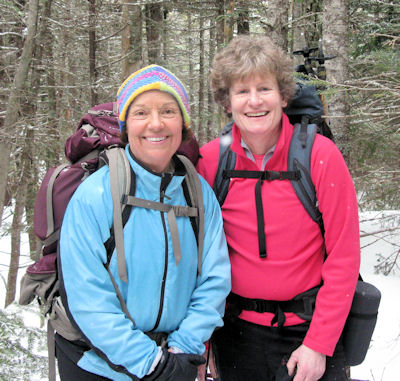 And up we go. We cross an open stream without mishap, carefully stepping from rock to rock. The first part of the Dicey's Mill Trail is a moderate tramp through deciduous forest. When we arrive at the huge house-sized boulder we start to climb. The climbing is steady but not particularly steep. No cursing, some sweating, mostly enjoying the gentle temperatures and each other's company. We meet a group of hikers coming down who do not have traction. They have been warned by someone farther up that getting to the summit without traction is impossible so they have turned around. They are a dejected bunch as they pass by. We are momentarily made anxious by the warning, but keep going, unwilling to turn around unless we see for ourselves that the ascent is impossible.
Quite a few hikers are on the trail today. The mild weather has brought out winter peakbaggers who might otherwise have stayed home. We finally reach the steep part, which is a few tenths of a mile from the summit cone. No views at the overlook and there are only a few people at the summit. We ask one of the guys to take our picture and he obliges. We don't stay long on the summit. A delicious dinner at the Common Man awaits us when we get down, so we do the old put our heads down and go routine.
I feel content, satisfied and proud that even though I am not as fit as I would like to be, I made it up a 4,000 footer in winter. Yay for us! #24 of 48 winter peaks.
24 out of the Winter 48