Passaconaway: One Step Out
Submitted by Pat

Stats
Mountain: Mt. Passaconaway (4,043)
Date: March 22, 2008
Time: 7 hours
Weather: Sunny, windy, cold - 20's
Elevation Gain: + 2,950
Miles: 9.2
Trails: Dicey's Mill out and back

---
Picture Gallery
This report takes the form of an email to Nancy who is in Florida visiting her daughter and sunning herself-
NNNNNNNNNNNAAAAAAAAANNNNNNNNNNCCCCCCCYYYYYYYYYY!!!!!!!!!!!!!!!!!!!!!!!!!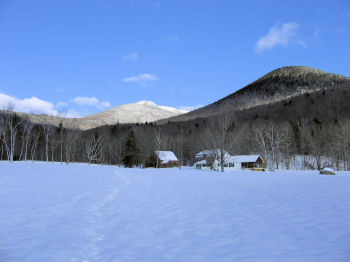 So you are in Florida and I have a weekend to either stay home or go hiking. The opportunity to hike with an acquaintance named Steve who teaches at the College presented itself and I decide to try hiking with someone else. It isn't easy - no one could come close to being the friend you are to me, but then I realized that isn't the point of this invitation. It is to allow me the chance to step out of my isolation and meet someone else.
We decide to climb Passaconaway - the wind is predicted to be high in the Whites and I am not anxious to be above tree line in a gale - so we go the more conservative route. I am not foolish enough to think this is going to be an easy climb - there are no easy 4,000 footers - but think we might be somewhat better protected. Last night I had been tempted by the possibility of exploring a new trail, a slightly longer approach from the Kanc - Oliverian Brook to Passaconaway Cut-Off to Square Ledge Trail to Walden Trail (10.2). I decide to think about it and make a decision on the way up.
The morning starts very badly for me - I go outside with 15 minutes to spare to start my car and it is dead - dead battery - I had left the ignition turned on while removing and loading CD's for the morning and left it on. Blah and double Blah. My first reaction is, "Well, that's that", but as I think more about it I can't imagine calling Steve and bailing out. Besides, what will I do all day?
So I move the truck next to my car, have a hell of a time opening the hood, get out my battery cables, hook them up - standing there holding one end of the cables while trying with one hand to take off the protective cap on the positive terminal on my battery. Finally pry it off, connect the cables and boom my car starts. Phew - now to remove cables, close hoods, move the truck back, put wood under the plow, push the plow all the way down, finish packing the car, and head to Keene. I am supposed to pick him up at 6 a.m. - I leave the house at 5:42 a.m.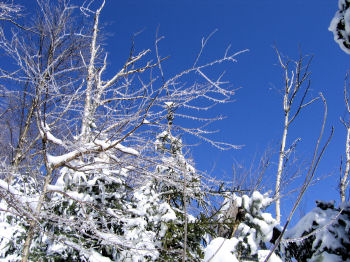 And I make it to his house relatively on time. He is ready - all dressed to hike in boots and gaiters and nothing extra - just him and his pack. I can't imagine riding back in my hiking boots. I always wear different shoes on the drive, and bring a spare set of clothes to change into...just in case. I didn't think to suggest he bring extra clothes/shoes as well. Anyway, it is just starting to get light as we head out Route 9. Steve is very friendly and leads most of the conversation. He asks me questions based on his reading about me on our web site - what was it like being a CIA brat, what was it like living 9 years of my child and teen age years in Latin America, how did I end up working at Keene State College. I answer his questions and even add tidbits of deeper stuff by telling him that I am a secret and the reason I invited him to hike is to take a step in the direction of not being a secret and stepping out of my self-imposed isolation. Heias very gracious and thanks me for inviting him and again apologizes before we even start hiking about how slow he is and how he doesn't want to frustrate me. I tell him I don't race up the mountains - I slog.
And he tells me stuff about himself, some answers to direct questions, some self-revealing coming out of different conversational focuses. He is very open about who he is - a man living in a heterosexual relationship that is a real relationship, who thinks he is fat - he lost 40 pounds in the last year but still wants to lose more - with an addictive personality - he stopped watching TV years ago - and a crazy family - like every other family I know. He majored in Biology with a concentration in neurology, I think, and was teaching at Vassar before he came to Keene State in 2000. He is very concerned with gay, lesbian, transgender issues, with social injustice and discrimination, and his work is all about making a difference in the classroom, one student at a time. Very cool.
So the drive up is punctuated by interesting conversation - not like you and I have - but closer than I expect. I realize that I have come into the drive with a defeatist attitude - like no one could measure up to you and give me the same sense of connection. But what I end up learning is that no one can measure up and I don't want anyone to measure up - that Steve brings his own light and his own self and shares with me in a real way and goes beyond the superficial and it is what it is and it is good. My connection with you is so special and so intense and is the product of years of natural progression and growth, step by step, not like a glacier moves, but not like a class V rapid either. Somewhere in between. So allowing Steve to have his own place in my heart, because he is open and honest and real, is an excellent learning. Maybe I have a chance to develop relationships that are meaningful - that my relationship with you is not a one-of-a-kind thing and that meaningful relationships come in all sizes and flavors.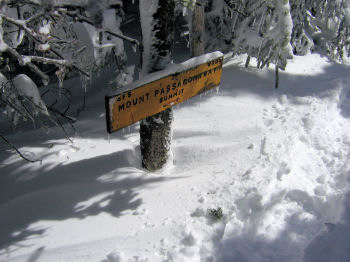 The day is clear and temps at ground level are in the 20's. It is going to be a beautiful day. After stopping in Meredith at the Irving Station for gas and sundries, we talk about the route and decide to go the Dicey's Mill Trail - it makes sense since the Whites received some fresh snow yesterday and who knows how broken out the Oliverian Brook trail will be. The drive on Route 113 is slow and torturous - the frost heaves are amazing and as soon as I get any speed up I have to slam on the brakes for fear of breaking my car in two. We finally ease our way down an icy, rutted Ferncroft Road to the parking area. Four other cars are already there. We gear up and set off at 8:50 a.m.
We walk through a field that is the front yard of a summer home before entering the actual trail in the woods. We bareboot until we hit the trail and then put on snowshoes. One other hiker has gone before us and bareboots much further up the trail before donning his snowshoes. I lead off. It's a challenge to be hiking with someone new for the first time - in retrospect I wish I had asked him to tell me if I was going too fast or too slow - so much easier to say it than spend the emotional energy wondering if my pace is too fast or too slow. We exchange the lead every so often and he takes the lead sometimes warning me he is going to be slow. I finally tell him to stop with the slow, that his pace is perfect, and I am fine.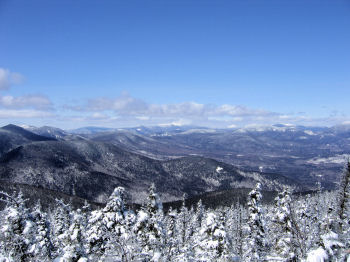 The lower part of the trail is a gentle walk in a deciduous wood. Lots of drifted snow obscuring the trail as we climb higher. We are glad for the lone hiker ahead of us. We arrive at the huge boulder I remember from our first trip up Whiteface and Passaconaway - our first two 4,000 footers - and take pictures of the amount of snow that has fallen in the woods. 5-6 feet. Amazing. At this point we start to climb a little and as we ascend the trees become coated with ice from an older storm. The snow is deeper on the trail and snowshoes definitely the traction of choice. Looking up at the opalescent ice on the trees with the sun glinting and the sharp blue sky behind - beautiful. I can tell that the climbing is taking a bit of a toll on Steve - he is sweating and breathing heavily - but he slogs gamely on. We start encountering tree branches and pine boughs draped over the trail and it becomes a constant battle to duck under them. Sometimes they are so low we have to get on hands and knees. Hard on the back and upper hamstrings. We finally reach the junction of the Rollins Trail - no one has been over the ridge in a while - and keep on toward Passaconaway.
We fight through blowdowns and low hanging branches and steep areas of unconsolidated snow for what seems like a long time. Despite going very slowly, I keep leaving him behind. I wait and he catches up, never complaining, and we go onward. He says that carrying his extra weight is a burden and adding a forty pound pack and it is downright hard. But he never complains and keeps sweating and slogging upward. The wind comes up when we hit 3,000 feet and the temperature goes down.
Very close to the summit we meet the young man who has broken trail for us and thank him. He has done a piece of work as the snow at the upper altitudes has drifted and is very deep in places. He sinks in two-three feet at times, even in snowshoes. That is work! We reach the first view spot and move up the trail to change into warmer summit clothes before leaving our packs and reaching the summit at 1 p.m. One of my poles is frozen and I can't telescope it. What good are they if they freeze up? Usually if I twist them, I can snap whatever ice has built up inside the telescoping mechanism. Not this time. So I use one pole. No big deal. We take some summit pictures, eat a snack and head back down.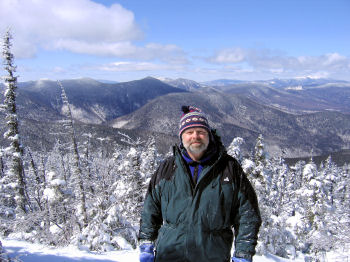 Down, even though easier in some ways, is harder in others - the angle going down through the low-hanging branches makes it harder to get through them. And the pole on my pack keeps getting snagged. Grrr.... Steve screams down the mountain. Much faster than going up. I have all I can do to keep up with him. I let gravity take me, let my strides lengthen and use my pole to keep from falling over. It is kind of cool to move that fast.
We meet a man and his dog just below the Rollins Trail intersection who is barebooting and wearing jeans. The hiking snoot in me is angry that he doesn't have snowshoes. We have to dodge his post holes for the rest of the way down. And by the looks of the post holes, he must have been exhausted and wearing jeans, he must have been freezing. His dog is having fun though.
We reach the car before 4 p.m. and joyfully sit down. Aaahhhh.... Man, that feels good. We stop at the North Sandwich General Store for drinks and more snacks and head back to our lives. We talk more on the way back and it is comfortable. I am tired though. That is a long slog - 9.2 miles - and despite my fitness I always feel how hard I work once I'm down. My hip flexors are feeling it and so are his - although he has an excuse because he did 3 hours of Tai Chi the night before. Lesson learned: Don't do much of anything the day before a hike. I worked hard during my Friday spin class and feel the effects on the hike.
It is a beautiful spring day in the White Mountains, with deep snow and winter conditions. The company is warm and friendly. I am open and accepting. I allow what happens to just happen. And for the first time in ages, I take the risk of stepping outside my isolation and allow someone else to see me. That is a good thing.
Our journey together will never end.
Pat