Owl's Head for 47!
Submitted by Pat

Stats
Mountain: Owl's Head (4,025)
Date: July 14, 2007
Time: 12 hours
Weather: Sunny, light breeze, 60's-70's
Miles: 18.9
Elevation Gain: 2,460
Steps: 52,749
Trails: Lincoln Woods Trail to Franconia Brook Trail to Lincoln Brook Trail to Owls Head summit herd path and back
Holy Shit Factor: Holy shit, what a long day!

---
Picture Gallery

Video Clip
Nancy climbing the slide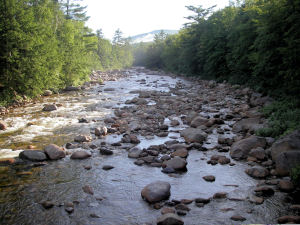 We leave Keene, NH at 5 a.m. as usual and it is great to get to the trailhead in under three hours. What a treat! Another treat is a toilet at the trailhead! It's the small things, you know. Anyway, Nancy and I saddle up and heade out the Lincoln Woods Trail with Dejah at 7:35 a.m. The weather is perfect - mostly sunny, light breeze, temps ranging from upper 50's to mid 70's. The Lincoln Woods Trail is an abandoned railroad, so it is flat and wide. I had read someone's trip report on Views from the Top who missed the turn onto the Franconia Brook Trail and ended up adding another 4 miles to the 19 mile total. I do not want that to happen to us so I keep my eyes peeled for the trail signs. We move right along, sometimes talking, sometimes in silence, making good time.
As we near the summit herd path, we look up through the tree canopy and catch glimpses of Owl's Head. As always our first reaction is, "We have to climb up that?" We laugh as we reach the two cairns and a blowdown decorated in rocks that mark the beginning of the summit herd path. We each add a rock and start up, very quickly finding ourselves on the slide. Now usually I like slides - but this one was the sketchiest I have been on. The loose rock makes footing very difficult and as often as not I slip backward half the distance that I move upward. Still, I like it. Dejah has no trouble with the slide, the loose rock or the ledges. She just does her doggy thing and sits panting as she waits for us to catch up. Nancy is a little out of her comfort zone - she isn't feeling her best and is moving a little more slowly than I am. Pretty soon we are off the slide and into the trees again, still steep but the footing is not as sketchy. We reach the "false" summit where we meet two groups of hikers and start comparing notes on which peak number Owl's Head is. All of them say some number in the 40's. No one chooses Owl's Head as their first or second or even twentieth peak. I wonder why. One gentleman ask what number this is for us and we say 47 - he says that if it had been our 48th he would have gone all the way back to the summit to celebrate with us. What a great thing to say! I love the camaraderie of hikers going for their 48.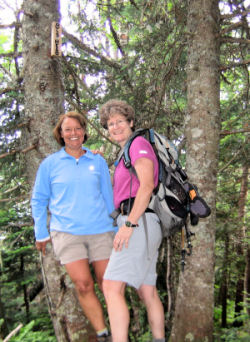 Someone has kindly tacked a blue plastic arrow on a tree to mark the direction of the herd path that goes to the true summit. The blowdowns are numerous and some have some pretty nasty sticks, branches, and nubbins sticking out of them so that neither of our legs get out of there without some blood being drawn. They slow us down and we finally reach the summit at 1:35 p.m. High fives and a hug, pictures, and out of there. We decide to eat on the slide on the way back, but do not realize it is going to take us so long to get to the summit. We are pretty hungry. We meet an AMC-led group of hikers on our way down, one of them wearing a VFTT t-shirt. My parting words were, "We'll be looking for your trip report!"
Down is never fun for me, but we slowly make our way to the best spot, take off our packs, and sit down to our sandwiches at 3 p.m. They taste great, and the view of the east side of the Franconia Ridge is different, unique, and quite beautiful. It is a relief even for me to finally get back down to "level" ground and start the long grind back to the car. I think we are walking at a good pace, but it still takes us close to four hours to get back to the parking lot at 7:23 p.m. My feet, as usual after a long hike, are toast. Sore, sore, sore. I can't wait to get out of my boots and sink my feet into my tennis shoes. It feels so good to sit down and toast our day with a Diet Pepsi and a Diet peach Snapple iced tea. Yeah - life doesn't get much better than this.
We talk about how to make our final 48th climb up Jefferson a great one - start brainstorming ideas, but nothing really whacks us upside the head. I post a note to the VFTT list and lots of folks respond. It is great to read all the different ways hikers have celebrated - solo, with friends, champagne at the top, champagne at the bottom, champagne at dinner, a great meal out. I am hoping to be able to climb Jefferson this Friday or Saturday, but the weather looks bad for the next five days. Not awful but I sure would like to get up there when the views are forever and the wind is kind.
47 out of 48 NH 4,000-Footers
53 out of 67 NE 4,000-Footers
57 out of 100 Highest