Little Kids on Old Speck
Submitted by Nancy

Stats
Mountain: Old Speck (4,170)
Date: August 4, 2007
Time: 7 hours
Weather: Absolutely beautiful, sunny, light breeze, 70s
Miles: 7.6
Elevation Gain: 2,800 feet
Steps: 25,640
Trails: Old Speck Trail to Eyebrow Trail to Appalachian Trail and back via Old Speck
Magic Factor: Full of wonder and delight

---
Picture Gallery

Short Video Clips
Nancy on Eyebrow Trail
"I am not sweating..."
Sharp Little Feet Nails
Nancy Feeding the Grey Jays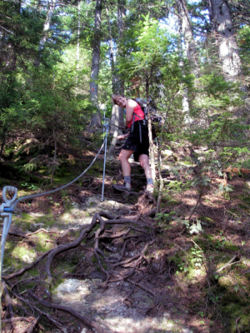 It just happens. It starts in the car about halfway there, two hours into the drive. Pat shares her research on the trails on Old Speck. There's this alternative route to the lower part of Old Speck Trail called the Eyebrow Trail, she explains to me, which passes along the edge of a cliff. Pat's eyes light up as she tells me there are rungs and ladders installed in the rock ledges to help climbers ascend the steep grade. She stays calm for my benefit because she knows this stuff scares the heck out of me, but her enthusiasm for steep is leaking out her edges. Inside Pat is psyched. I am leery.
We are on the Old Speck Trail by 8:50 a.m. and soon after take the turn-off for the Eyebrow Trail. The up starts right away. The steeper the trail gets, the happier Pat is. By the time we see the cable railing, Pat is smiling and taking wow-this-is-awesome deep breaths of appreciation.
"I love this stuff," she says grinning.
Minutes later, "I just love it!"
Then we see the rungs and the ladders and Pat's excitement is bursting. She springs up the ladder and the iron rungs and disappears around the bend on what feels like a 90-degree straight-up trail. Her enthusiasm fuels her step and I believe she could run up the mountain. I finally catch up.
"I love this trail!" she exclaims.
She didn't need to tell me. If her chest were made of glass and I could peek in when she wasn't looking, I would see a kindergarten class out for recess playing on a jungle gym, screaming and yelling, hanging from their knees, swinging and running, filled with vim and vigor.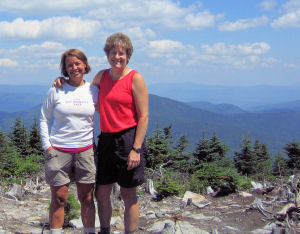 It's not long, about 1.1 miles, before we reach the end of the Eyebrow Trail, and rejoin Old Speck. This is when my kid kicks in. The path is covered with mica -- shiny pieces, big mirror-like flakes, thick hunks, and rocks laced with mica. I can't contain myself. I love mica. I love that it looks like fairy dust on the trail. I have been collecting it on all of our 4,000-footer hikes since we started. But I have never seen anything like this! It is everywhere! Clear, silver, and black fragments, tons of them, like shells on a Sanibel beach. I spend more time bent over on this hike than on any other.
"Wowsers, Pat, look at this!" I scream ahead to Pat.
"Wow, oh, wow! A huge piece!"
"Oh my God, it looks like it is just growing out of the ground!"
"There's tons of it! Pat, did you see this?"
By now Pat is laughing.
I put piece after piece in my shorts pocket. I stop every few minutes for the next find. I'm collecting treasure, blessed each time I come across another cache of the sparkling trail diamonds. I am stopping too often but I just can't help myself. Pat has caught on and has started her own collection, but she is more discriminating and picks up fewer specimens. She seems to be able to let some mica-covered trail go under foot without needing to stoop down to see if there is a gem in the midst of the shimmer. I just can't walk past it, I HAVE to stop and examine nature's gifts and take what calls to me the most. Then I jog to catch up.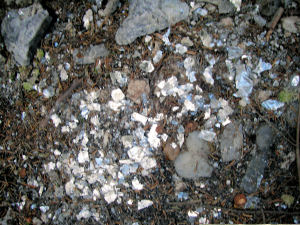 "Oh my GOD, look at this piece, Pat! Look at this! Pat look!" I say over and over. I am five years old and I want to share my find with my friend.
My pocket bulges more and more now that I've decided to collect mica-glazed rocks as well. I start putting the larger ones in my pack.
By the time we get to the summit at 12:10 p.m. both our pockets are swollen with wealth from the mountain. I feel like I have a stash of gems, prized possessions, rare finds, glittering jewels. It's Easter and I have a basket full of chocolate eggs, more than I ever dreamed; or its summer on Cape Cod and I come across a large intact conch shell, smooth and colorful near the water's edge; or I'm panning for gold in one of those silly fake Boom Town type places out West and there, glittering in my pan, is a hunk of real gold!
The summit sports a tower, but we choose to sit on a few hot rocks and enjoy the view from ground level. We take off our boots and spread our toes and put our faces toward the warm sun. Ahhhh. We eat our lunch side-by-side, two best friends simmering with the excitement of a fun adventure on a perfect day in July. We spend almost an hour of bliss on top before heading down at 12:58.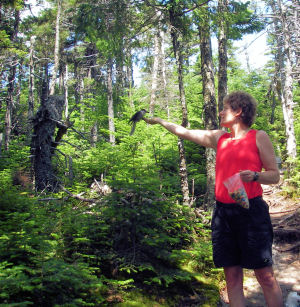 We continue adding to our mica collections on the way down one of the most beautiful trails we've ever been on, when Pat sees two grey jays following us. We met grey jays for the first time on Mts. Jackson and Webster where they ate out of our hands. Pat gets some trail mix, reaches out her hand and almost immediately a bird lands on her palm and grabs the raisins. Wowsers! How cool is that?
It's as if I've never seen it before. The kid in me is wide-eyed with wonder and excitement. I wanna try - that's so cool! Pat gives me the trail mix. I hold my hand away from my body and they come. It feels like we are in some magical wooded land where birds come to share their spirits with you. I start talking to them when they alight on my fingers. I know it's really happening because their claws are sharp! (Watch the movies!)
We leave our feathered friends full and happy and continue down the mica-decorated trail, me trying not to bend over for a closer mica inspection and possible collection every other step. We arrive back at the car at 4:15 p.m., change into dry, clean clothes and sit in the parking lot enjoying a cold drink, the perfect temperature, soft breeze, warm sunshine and our distended pockets.
Pat and I often have deep conversations when we hike, but today is light-hearted, treasure-hunting, bird-communing, jungle-gym type climbing, young-at-heart fun. On this hike the sweat, heavy breathing and hard effort, all there big time, are minimized by the sheer joy of experiencing the mountain through a child's eyes. What a blast!
55 out of 67 NE 4,000-Footers
59 out of 100 Highest