A Wedding Hike Up Monadnock
Submitted by Nancy

Stats
Mountain: Mt. Monadnock (3,165)
Date: July 10, 2008
Time: 4 hours and 30 minutes
Weather: Sunny, passing clouds, light breeze, 70s, windy and COLD on top
Miles: 5
Elevation Gain: 1,653
Trails: Toll House Road to the White Arrow Trail and back

---
Picture Gallery

I'm gonna love myself more than anyone else
Believe in me, even if someone can't see
A stronger woman in me.
I'm gonna be my own best friend
Stick with me till the end
Won't lose myself again, never, no
'Cause there's a stronger woman.
A stonger woman in me.
Jewel, Stronger Woman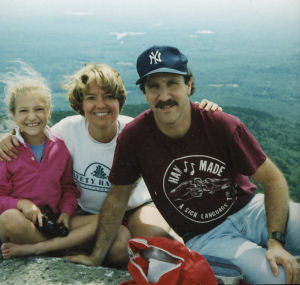 I climbed Mt. Monadnock probably 6 times in 50 years. Each summit sojourn gave me the same mysterious gift -- a glimpse of my endless possibilities. I didn't know exactly what it was, but I loved the unfathomable incredibly awesome feeling that enveloped me on top. But I am getting ahead of myself.
On Saturday my daughter will become Mrs. Kelly Ritter. Today, two days before the wedding, she is hiking Monadnock.
Are you kidding? Hiking? Really?
Yes really! And it is HER idea! Not mine. If I had come up with the suggestion, the hike would never have happened. Parents' ideas rarely fly. The kids have to come up with the ideas on their own -- then and only then are they any good.
So Thursday morning at 8:45 we gather. Pre-wedding jitters are ramping up big time, so I am hoping the heart pumping aerobic climbing will over-ride the nuptial nervousness and act as a calming agent.
I walk up to the park attendant to pay the parking fee. She looks at my five-dollar bill and tells me it is $4 PER PERSON, not per car. Whoops! We had e-mailed everyone the night before and told them the fee was $4 per car. No one has money. Pat, my hiking partner who lives across the street from the Park and is joining the pre-nuptial hike, goes up to the Ranger and chats for a bit and comes back, smiling, and tells me everything is taken care of. What a beautiful gesture. I start to tell her I'll write her a check to pay her back, but partway through that litany I stop and look her in the eyes, my eyes stinging, and say, "thank you."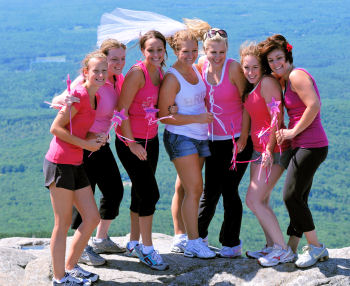 We start up the Old Toll Road. I was sure Pat and I would be leading, having climbed over a hundred mountains in the past two years, but Kelly's sister Jess, the MOH (Maid of Honor), and her fiance, Sean, who just finished Sapper Training in the Army, are at the head of the pack. Along the way, we stop and take pictures of the flowers, the views and the bride and groom. Everyone seems to be climbing without too much of a problem, although I hear side talk about not being able to walk in the morning. We take a few rest stops breathing with the bride. She wonders why it feels hard, since she has been kickboxing. I love that she has started an exercise program. I am so proud of her. So while she is beating herself up because she thinks she is not fit enough, I'm just loving Kelly. Before we know it we are above tree line. The wind picks up, an omen of the summit situation, and we keep climbing.
We arrive on the top 15 minutes or so after the first half of our wedding group arrived. We find them all nestled in a protective granite nook shielded from the whipping wind. We huddle in beside them and have lunch. The MOH surprises everyone with wedding wands for the bridesmaids and a veil for the bride. All decked out with the matrimonial materials, we are ready to record the moment for posterity.
I don't know what the wind-chill is on top, but I've never seen so many goose bumps on so many arms and legs in my life! But the wedding party is bold. Off come the sweatshirts for the photo opps and we laugh at ourselves as the camera clicks away, Kelly's veil blowing in the wind.
******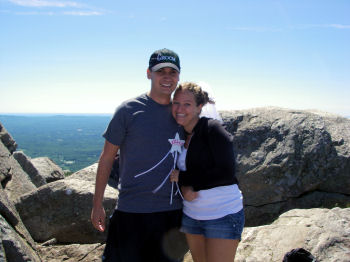 I look at Kelly and Jess, sisters celebrating together, posing on top of the mountain, arm in arm, and realize Don and I have reached the summit of raising children. We made it! Raising two girls, like climbing the mountain, had its ups and downs, places where the journey was easy and steep sections where we wondered if we were ever going to make it. Watching Kelly laugh with her friends on the summit, I wonder how is it possible she is all grown up and getting married when it feels like just yesterday she was a baby. As Kelly shifts from daughter to wife, I am reminded of other life moments on this very peak that marked Kelly's journey from childhood to woman.
When Kelly was six years old and I was much heavier, I took her for her first hike up Monadnock. I was afraid she would have trouble getting to the summit because she was so young. I asked a ranger in the parking lot if he thought she could make it. He looked at her, then looked me over and said, "Lady, you're the one that's going to have the problem."
Kelly ran up the mountain, stopping every once in a while to wait for me. As soon as I would reach her, panting and sweating and swearing under my breath, she'd stand and head up the trail! At one point, when I finally caught up with her, sounding like I was about ready to keel over, she looked at me with total disgust and said, "Mom, I can hear you breathing!"
It was a triumphant moment when we reached the top - for both of us. In a special way, she and I bonded with each other that day on Monadnock and the experience has remained with us. Standing on top, I experienced joy that I had never felt before - unexplainable, emotional, and powerful. We hiked back down and went out for ice cream to celebrate our incredible achievement. I felt so strong and happy, and close to Kelly. I was just slightly aware that a door had opened inside of me; a door to so much more.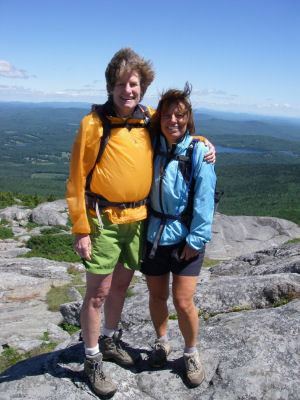 Maybe four years later, Kelly had entered the my-friends-are-way-cooler-than-you stage. Don and I were in the that's-fine-with-us-cuz-you're-kind-of-snotty stage. We went back to the mountain with the Stones, family friends who have graced our lives since we were first married. Dave climbed with Don and I while Kelly and Dave's daughter, Jenn, ran up the mountain together. On top, we felt the achievement in the endeavor, proud of ourselves and our children, joying in the gift of friendship. And again, I felt overwhelming with something so intense inside of me on that mountaintop.
One summer day during Kelly's college years we headed up the mountain once again. On the trail Kelly confided in me that she had a hangover and felt terrible. Inside I could feel my anger. I didn't like that she had a hangover and I didn't want it to ruin our hike. Soon after the admission, Kelly started whining about how difficult the climb was.
"Oh this is so hard! I don't know if I can make it," she whined.
"Holy, moly, Kelly," I barked. "You are going to have to buck up if you want to make it to the top."
Kelly stopped on the trial and looked at me, hands on her hips.
"Look Mom, misery loves company. Just commiserate with me and things will go a lot better between us."
I thought about what she said.
"Wowsers, this is hard," I responded, dragging my body up the next steep step. "I don't know if I am going to make it up either, Kell. Holy Moly!" I added, panting.
"Much better," Kelly said.
Mt. Monadnock has been a quiet, stoic witness to Kelly's journey through life. And the mountain has given us both gifts.
Each time I climbed Monadnock, I was elated and filled with an excitement that was more than just reaching the top - I saw my true self - a strong passionate woman with huge potential. Of course, the words weren't there, just this incredible feeling that I couldn't name. For me, that glimpse has grown into a passion for climbing mountains and finding meaning in the process.
I don't know what Kelly's glimpses of triumphant joy on Monadnock will turn into. It's always easier to see in retrospect. Maybe when she is 50 she will be writing hike reports about her adventures in the mountains. I don't know. But I do know that if she listens inside, she will be led to the awesome answers. I hope she sees the strong passionate exuberant happy beautiful woman she has become. She is a shining light in our lives.
*****
After celebrating matrimony on Monadnock with pictures and cheers, we start the hike down. I think about the upcoming wedding. I feel no loss - only joy. We love Kelly's fiance, Justin, and we are thrilled to welcome him into the family, especially now that he has climbed Mt. Monadnock, a Sporborg rite-of-passage.
Kelly and Justin, I love you. I look forward to the family tradition of marking more milestones on Monadnock. My wish for you is that Monadnock's gifts will reveal themselves to you in exciting life-changing ways, just as they have to me.