Mansfield - it doesn't count!
Submitted by Nancy

Stats
Mountain: Mansfield (elevation 4,393 feet)
Date: Saturday, October 20, 2007 - the day of the Keene Pumpkin Festival
Time: 6 hours
Weather: Sun, clouds, 70s at the trailhead; clouds, mist, drizzle and rain above tree line
Miles: 7.43
Elevation Gain: 2,050 feet
Steps: 24,471
Trails: A loop - CCC Road to Eagle Cut Trail to Half Way House Trail to the Long Trail to Sunset Ridge Trail back to Eagle Cut Trail

---
Picture Gallery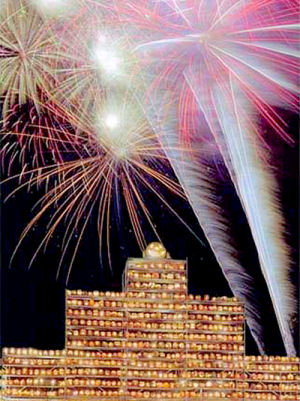 This hike isn't going to count because Pat and I have already hiked Mansfield. I'm not likin' that it doesn't count. What's the point? I like stuff when it means something. When it matters.
This is easy to understand when you know my history. As a child, I tried to keep myself safe by being invisible. I grew up feeling like I didn't matter to anyone. As I reassemble my life in retrospect, I realize I have spent my adult years trying to ensure those around me never feel that way. I have spent 30 years finding ways to tell others they matter.
That's where the Pumpkin Festival came from. I started Pumpkin Festival in 1991 and ran it for eight years. For me, the Pumpkin Festival is an invitation to the people of Keene, the Monadnock Region and the world to carve a pumpkin and bring it to downtown Keene to help us break a World Record. By trying to set a Guinness Record we deliver a plea to all - we need your pumpkin! Everyone can help, every pumpkin carver matters, every pumpkin counts. And with everyone's participation, together we create something that is greater than all of us, something life-changing and community-transforming. That's the beauty and meaning of Pumpkin Festival for me. Over 20,000 lit jack-o'-lanterns shimmering from 40-foot-high scaffold pyramids on Main Street - that's the magic that happens when people know their gift matters.
Back to hiking -- I love that I get to check off a mountain on my list when I get home tired and sore. Like the pumpkins, each mountain counts toward our goal, which in this case is an Appalachian Mountain Club list of 67 4,000 footers in New Hampshire, Maine and Vermont. When we bag all 67 peaks, we'll get a patch, proof positive we did it. But, it's not really about the number of mountains, or the number of pumpkins. It's that by participating, we become more. That's the reward.
While the Pumpkin Festival spirit glows in Keene, we are hiking. I don't go to the Festival - it is too difficult for me. It's like bringing up children. Don and I brought two beautiful daughters into the world and we cared for them and loved them and disciplined them until it was time to let them go. When they went off to college, I was left standing in the hallway sobbing as I stared at pictures of them sucking their thumbs. It's been painful to let go of the Pumpkin Festival, even though I chose to leave, knowing I had done what I needed to do. Being the person creating, orchestrating and delivering the "you matter" message to an entire community made me feel like I mattered, like I made a difference. I miss the hugeness of that feeling. I miss being the leader of something that magnificent and meaningful, that exciting and beautiful. It was such a high for me. So I get the "high" in a different way - I climb a mountain. This year's we're climbing Mansfield in Underhill, Vermont.
*****
We start out in Underhill State Park in the sunshine and warm breeze; Don, my life's partner, Pat, my hiking partner, and me. I love it when Don joins us once or twice a year - it makes the hike very special for me.
Up we go. Don is leading, and he's crankin' up the mountain. Wowsers -- racquetball, handball and running sure put some speed on him since last year. It's hard to keep up!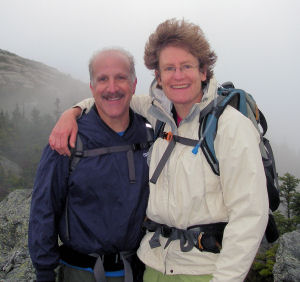 The trail is steep and very wet and much of the time we are climbing in a brook running down the mountain. We have a few views of the sun reflecting on the brilliant leaves below us, but it's pretty grey above us. We reach tree line and we are in clouds, the mist swirling around us.
We walk along the ridge, or should I say the face. Mansfield resembles an elongated human face lying down, with a distinct forehead, nose, lips and chin, which is the highest part. We reach the ridge at the nose and eat lunch probably somewhere between the upper and lower lip.
I am trying to not wish for views and sun and just take what is and know there is something in this for me that is important. What though? I like views. I don't like rain! As I'm trying to talk myself out of my damp and dreary pity party I look at Don and do a double take. He has taken his new navy-colored bandana off and his head is blue. Now, he doesn't have a lot of hair up there so it's pretty easy to see. BLUE! His bandana, coupled with the mist and drizzle and sweat, dyed his skin!
Oh my God, BAD TIMING! Don has a promising employment interview on Monday. He's been looking for work since the beginning of the year when he courageously left his job because he was very unhappy.
He looks at me, eyes very wide. "Oh my GOD, Nancy, what if this doesn't come off?"
I start to furiously scrub his forehead with my index finger and a bit of spit. I'm rubbing pretty hard. Eventually I see a red dot on his forehead where I've been scrubbing.
"It'll come off, honey," I say, trying not to crack up. I glance at Pat who is doubled over in laughter out of Don's sight.
"Holy shit Nancy, are you sure?" Don asks, as he shows me a blue hand. "Oh my God, I can't believe this. What if it doesn't come off? I can't go to an interview like this. Does it really look bad?"
By now Pat and I are laughing hysterically and Don, or should I say hiker smurf begins taking himself a bit lighter and starts acting crazy.
We resume our ridge walk, still giggling to ourselves. We summit the chin and head down the Sunset Ridge Trail when the rain starts pelting us. Pat can't see because her glasses are fogged up and dripping with rain. Don twists his knee and is having trouble getting down the treacherous steep wet rock trail. Our hiking pants are soaked through. I start to shiver, despite my hat and gloves. Don's blue head, now fully exposed to the driving rain, is getting a good scouring.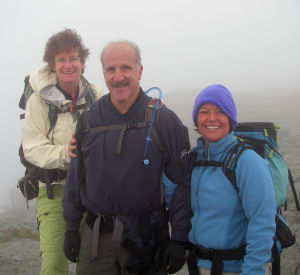 At this point our banter stops and we concentrate on getting down the slick rock face. Just keep moving I am saying to myself and for the next hour that is all we do - make our way carefully over the river of water, mud and slick rock. The slippery conditions make us all more concerned for each other. I find myself thinking how lucky I am to have Don and Pat in my life, as the three of us help each other down the ridge.
It is not until we reach tree line (a long way on this trail) that the rain subsides and we emerge from the mist, drizzle, and clouds hanging over Mansfield summit and back out into the sun.
The last mile is boredom and agony for Don. He likes the intense stuff but can't handle the mundane. We're wet and chilled, looking forward to hot showers and a good dinner in Burlington. The car can't come too soon!
The next day, Sunday, dawns sunny and warm. I ask Don if he wishes yesterday's hike had had today's sun.
"No," he says. "I sometimes enjoy stuff more when there is misery involved. Anyone can hike in beautiful weather. But it takes something more to enjoy a hike like yesterday's in inclement weather. I am blessed that I can do that."
*****
I take it all back -- our hike up Mansfield counts. Absolutely! What was I thinking?
We came back to our car enriched by the experience, blessed by each other's presence, and amazed at our ability to enjoy misery. Whoooo Hooooo!
Writing this report of our Pumpkin Festival hike has helped me understand myself. I realize I mourn the loss of leading the Pumpkin Festival because I have not found its replacement in my life yet. I so desperately want to find the right set of circumstances where I can bring what is in my heart out into the world in a magnificent, meaningful, exciting, and beautiful way. And then the fulfillment, which I miss so keenly, will come again.
Don, no longer blue, got the job on Monday!
This I know: Every day, each moment, counts, whether it has a check-off box next to it or not. And we all matter, every single one of us. Always.