Mt Mansfield - Made it!
Submitted by Pat

Stats

Mountain: Mt. Mansfield (4,393)
Date: December 22, 2006
Time: 6 hours and 20 minutes
Weather: Partly cloudy, low 30's to high 20's
Miles: 6.3
Elevation Gain: 2,763
Steps: 19,947
Trails: Halfway House Trail to Long Trail to Sunset Ridge Trail
Holy Shit Factor: Not too bad


---
Picture Gallery

Video Clip
Windy on Sunset Ridge Trail



This is our second attempt to climb Mt. Mansfield, although we had planned to climb back in November but unfortunately Nancy came down with a nasty stomach bug. Our first attempt was an adventure that we won't soon forget. This time we (Nancy, her daughter's 2 year old Lab, Dejah, and I) set off from Keene at 5:30 a.m. with mild trepidation - will we make it this time? Despite several pit stops, we arrive at the barrier for Underhill State Park around 8:15 a.m. We put on boots, gaiters, and sling on heavy packs in anticipation of a good day and set out at 8:37 a.m.
Mount Mansfield (elevation 4,393 feet) is the highest mountain in Vermont. From the east its ridge resembles the profile of a human face, and the names of its prominent features reflect this: Adams Apple (4,060'), Chin (4,393', highest point), Nose (4,062') and Forehead (3,940'). For about 2.3 miles (from the Forehead to Adams Apple) the Long Trail is almost constantly above treeline, the only such long stretch of alpine zone in Vermont.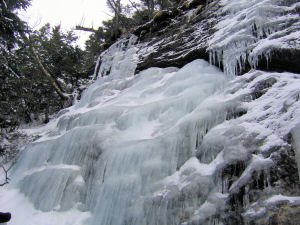 The first mile of the hike we are on short-cut trails that bisect the Conservation Corps park road. There is maybe an inch or two of snow on the ground. The last time we tried to climb Mansfield the day was cloudy with snow in the air. This time we can actually see the steepness of the ridge walls and know this is going to be no picnic. I am feeling tired. My whole body feels tired. I decide I am going to feel tired and to make the best of it. As usual I do my best climbing on the uphill stretches so I enjoy the Halfway House Trail. We are able to barefoot the first half mile or so but ice fills the eroded trail. We stop and put on our stabilicers and keep on going.
The traction those devices provides is incredible. It just goes against all instinct to step on glare ice on an incline and trust that I won't fall. After a while I remember how great stabilicers are and move up the trail. The ice is incredibly beautiful and the snow depth increases when we pass the 3,000 foot elevation mark. Around 10 a.m. we stopp at the spot where we turned around on our last attempt to climb Mansfield. We high-five, say a few words to respect the moment, and move on up the trail.
The map I had states that the Halfway House Trail is a DD (very difficult) trail. I read this after we finish climbing it and had reached the top. It is challenging, but with foot traction devices we really had no problem. We come up on the ridge somewhere near the Nose. There is a communications tower and a hut next to it so we stop, change into dry and warmer clothes and drink a little hot cocoa. Bliss! The wind remains fairly calm and the temps are in the upper 20's.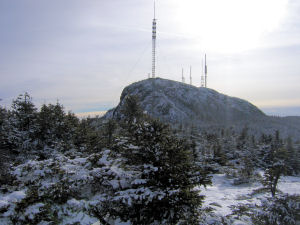 The view from the ridge to the west affords us an incredible panorama of Burlington, Lake Champlain, and mountains in Northern New York State. Looking east we can see the White Mountains in New Hampshire but it is hazy enough and I don't have a map to really show the topographic area to know for sure if the white-topped mountain in the distance is Mt. Washington or not. But it is beautiful. We can also see the Stowe ski resort making snow but looking mostly brown. I don't see any skiers even though a couple of lifts are operating.
The walk along the ridge is a mixture of drifted snow, rock and deep snow pockets. The tiredness I felt on the way up sets in heavily on the ridge. It's not easy to walk in cleats, falling into snow drifts, hauling myself up, searching for the trail, and meandering off it because there are so few cairns as trail markers. I am pooped and we have a long way to go.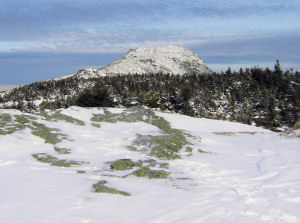 As we approach the Chin, the summit that counts as a 4,000-footer, the wind really picks up. I clock a gust of 18 miles per hour. Sounds pretty puny but it is cold and I am surprised by it. I hate wearing hats and will tolerate a lot of cold before I put one on. The hike till then had been in calm winds - no need for a hat. So where is my hat when I needed it? Comfortably wrapped in its sealed plastic baggie at the bottom of my pack. Hell if I'm going to take off my pack and dig through it for a stupid hat. In hindsight, I sure wish I had.
As we reach the summit, I try to jam Nancy's walking stick into the ground but it finds no purchase. If you take off the wooden knob on top of the pole, it becomes a monopod. I also have to take off my gloves to set the camera and my hands are freezing. I am frustrated because we always get some kind of summit picture and this time all I can do is stretch the camera out in front of us by the length of my arm and take a close up. I look like something out of a freak show - the pain of my hands and the frustration showing on my face.
Needless to say, we don't hang around on the summit very long. We climb down to the top of the Sunset Ridge Trail and eat a quick lunch - half a sandwich and more cocoa. That restores my spirits and my hands begin to warm up once we start moving down the trail. It is not an easy descent.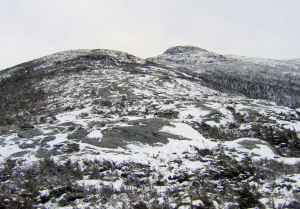 Nancy slides down on her butt every chance she can. It hurts me so much to get down to a sitting position and get back up again that I figure out other ways of getting down standing up. Not as much fun as her method to be sure. The wind on Sunset Ridge really starts to gust so I take another reading and record a gust of 31.5 mph. The first half mile or so is exposed so we don't take a break until we reach the treeline. The trail is rated a D for difficult, but I think it should have rated a DD (very difficult) at least. Some of the downward pitches are quite challenging.
We make it down safely and reach the Park Road with lots of daylight to spare. I am tired but happy that we make it. Nancy is in good spirits and her strong body is tired but not causing her pain. She says that not once during the climb up was any part of her body cold. What a difference from last time! I am just tired. We reach the parking lot at 3:10 p.m., 50 minutes before the freezing rain starts. The drive back to Keene is stressful and Nancy does a great job despite the rain, ice, salt trucks, poor windshield wipers, and heavy traffic. Bravo! When I get home I fall into a hot bath and hang out reading a good book. Sleep comes like bliss.
42 peaks bagged out of 67