Sharing our 48th Summit on Jefferson
Submitted by Nancy

Stats
Mountain: Mt. Jefferson (5,716)
Date: July 22, 2007
Time: 6 hours
Weather: Sunny, passing clouds, light breeze
Miles: 5
Elevation Gain: 2,700 feet
Steps: 20,043
Trails: Caps Ridge Trail
Holy Shit Factor: On a scale of 1-48 - it's a 48!

---
Picture Gallery

Video Clips
Nancy on the Caps Ridge Trail
Close to the top
On-Off, Hot-Cold
#48!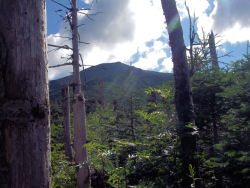 We want a BFS (big, fat sun) to hike our final New Hampshire mountain. So when the weekend weather forecast turns favorable, Pat and I plead with our friends and loved ones who we'd made commitments to and wheedle our way into a free Sunday to hike our 48th New Hampshire peak. We receive no resistance, only blessings.
Five a.m. we are off to the Whites and we're on the Caps Ridge Trail by 8:20 a.m. Now, keep in mind, this is not our first trip up Jefferson. We attempted Jefferson on May 22nd by the Castle Trail, a 10-mile killer with a 4,200-foot elevation gain. I had a nasty fall. But we made it to within half a mile of the summit before we finally turned around as the adrenaline wore off my body and the pain kicked in.
The Caps Ridge Trail up Jefferson is short, 2.5 miles, but steep. The trail takes you over three Caps - rocky, very steep ledges that require hand-over-hand scrambling, praying for hand and footholds as you crawl up the rock face. We don't bring Dejah. She doesn't like ledges. Of course, neither do I. Pat loves them!
From the moment we set foot on the black-fly-infested trail, I am telling everyone it is our 48th New Hampshire peak. Why? Isolation. Yup. I learned something very important on our hike up Mount Isolation a few weeks ago. We met a guy in the Isolation parking lot who told us this would be his 48th NH peak. And a hiker on the trail told us that a woman on the summit was toasting her 48th peak with champagne. I was so glad we knew because we got to give them a standing ovation when we saw them on the trail. If people had not told us, we wouldn't have known and we would have missed an opportunity to celebrate fellow hikers and ourselves.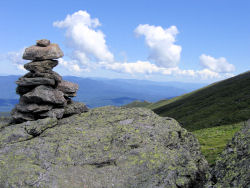 When I tell people this is our 48th peak, some know what I am talking about and some do not. But everybody congratulates us and cheers us on. They are getting a dose of our excitement and we are feeling their generosity of spirit and good wishes. Their responses make me feel happy and proud and pumps both of us up - if it is possible to be more pumped than we already are. You can't make someone else feel great without some of that feeling rubbing off on you. It's that simple -- a two-way, win-win celebration moment made possible by the sharing!
After some serious huffing and puffing, we make it to the summit at 11:03 a.m. A friendly group of four hikers share our summit moment with pictures, hugs, high-fives and whoooo hoooooos! I am giddy and overwhelmed with pride and psyched and serious all at the same time. I whip out my 4,000-footer list from my backpack and ceremoniously enter "July 22, 2007" next to Jefferson and Pat and I sign the bottom. There, it is official.
One of the women on top mentions Chuck Roast in Conway has 4,000-footer T-shirts with the mountains listed on the back. Wowserinoes. That sounds cool...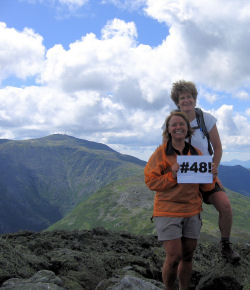 We have lunch close to the summit. Pat surprises me with a cold Snapple she lugged up in a cooler in her pack. She breaks out her cold Pepsi and we toast each other. Bliss! I take out two rocks I had collected from other hikes. I don't know which 4,000-footers they came from, but it doesn't matter. We place the rocks on the cairn closest to the summit, leaving symbols of our 48 4,000-footer journeys on the top.
On our way down, we meet an AMC group. As soon as I hear they are AMCers, I know they will appreciate our feat and tell them we have just summitted our 48th NH peak. They burst into applause and cheers. What a moment!
We continue to relay our news to people coming up as we hike down.
One person says, "How long did it take you?"
After some quick figuring, Pat responds, " A little less than 15 months."
"Wow, you are an inspiration!" the hiker says.
Sharing our joy up and down the mountain feels natural. Yet, years ago I might not have said a word for fear others would think I was bragging or, even worse, that they wouldn't be interested. I didn't know then that we all just want to be a part, to join in, to be invited into another's life. Sharing our big day with others is an invitation to join in the joy. Expressing my excitement and seeing it received and reflected back to me in the faces of others fills me with delight that is too big to contain. I think this is what life is really all about.
Being the competitive girls we are, we gain momentum and speed below the tree line. There is a young whippersnapper bearing down on our heels and we are determined he won't reach us to pass. We arrive back at the parking lot at 2:29 and take a "we made it, we did it!" movie. Then we drive to Conway and purchase our 4,000-footer shirts. To buy them on the day we did our final peak adds another level of meaning to the shirts and to the day.
On our drive home, like the drive up, we continue to play "High / Low" - relaying our highest and lowest hiking moments, reminiscing about each and every hike up those 48 peaks. What a blast we have remembering them. There are some poignant moments and new realizations that come in retracing our steps.
We arrive back in Keene at 7 p.m. and drive in my driveway to see a huge "Congratulations" banner hanging from the garage. I'm so lucky to have Don as my husband. He has been nothing but supportive every step of the way.
Pat, Don and I go to Longhorn's and celebrate with steak, mashed potatoes and chocolate stampede!
New Hampshire's 4,000-footers - DONE!
On to New England's 67!
48 out of 48 NH 4,000-Footers
54 out of 67 NE 4,000-Footers
58 out of 100 Highest