Mts. Webster and Jackson
Submitted by Pat

Stats
Mountains: Mts. Webster (3,910) and Jackson (4,052)
Date: January 19, 2008
Time: 6 hours
Weather: Mostly sunny, high clouds, teens, light wind
Miles: 6.2
Elevation Gain: 2,635
Steps: 18,790
Trail: Webster-Cliff Trail to Webster-Jackson Trail - Loop
Holy Shit Factor: From breaking trail to a white superhighway
---
Picture Gallery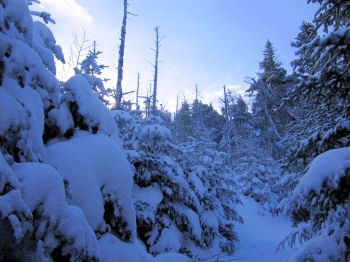 As I sit with my coffee a week after last Saturday's climb, the hike feels distant and clouded by the fact that I became ill with a stomach virus that evening. Instead of writing the report while the images and sensations are fresh, I settled in to feeling sick and then getting well. Yesterday I began to feel a cold trying to wend its way into my system - scratchy throat, post-nasal drip. Unbelievable. We are going to Patagonia Chile next Thursday! I can't get sick. But better now than on the trip, so I decide not to go hiking today so I can stay home and chill. And here I am with my coffee, a week after last Saturday's climb and 6 days away from taking off for Chile, listening to Choral Masterworks: Quiet Prayers.
****
Nancy has an event she needs to attend on the evening of our hike so we decide to leave Keene at 4:30 a.m. We are close to Plymouth before we dawn makes its presence felt. We stop at the Mountain Bean where we meet Mohammed Ellozy who is meeting a group to hike the Twins. We wish each other well and arrive as the second car at the trailhead parking near Crawford Notch. Another group of hikers is standing in the cold waiting for the rest of their team and cars begin to arrive steadily as we put on boots and gear up. The temperature is 6.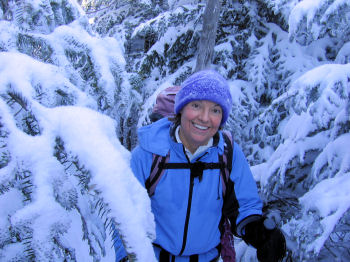 When Nancy speaks to Mohammed in Mountain Bean, he recognizes her from her VFTT avatar and asks if she is the one who wrote the report about being "freaked out on the ice" on Moosilauke. She said she is. That moment and those words sting her and she feels them as a judgment and the fear comes back and the cold seeps in and she wonders if she is cut out for winter hiking. I assure her that she is and that she is not a wimp - that anyone and everyone feels fear - and experiencing fear does not mean that she is a weak person. I have never met anyone stronger or more vital.
The trail is pristine. No one has walked it since the last snow. The hard packed trail is covered by 4-8" of fresh powder. We put on snowshoes and Nancy, Dejah and I start out on another adventure. After about twenty minutes of climbing I need to stop and strip down a layer. Too hot. Phew. I need to be slightly cool or just right when I hike in winter - otherwise I get too hot and then too cold. Nancy is thinking about being labeled a wimp and questioning herself. We talk and as we walk through the beautiful cold morning, Nancy's spirits lighten. We decide to do the loop counterclockwise since we climbed it clockwise the last time we climbed these peaks. We arrive at the Webster ledges at 10:40 a.m. and decide not to proceed any farther as the rocks are coated with ice and with Dejah loving to get right up close and personal with the edges of cliffs, we don't want to take the risk. She will be moving to Texas soon and we have assured her Mom that she will make it out alive. We start the mile and a bit across the ridge over to Jackson.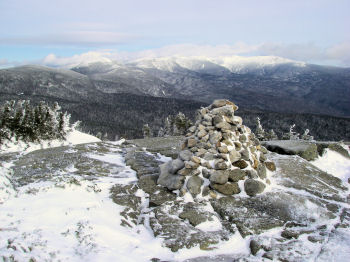 What a beautiful part of the walk! I absolutely love ridge walks - I guess ridge trails are my favorite... after ledges and slides and scrambles. We meet our first hiker of the day about halfway across the ridge - he is bare booting and apologizes for his post holes. I look after him as he rounds a bend in the trail and wonder why not put on your snowshoes, especially when you know you're ripping up the trail? No more pristine trail breaking. At the bottom of the short steep section up to the Jackson summit we meet another hiker who is wearing snowshoes and we enjoy talking with him for a bit.
We reach the Jackson summit for our 11th winter 4,000 peak at noon and join a group who came up the other side and are enjoying the views of the northern Presidentials. Washington's summit is wreathed in its habitual layer of clouds and shares its beauty cloaked in white. After a couple of pictures, we decide to head down. We butt slide and otherwise slowly make our way down the steep glassy section of rock until we reach more protected trail. We meet a couple of women on their way up who warn us of an AMC group coming behind them. We meet the AMC group and encourage them as they pass by. They all try and pet Dejah who is getting bored and ready to move on. She is rolling her eyes at us and about ready to start jumping up and down with impatience. Of course, she is seated smack in the middle of the trail and has no sense that people are trying to pass by. Silly dog.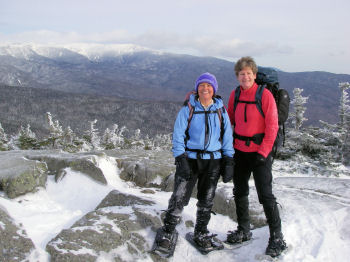 The rest of the walk down is fast - the trail well packed and perfect for a quick descent. We arrive at the trailhead at 1:40 p.m. and decide to make a run for the Mountain Bean, hoping they will still be open and willing to make us a couple of Lost Pilgrim sandwiches that we are craving. We drive in just as Chris is taking down the Open sign and Nancy jumps out and asks if he will make us one last sandwich. He grins and says, "For you, sure." We pile in and they make us coffee and sandwiches and three butterscotch/ oatmeal cookies that we eat standing at the counter waiting to pay. What nice people! They say they saw many hikers today - it is a big winter hiking day in the Whites. And we are part of it.
The drive home flies by as it usually does - we talk about the hike. We talk about everything. I am so happy to be with someone who really sees me and with whom I can share who I really am. I drop her off with a hug and head home. Maybe an hour after arriving I start to feel absolutely exhausted, way more tired than the hike could have possibly caused. I still don't get it until around midnight when I wake up in a sweat and realize that I have a stomach virus and the next 24 hours are going to be hell.
****
Those 24 hours were hell, but I made it out alive and better for the experience. Now it's time to manage this silly cold and practice packing for our trip to Chile. I can hardly believe we are doing this. I am beyond excited. I know I am nearing the beginning of an adventure that is going to change me...profoundly...and I am ready. Let's go!
11 out of the Winter 48