Celebration on Mt. Isolation
Submitted by Nancy

Stats
Mountain: Mt. Isolation (4,003)
Date: June 30, 2007
Time - 9 hours and 30 minutes
Steps - We didn't have our pedometer!
Miles - 14.6
Elevation Gain: 3,204
Trails: Rocky Branch Trail to Isolation Trail to Davis Path - out and back
Holy Shit Factor - Celebratory High!

---
Picture Gallery
Mt. Isolation...it doesn't sound like a likely place to encounter other hikers. Just the name implies a mountain set off by itself, remote, cold, stay-away-I-want-to-be-alone type of uninhabitable, bizarre in-the-middle-of-nowhere place. Mt. Isolation is a 15-mile hike into the Dry River Wilderness in the middle of the Presidential Range, with no hint of civilization anywhere! We assume Isolation will also describe our experience, like many of our hikes, especially in winter, when we see no one!
But we could be wrong! In their 4,000-footer book, Smith and Dickerman report: "Because of its remoteness, many peakbaggers put this one (Isolation) off, and the 4,000-Footer Club records indicate that (Isolation) is the most common finishing peak of the 48." The 4,000-Footer Club is made up of hikers who have hiked all 48 of New Hampshire's peaks over 4,000 feet high. I wonder if we will see any peakbaggers today.
We set out from Keene at 5 a.m. and from the trailhead at 8:40 a.m. The trail starts out with a moderate 1.8 mile climb then the grade lessens and remains fairly easy for the rest of the hike, gaining a total of 3,600 feet in elevation. But Isolation makes up for its failure to live up to some of the other 4,000-footers in steepness with lots of rock-hopping, suck-your-boots-off mud, blow-downs and five river crossings over the very long 14.6 mile trek through the beautiful wilderness. The trail is lined with Bunch Berries; small white flowers, making it look like we are walking along a special path set up for a celebratory occasion.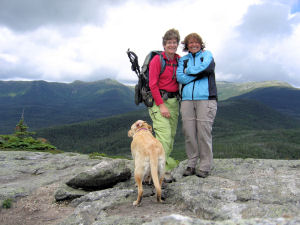 We almost miss the Isolation sign to the summit because we are looking down and the sign is above our heads. Luckily, hikers had warned us and built up a cairn so we would not miss the right hand turn. We reach the very windy summit at 1:30 and are rewarded with magnificent panoramic views of Washington and the Southern Presidentials with not a road, house or a telephone pole in sight.
On the hike down, Pat and I are sure AMC workers have added a few miles of trail while we were on top, not looking. The trail goes on forever and Pat and I are both dealing with some knee pain as we make our way down the mountain. We arrive back at the car for Snapple and Diet Pepsi at 7:07 p.m.
Usually the climax of our Hike Reports is that we make it to the summit and back, earning us the right to check off another mountain on our 4,000-footer list. But on this hike, reaching the summit is not the peak experience. The most exciting part of this hike is sharing it. The majority of the time, Pat and Dejah are my only companions. I am so lucky to have found Pat, who wants to hike as much as I do, and laughs, sweats and heals right along with me. And Dejah, my daughter's two-year-old-happy-peppy yellow lab, is a sweet spirit who would rather follow than lead, her snout a millimeter from our heels. But this hike is extraordinary in that we share it with lots of other folks on the trail - 31 to be exact -- more than on any other hike except for Washington! This hiking trail, in the middle of the wilderness, is a thoroughfare for peakbaggers.
In the parking lot before we set out, we meet a group of three, two men and a woman. One of the men tells us this will be his 48th peak, and that he did the rest 20 years ago, but never got to Isolation. We hope we will be at the summit with him.
Around the first river crossing, we meet a gentleman who had fallen and torn up his shin quite badly. We offer assistance, but he is on the way to the hospital, probably for stitches, and seems fine despite his injury. We hope he is feeling better.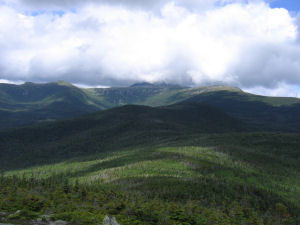 From mile four on we start meeting hikers sporadically. One man tells us there is a group of eight women celebrating one member's 48th peak with champagne on the top. Soon after, we see a line of women hiking toward us; they are full of smiles, strength and solidarity. We immediately ask who the person bagging number 48 is and clap and cheer as she hikes by. They are a happy lot and we feel fortunate to have that brief but exciting moment to recognize a fellow woman hiker who just accomplished the extraordinary. We wish we could talk with them and learn the story of eight women hiking together. We are touched by their camaraderie.
Soon after, as we near the summit, we meet the man we'd first talked to in the parking lot. As soon as I spot him, I start to clap and I let out a rousing whoooo hoooooo! I give him a high-five and he tells me he cried like a baby on the top. That's the essence of the 4,000-Footer Club - the feeling in your gut that you've stood on the tops of New Hampshire's highest peaks, having used your own energy, strength and courage to get you up and down 48 times. It's a big deal and it brings tears.
We meet a couple on the summit. They are peakbagging; on their 42nd. We share that this is our 46th peak. As we say it out loud, it hits us that we have only two more mountains to climb in New Hampshire and we've done it in just a hair over a year! They ask what summits are left and we tell them Owl's Head and Jefferson. We wish each other luck with our remaining peaks and start down Isolation, not feeling isolated in the least.
As we pass lots of hikers on our descent, I ask them if they are peakbaggers, and if so, what peak this is. Everyone smiles and immediately recites a number, enjoying the opportunity to talk about something close to their hearts, as if I'd just invited them to tell me about their most proud life-moments. There are quite a few hikers who respond with a peak in the 40s! What a bonding experience it is for me talking with these hikers. We are all like-minded, engaged in and committed to the same endeavor.
Kudos go to Nathaniel Goodrich, librarian at Dartmouth College, hiker, trailblazer and founder of the 4,000-Footer Club in New Hampshire. It has successfully encouraged hundreds of hikers from throughout New England to take the 4,000-foot challenge, and sent them into the woods to climb all of New Hampshire's peaks, the well-known as well as the trails-less-traveled. It has also inspired many with something to strive for that is doable but challenging. It is a goal that when accomplished, brings pride and strong emotion to the peak celebration, leaving hikers with a feeling they accomplished something worthwhile, meaningful and amazing.
To me, it feels like I belong there on Isolation, amid this elite group of people who I don't even know. We are linked by what we share - a commitment to journey up and down each of New Hampshire's 4,000-foot mountains. I'm sure we have many of the same accoutrements -- a collection of maps of the White Mountains, AMC membership windshield sticker, backpack, camelback, boots, nalgene bottles, bug dope, techwick shirts, poles and a list of NH's 48 - complete with check marks, dates, stories and photographs. I belong-what a feeling! And what a statement coming from me! Just a year ago I didn't even consider myself a real hiker! I have something important to share with everyone on the mountain today. We are bonded by the experience of peakbagging Isolation together on this beautiful blue-skied day, by our common goal and by the celebration to come.
Perhaps Mt. Isolation is a misnomer. Perhaps it should be called Mt. Celebration.
46 out of 48 NH 4,000-Footers
52 out of 67 NE 4,000-Footers
56 out of 100 Highest