South and North Hancock: First Views
Submitted by Pat

Stats
Mountains: South (4,319) and North Hancock (4,420)
Date: January 5, 2008
Time: 8 hours
Weather: Mostly sunny, high clouds, 30's below and 20's up top, light wind
Miles: 9.6
Elevation Gain: 2,719
Steps: 20,877
Trail: Hancock Notch Trail -- Cedar Brook Trail -- Hancock Loop Trail
Holy Shit Factor: How do you spell P-A-I-N?

---
Picture Gallery

Video Clip
Winter Wonderland!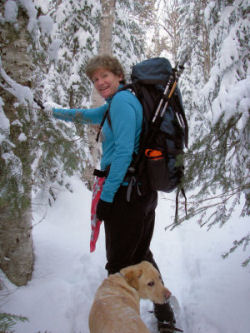 This hike is Nancy's birthday hike. I had birthday hike last Saturday; now it's Nancy's turn, although her birthday really is January 4. January 5 is close and the sentiment is there. I ask her to choose the mountain and at the last minute she chose the Hancocks. We were thinking about doing the Osceolas but didn't want to climb the chimney from East Osceola to Osceola with Dejah, our trail dog who doesn't really do so well on ledges and really steep stuff. So the Hancocks it is. The weather is supposed to be forgiving and we are on the road from Keene by 5 a.m.
We are the first car in the parking area, although a truck pulled in right behind us with two guys who gear up while we do but we never see again. I still can't believe that they didn't catch us - we are slow hikers - I hope they were ok. Anyway, the air temperature is mild compared to the sub-zero days we experienced last week. When we first climbed the Hancocks it was a socked-in, rain/mist day so we saw very little and certainly no views, so today feels like the first time. Although after reading Smith and Dickerson's trail description - kick stepping and crampon clawing up the steep parts - we are a bit apprehensive and neither of us could remember the steep parts at all. Ignorance being bliss, we start out at 7:30 a.m.
We snowshoe the whole way even though the trail is pretty well packed from the trailhead to the top of South Hancock. The first couple of miles are easy going - well packed out and most of the snow already brushed off the branches of low hanging spruce by other hikers. Although we are less talkative than usual we are comfortable and happy to be out on another winter climb. We meet a solo hiker at the junction of the Cedar Brook Trail. He is friendly and moving a whole lot faster than we are, so we move aside and he ambles on. When we get to the junction of the Hancock Loop Trail we decide to head toward South Hancock first and start up.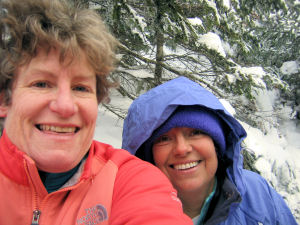 Back in the early 80's, Nancy and her husband Don were involved in a head-on collision. Black ice was the culprit and neither of them had on seat belts. In the end, if Don had been wearing his seat belt he probably would not have survived the crash. Both Don and Nancy were ejected from the vehicle due to the centrifugal force that occurred on impact, Don toward one side of the highway and Nancy skidding into a snow bank on the other side. Don had a concussion, broken collar bone and multiple contusions. Nancy suffered a broken foot, separated shoulder and contusions. The doctor said her shoulder would heal on its own without medical intervention. Now, twenty some odd years later she has a bum shoulder where the ligaments and muscles did not heal normally and cause her pain when she uses her arm for any extended period of time.
As the trail becomes steeper, we get out our poles. This is the first time I can remember climbing something this steep in winter. When we climbed the Hancocks in the fall of 2006, it was like walking up steps for the most part, albeit a lot of steps. We were able to keep our feet level and not put an unusual amount of stress on calves and Achilles tendons. In the winter, it's like climbing an incline with all the steps evened out. I kick step my snowshoe crampons into the snow by jamming the toe of my boot in first and keeping my foot level. We both are using MSR snowshoes with pretty aggressive crampons on the bottom, but I can see that she is slipping backwards a lot and having to put a lot of her body weight on her poles to keep her body from slipping backwards. I offer as much encouragement as she can hear but can see she is struggling.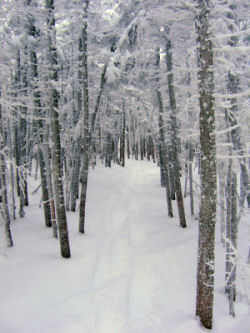 She says her calves are on fire, screaming with pain from the angle of the slope. I urge her to kick step but don't see if she actually can since she is behind me. Ten minutes later she cries out that her shoulder is killing her - sharp pain - and every step is agony on calves and shoulder. I wonder if she will make it. I wonder if she wants to make it. I wonder if she can make it. I feel so helpless. I would carry her if I could. I know we are close to the top, but it looks straight up with no end in sight. I feel fine, my calves feel the strain but I am able to find positions to take the strain off and rest as I go. I see the pain etched in her face. She hates to be in pain; she hates to say anything about hurting or feeling weak; she does not want to give up, give in, turn around. But I can see the tears behind her eyes and can only guess how much she can endure. I hate that there is nothing I can do except encourage...
I make it to the summit of South Hancock at 10:38 a.m. and yell down that she's almost there. A few minutes later she comes up the trail and the relief from pain is instantaneous and palpable. As soon as she stops putting pressure on her shoulder, the sharp pain recedes to a dull ache that is relieved by taking some Ibuprofen. The issue now is that she is soaked with sweat from pain and exertion and needs to change into dry clothes immediately. We step off the trail under some trees and she performs her hated quick change. She is very cold - it only takes seconds to get so cold that it's hard to think. I help the best I can, break out the chemical warmers, help with prepping shirts and putting away the wet stuff. Finally she is dressed and hope slowly starts to trickle through her body, the possibility that indeed she will once again be warm. Phew - what a relief. We walk down to the outlook and drink in the incredible beauty of the Pemigewasset wilderness. A few pictures and we are off across the ride toward North Hancock.
The hiker we had met at the Cedar Brook Trail junction leaves the summit ten minutes before we start out and breaks trail across the ridge. There is still plenty of snow to break through as we walk, but he does the hard part. The trail is broken out but is drifted over from the wind. I love walking the ridge - I love ridges. The beauty of the stark naked trees against a grey cloud background of sky is stunning. We arrive at North Hancock at 12:30 p.m. Another pictures and a walk down to the outlook before heading down. The snow is fine and loose, although the warmth is just starting to congeal it. The best part of the down? Butt sliding! Whooo Hooo! It is impossible not to - it is impossible to stay upright on snowshoes. The snow is deep and thick enough to keep our downward slide to a reasonable speed, no out of control plunges like we experienced on Carter Dome last winter. But still great fun. We are down into the ravine in no time and start the last upward climb back to the trail. We reacquaint ourselves with our calves for a while before finally coming to the gradual trail and the long walk back to the car.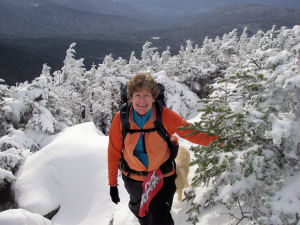 The hike back is quiet - we don't talk much, don't think much, just walk for what feels like a long time. We hit the trailhead at 3:30 p.m. and although we had promised ourselves that we would stretch when we got back to the car, we don't stretch. We perform the ritual taking off of the boots and sit down for the first time in 8 hours. Ahhhhh....
Ok, so this is #8 and #9 of the Winter 48. A great way to celebrate a birthday and a hard lesson to learn about pain. How long should you push? When does it turn the corner from being pain to becoming an injury that will keep you off the trails for weeks or months? What is the definition of a wimp? Good questions - and everyone has their own limits and everyone knows what they can and can't do. Not right, not wrong. But if you own it, if you take on the process of working through the pain to get to the top, you can't help but be changed by the experience. That much pain touches a person all the way to the bottom, to the belly of the soul. Nancy, you chose to push through it and you made it to the top. Did you pay for it or did you reap something from the effort?
Bravo!
9 out of the Winter 48