Slugs on the Hancocks
Submitted by Nancy

Stats
Mountains: North (4,420) and South (4,319) Hancock
Date: September 4, 2006
Time: 6 hours and 33 minutes
Miles: 9.23 miles
Elevation Gain: 2,719
Steps: 27, 850
Trails: Let's call it a semi-loop-out-and-back -- Hancock Notch Trail -- Cedar Brook Trail -- Hancock Loop Trail
Holy Shit Factor: Minimal


---
Picture Gallery
The Hancocks -- that is the plan. We leave Keene at our regular time of 6 a.m. As we drive towards Concord, night becomes day, the sky is blue and the sun is out. We both checked weather -- 20% chance of rain up in the Whites. Our weather hopes are high right up until we stop in Meredith for our power bars, ice and pee-pee break. There is a bank of clouds hanging out over the Whites. "Get out of there," I whine, as I pretend to push the clouds away. We press on, sure they will dissipate.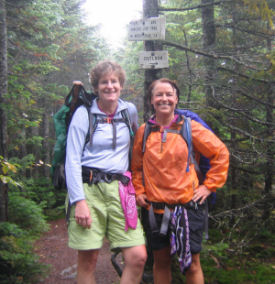 The trailhead is just after a hairpin turn on the Kancamagus Highway that could do major damage to you and your car if you're not careful. When we get there, the clouds are low and socked in pretty darn good. Oh well, at least we get to be out on the trail, together, hiking.
We set out on the Hancock Notch Trail at 8:42am, a wooded path that is incredibly gentle for the first few miles. I love that. Gentle gives me a chance to get my legs before the steep part starts. If the steep part starts right away, I find myself asking -- Where the hell are my legs? Did I leave them at the trailhead? And what are these things I'm using? Holy Shit!
We have a number of easy stream crossings given the low level of water, and the path's gentle slope stays with us through the Cedar Brook Trail (9:33am), ahhhhh. As we approach the junction of the Hancock Loop Trail (10:03am), I let out a whoooo-hoooo, because we are now walking in the clouds, and whooping always lifts my spirits. And guess what? My whoop comes back to me! An echo. Very cool. So, of course, I stand there and do a few more whoops and I make Pat do it too. You know, hiking is chock full of life lessons. You get back what you give.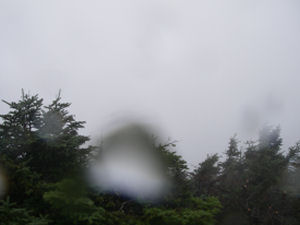 We set off toward South Hancock on, betcha ya can't guess, the Hancock Loop Trail (10:46am). No longer gentle, thanks, the trail takes a turn up and stays up for the rest of the climb, about a half mile. I turn around as we near the peak to see the clouds enfolding us in their mist. I point out the I'm-sure-it's-there-somewhere view to Pat. We are soaked -- from the inside out, because we are sweating like pigs. Well, I shouldn't speak for Pat, but I am sweating like a pig. And we are also soaked from the outside in, from walking in the rain-mist-clouds-shit.
We reach the wooded top of South Hancock at 11:23am, no summit sign (no, really?). There is a sign for an overlook, but we figure there isn't much to look over, so we skip it.
The 1.4-mile ridge between the two peaks is surprisingly gentle as well. We've been on some killer ridges lately, so I am pleasantly surprised. There is one issue, though. The ridge trail is very narrow - narrower than a hiker's body -- and lined with evergreen shrubs and branches with leaves that are totally soaked with rain. They kindly share their abundance of wet with us as we pass through. We are entirely soaked and laughing. I now have rain-mist-clouds-water running down my legs on the inside of my pants, along with sweat, and probably a little pee-pee from laughing so hard. Wonderful.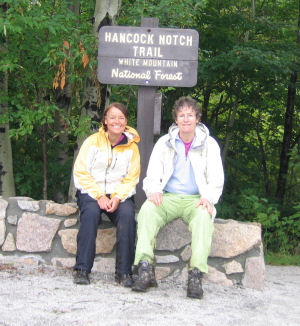 We make it to Mt. Hancock summit at 12:20pm (no summit sign), soaked but happy. We start down, moving back into the trees for some protection, yeah right, for our lunch break. Now that we've stopped moving, we're a bit cold so we stuff down our soggy rain-mist-clouds sandwich and get back on the trail. Now, folks, I really like my bliss moments. And for me, hiker bliss usually involves sun, food and a view. We only have one part of that equation today, our food, which is a bit soppy. No sun, no hot rock on which to enjoy lunch, and certainly no view. So the bliss factor on this hike is a bit disappointing.
We are on our way down from Hancock on the Loop Trail, which is very steep, when we see them. Slugs. No, I'm not talking about Pat and me! I'm talking about those fleshy, slimy, oozing mollusks that love wet muck. Okay, yuck. Gross. Now, when they locate themselves shoulder-high on trees lining the trail it is bad news. Picture this -- I am letting gravity take my body down towards the wet earth, my feet balanced on a rock. My plan to avoid a face-plant is to arrest my fall by landing with my left hand on the trunk of a tree down a bit and to my left. Seconds before I land, in the process of falling, I see them. Two huge gross slugs. Right where my hand is going. Oh Holy Shit. Now, I don't really care if I fall - I am not landing on those slugs! I shift my weight at the last second, uttering a gross noise as my voice registers the yuck of it all, and land on another tree; thankfully a slugless tree. I gather myself and move on.
We make it to the junction of the Cedar Brook Trail (1:23pm) where I get to practice my echo again. Then back on gentle ground, we eventually arrive in the parking lot at 3:15pm for pictures of our we-bagged-two-more-peaks moment. Our hair is so pretty!
I've been on some 10-mile hikes that have been real doozies, so I wasn't sure what to expect on the Hancocks. It was a cinch! And there is no better way to spend Labor Day than hiking -- no matter what the weather!
22 of NH 48
24 of 67 in NE
25 of the NE 100 Highest