It's the Small Things
Submitted by Pat

Stats
Mountain: Garfield (4,500)
Date: January 9, 2010
Weather: Mostly cloudy, windy, cold - teens to single digits
Time: 8 hours
Miles: 12 miles
Steps: 25,549
Elevation Gain: 3,146
Trails: Garfield Trail to Garfield Ridge Trail and back

---
Picture Gallery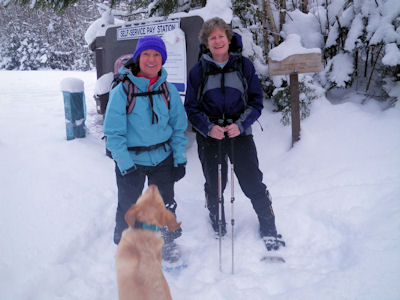 We decide to climb Mt. Garfield. We know this may be our last hike for awhile as Nancy and I start training next week for the KeyBank Marathon in Burlington, VT on May 30. We can't hike and do long runs every weekend. We are doing everything we can to train our bodies for 26.2 and part of that effort involves not working out every day. Nancy suggests climbing Garfield because Garfield and Galehead are the only two mountains of the 48 that I did not climb with Dejah (our trail dog) in her pursuit of the 48. I was injured that day and Nancy climbed on her own. So it feels really good to be bagging #47 in my quest to be part of Dejah's 48 and to bag #20 in winter.
A huge cold front is passing through the White Mountains, bringing with it high winds and single digit temperatures. Nancy and I talk at length about climbing in that kind of cold - the need to keep moving, the need for me to keep up my pace, the need to stay together and keep talking - and decide we can do this climb. We stop at Tilt'n Diner for breakfast and then I suggest we go to the Mountain Bean for a pit stop and something hot to drink. If it feels right I am going to ask them if we can bring our gear inside and change into trail clothes and do our trailhead packing in the warmth of the Bean. Turns out Nancy asks while I am in the rest room and after sipping our hot chocolate we bring in our gear and start dressing.
Erasing the stress of dressing (boots, gaiters), packing our backpacks (last minute stuff like food), and getting prepped by the warmth and space of the Bean is wonderful. It makes me think of the small things in life that make such a huge difference. Not having to put my boots on while I wrestle with the steering wheel, the cold and the lack of space is awesome. I tie them correctly instead of tying them too fast and having to retie them again later. Having warm hands while I get ready is such a joy. Warmth, space, and easy access. It's the small things.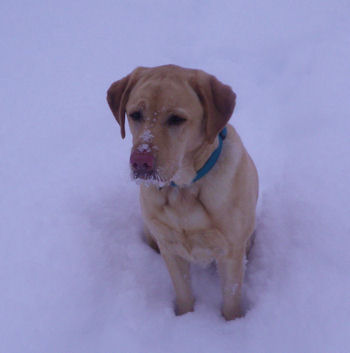 We arrive at the Gale River Road and park beside a carload of men who are also preparing to climb Garfield. One of them is doing the grid - now that just is not something I would ever consider doing - it's not within my range of goals and desires. I admire his dedication and stop there - I am clear that I have no interest in pushing myself like that (nor do I have the time) and cheer him on. Several bridges are out between the parking area and the Garfield Trail trailhead and we snowshoe the mile knowing that the snowshoe back out to the car is going to feel really long.
We meet the four men at the trailhead who are redressing and dealing with gear. They tease us about breaking trail and we smile and get started doing just that. Breaking trail at that elevation is really not quite the word for it - there's about 3-5 inches of fresh powder. Nothing hard to get through, nothing like the two feet we broke on Lower Wolf Jaw in December. I start off in the lead. The snow is beautiful, puffy and light. Temps in the lower teens and hardly a whisper of wind.
We walk for a mile and a half or so before three free-heel skiers come up behind us, say hello and pass us as they head to the summit for a wild 5 mile ski down. The snow is deeper now, maybe 6-8 inches, still easy to break through and now that the skiers have passed us we hardly have to work hard. The first part of the trail is gradual and it's deceiving how gradual the trail becomes steeper - nothing really steep, nothing like Lower Wolf Jaw - but I start to feel the work in my quads and hip flexors and I am breathing hard. Dejah quickly learns that stepping off the trail means stepping into snow up to her head. She stays on the trail for the rest of the day. Smart girl.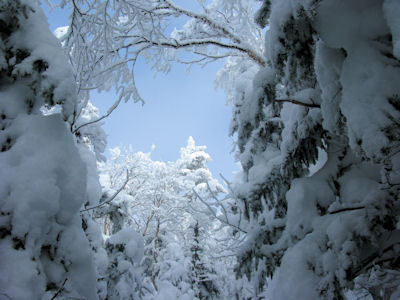 Nancy and I trade places leading and following as we climb up. We are quiet on this hike and it's a comfortable silence. I feel very content to be outside, in this amazing beauty, so different from where I live my weekday life, and words aren't necessary. As we move higher the temperature starts to drop and I take out my thermometer and see it has fallen 5 degrees in no time. It's like we are walking along in a certain layer of air and suddenly moving twenty feet higher and we enter a completely new and colder layer. Bang! Easy to get chilled.
For the second time I am trying my insulated camelback hydration pack. It's fine on the lower sections and the water stays unfrozen until we hit that layer of single digit cold. If I don't keep drinking, keep the water flowing, it freezes despite blowing the water back into the hydration sack. So here I am ¾'s of the way to the summit and I have no access to water. Thankfully, Nancy's upside down Nalgene bottle set up is working and she is willing to share. No more camelbacks in winter. I think about how easy using a camelback is in summer, not having to stop to drink, and once again realize how the small things shift and become big things when we hike in winter.
Another small thing: food. In warm weather there's no problem stopping to take off my pack and grab some trail mix or a sandwich. In fact, it feels good to shed the weight and take a break. In winter I hate stopping and taking off my pack - I get cold, Nancy gets cold, and whatever food I have really never tastes very good. It's either too sweet or it's frozen. I haven't figured out how to eat on winter hikes. I have a thermos full of white chocolate hot cocoa tucked away in my pack and that's where it stays because the idea of stopping, taking off the pack, undoing all the stays, digging into the belly of the beast, extracting the thermos, and sharing the drink while we shiver on the trail feels like too much effort. The reward is wicked tasty but I find it hard to see passed the effort to get to the reward. When it's warmer, it's easy. It's the small things...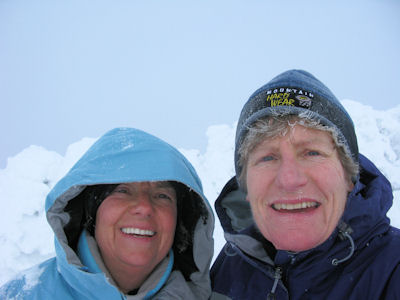 Despite the moderate and easy climb my quads feel sluggish and tired. I have no reason to be that tired and I am and it's frustrating. At least I am able to breathe better, but now that I am breathing more freely why are my legs dying on me? I wish I knew what was going on… I push on and we make it to the junction of the Garfield Trail and the Garfield Ridge Trail. Two hikers and a skier are there prepping gear and putting on warmer clothing for the last .02 to the summit. We stop below them and the low temperatures combined with the wind slicing through the trees freeze us. Nancy knows she has to change and dreads it with her whole being. I offer to help and prepare the dry clothing while she pulls off the wet. Down to bare skin she goes and I can tell by the look on her face that her hands are frozen and she is not a happy hiker.
In order to manage taking clothes out of the pack and putting them on she takes off her gloves and within seconds she is chilled to her core and her hands hurt with cold. I have my gloves off too but my hands don't freeze up right away. It's not until she is dressed and I am digging for another layer for myself that I realize how cold my hands are. As fast as I can I put on a hat, add another layer, grab some chemical hand warmers, and throw on my mittens. Man, that's cold. And it's only getting worse just standing there. Despite the extra layers we are not getting warmer and know the only thing that will help is to move. I grab my camera and we leave our packs at the junction before starting up the steep .2 to the summit.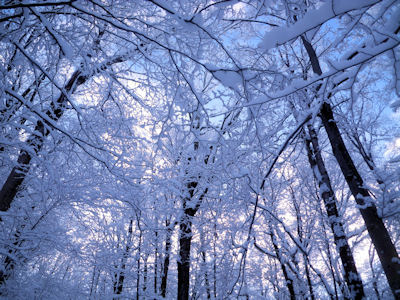 It is brutally cold and the wind explodes in our faces when we walk out to the summit from the safety of tree line. Wow - gray and white - no color anywhere - trees completely caked in snow - we trudge over to the summit and stand to take a quick summit shot and get ourselves back down into the shelter of the woods. As we turn into the teeth of the wind I am struck by how close to the edge winter hiking takes me - all those small things that I take for granted in the summer are gone in winter. I can't help being struck by how hard it is to do the small things, like eat, drink and stay warm. In the summer if I'm tired, I can sit down and not freeze. I can eat and not worry about hypothermia. I can pause and enjoy a view without pushing the edge of the envelope.
We arrive back at our packs, gratefully throw them on our backs and start down. We make good time and after a mile or so stop to share a sandwich. Peanut butter and jelly on a bagel. It is so challenging to have to continue moving, never resting for more than 30 seconds, not being able to eat in comfort, and having my water freeze. So challenging - the smallest little thing - even blowing my nose. Eventually I give up and let the snot drop off the tip of my nose into the snow. My bandana is frozen and it just starts flowing again as soon as I wipe it, so what's the point in wiping?
In a couple of hours we are back to the trailhead - it's 4 o'clock, not yet dark, and we have a mile of road yet to travel. Of course it feels like the road goes on forever, and once again the small thing of reaching the car, changing clothes, turning on the heat and slowly reentering the world that most people live in feels so good. I am pleased that we hiked, that I was able to climb #47 with Dejah, and if I don't get Galehead before the award ceremony in April that feels ok. Not sure why bagging Garfield is doing the trick for me, but it is and I feel great. Thank you, Nancy, for suggesting this one, for gutting it out through the cold, and giving us #20 and me #47 with Dejah. It doesn't even feel all that important to get #48 - for some reason, on this hike, I came down, got in the car, grabbed my Diet Pepsi, and felt immensely satisfied. This hike was a microcosm of learning opportunities...about the small things.
20 out of the Winter 48