Pat and Dejah's 48th on Galehead
Submitted by Nancy

Stats
Mountain: Galehead (4,024)
Date: February 21, 2010
Weather: Light snow, 20's
Time: 8 hours
Miles: 12.2 miles
Elevation Gain: 2,450
Trails: Gale River Trail to Garfield Ridge Trail to Frost Trail and back

---
Picture Gallery

"Be what you are. This is the first step toward becoming better than you are."
Julius Charles Hare

"Almost every man wastes part of his life in attempts to display qualities which he does not possess, and to gain applause which he cannot keep."
Samuel Johnson, The Rambler, 1750

"Disappointments are to the soul what the thunder-storm is to the air."
Friedrich von Schiller

Even when we are living our lives to the best of our ability, we are going to disappoint the people we love. Not intentionally, but we disappoint them none-the-less. We are not always the people we want to be. We are just who we are. I think it is what comes after the disappointment that really matters - how we reconnect with those we disappoint and what we learn about ourselves in the process.

*****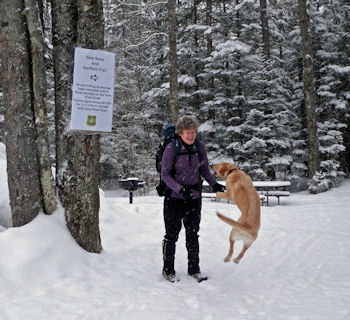 Last October Pat and I had planned to hike the Bonds, four mountains in the Whites that Dejah needed to finish climbing all 48 4,000-footers in New Hampshire and get her patch. The day before our hike, Pat e-mailed me and told me she had hurt her knee and would not be able to hike.
I was so disappointed - for Pat and for me. The weather forecast called for a beautiful fall day and I was psyched for the Bonds challenge. My disappointment turned to anger at Pat for not being able to hike. And then I realized it was not Pat's fault. I could hike. That came as a shock to me. I had never considered hiking without Pat. We were hiking partners, committed to hiking together. I realized that if I stayed home I would be furious with Pat for keeping me home. And it would not be Pat's fault. It would be mine.
Here's the hard part for me. I wish I had it in my heart that day to contentedly stay at home, meet Pat for lunch, and climb another day. But that was not in me. So I decided to hike. I chose two mountains that would count toward Dejah's patch, Galehead and Garfield, because I want everything I do to count.
The hike, a 13.5-miler over two summits was tremendous. I was blown away that I could hike solo and have it feel so good. But I missed Pat. I learned that I can hike alone, even enjoy it - but that we have something very special when we hike together. And that is what I want.
Pat was devastated that I hiked without her and really hurt that I chose two mountains that counted toward Dejah's goals. Pat had climbed all the other mountains with Dejah and she was as connected to Dejah and her 4,000-footer goal as I was.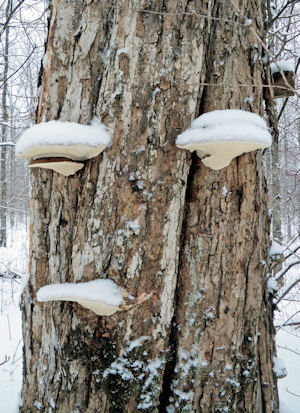 We talked with all our tears, fear, anger and vulnerability showing. It was hard for both of us. Time went by and we talked some more. Eventually time and space helped the feelings dissipate and things gradually returned to normal.
But, ever since seeing Pat's face the day after my solo hike, I have wanted to fix it. If we could climb Garfield and Galehead this winter before Dejah officially gets her patch in April, then Pat could say she climbed all 48 NH 4,000-footers with Dejah. Then, I thought, I will feel better. In January we climbed Garfield. Last weekend was our chance to climb Galehead. Here is the story:
******
After breakfast at the Tilt'n Diner, we drive through a snow squall and arrive at the Beaver Brook parking area. Low and behold there is a sign confirming that this is the temporary parking lot for the Galehead Loop Road and the Galehead trailhead, since the Loop Road is closed. I love it when there is a sign. It lets me rest easier, knowing I am in the right place. I am excited about getting Pat's and Dejah's 48, and assuaging my guilt, when we start out from the parking area at 8:25 AM. I am holding my hopes at bay, because you just never know what will happen on a winter hike, so I don't quite dare to assume we will get to the summit. Plus, Pat has been struggling with exercise-induced asthma and I don't know if this will be a difficult peak for her.
It's snowing lightly off and on and we are hiking through 4-5 inches of brand new snow. The trees have light airy puffballs of snow attached to their trunks, resting in the crooks of the limbs and on the mushroom shelves that dot the tree trunks. The brook along the trail is snow covered, but every once in a while I see ice sheets that have separated and in the crack I can see a blue hue, as if it were a glacier moving along next to us.
The trail starts off pretty mild and takes a while to get revved up. After a while, though, we hit the steeps and Pat's asthma kicks in and her legs slow down. She doesn't panic when this happens; she just keeps going. It must take tremendous commitment and desire to keep going when it gets hard to breathe, especially when it used to be easy.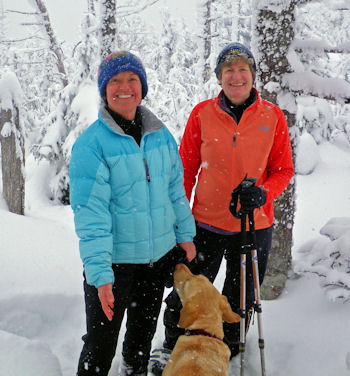 Dejah is happily walking between the two of us.
I think back to my solo hike of Galehead and remember there was a section climbing straight up a huge rock staircase. I figure there isn't enough snow to fill that in and we will soon be boulder-hopping on snowshoes, which I am not looking forward to. We keep slogging up and up…no boulders. Before I know it we reach the intersection of the Garfield Ridge Trail, which means we are only a half mile from the hut and another half mile from the summit. The worst is over. We have a few more steeps to climb, but we will make it. And I know Pat is going to get her 48 with Dejah. I am psyched. Dejah could care less - her tail has been wagging all morning.
We get to the Galehead hut at noon and - I LOVE THIS -- the snowshoe-made trail leads right up and over the porch of the hut and then back down onto the trail. We stop on the porch of the closed hut, take our packs off and rest them on the bench. I change my soaking wet top and we get sandwiches to eat on the way up to the summit. We leave our packs on the bench. I feel weightless as we head off to the summit, snowflakes swirling lightly around us.
We hike through bowing branches laden with snow. Although there is one viewpoint on the way up to the tree-covered summit, there are no views; only socked-in grey skies melting into the while snow-covered trees-tops and trail. We get to the top at 12:50 PM, YEAH!!! I take a bunch of pictures of Pat and Dejah together, trying to get them both looking at the camera at the same time. Dejah is too excited and we can't get her to sit still. Pictures taken, we head down the mountain and Pat is off. Her asthma isn't an issue going down and she in on a roll, making tracks in the snow heading down the mountain.
We reach the huge blow-down that we encountered on the way up -- a mammoth tree right across the trail. On the way up we went around the tree, following the trail of everyone who had gone before us, into the woods, up and around the fallen trunk and finally back on the trail. On the way down we decide to go THROUGH the blow-down, weaving our bodies and snowshoes over and under the tree limbs. We have videos of each of us going through the tree and they are very very funny. Pat goes first and I am laughing so hard I can barely hold the camera.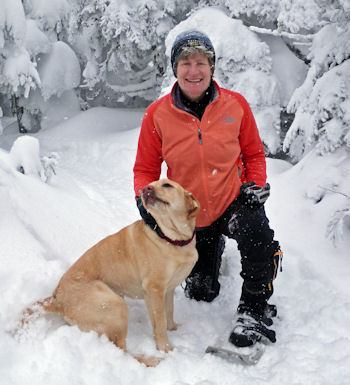 After working our way through the blow-down, I get to thinking. We worked our way THROUGH it, not around. Just like Pat and I worked our way through my solo hike and her disappointment in me. We didn't ignore it, taking the easy way around, we walked right through it. We talked about it. It was uncomfortable because our friendship means so much to both of us. It took time and effort and lots of courage to stick with it. And we did it, beautifully.
We continue down the mountain, arriving back at the parking lot at 4:20.
Sitting in the car on the drive home, I think about the hike. I had imagined that climbing these mountains with Pat and Dejah would mean I could erase the guilt and disappointment associated with my solo hike. But now that we are down and Pat can say she has climbed all the mountains with Dejah...I don't feel any different.
Reflecting, my first thoughts are that I don't really like the Nancy that went hiking by herself, leaving her injured friend at home. I would like to think I am an empathic person who would give up a hike to be with her friend who hurt her knee. But I was not. I stayed true to myself. But the myself I stayed true to isn't the self that I wish I was. That thought gets me thinking about all the times I wish I was different.
I wish I liked playing handball, which my husband, Don, is passionate about. But I don't. I wish I loved golf, tennis and watching movies, all activities Don loves, so we could enjoy them together. I wish I relished going to the mall so that I would love shopping with my daughters. I wish I could sing. I wish visiting my father in the nursing home felt like a joy instead of agony. I wish I didn't care about what I look like; then I would let my hair go gray and save big bucks. I wish I was tall and lean instead of short and squat. I wish I loved kale instead of pasta. I wish...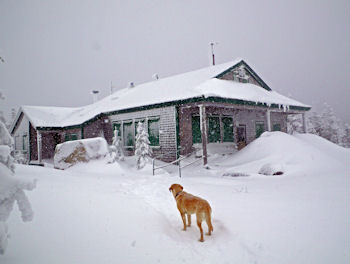 This brings up the really big question. What is more important? My relationships with the people I love or doing what I want to do? Wait…that's the wrong question. What is more important -- my relationship with those I love or my relationship with me?
The answer to that question is very clear. The most important relationship I have is with myself. I have to stay true to me first. I don't like malls, tennis, handball, my gray hair or kale. Wishing I did won't get me anywhere. I DO like hiking and setting big goals and continually pushing myself to discover more of me. Living true to who I am will get me everywhere.
That doesn't mean there aren't times when I WANT to golf with Don or shop with my girls or eat lunch with Pat on a day we can't hike. There are many times I have done just that and loved it. The key is doing whatever is in me that day. And sometimes it is giving up something I want to do for someone I love. And sometimes it is not. I do what is in my heart and stay true to me first. And I want everyone in my life to do the same. Then I know that if they are spending the day with me, it is because they really want to. No care-taking - just love.
I thought I could make the hurt in Pat and the guilt in me go away by climbing Galehead and Garfield with Pat and Dejah. I was wrong. But I learn a lot about myself. I learn that I am not always willing to give up my dreams for someone else, and that has the potential to hurt others. I learn that my friendship with Pat is strong enough to bear guilt and disappointment. I learn that it is better to work through the hard stuff rather than avoid it. I learn that I am not that perfect picture I have of myself inside. I am just me, profoundly human.
21 out of the Winter 48

Nancy getting through the blow-down



Pat getting through the blow-down