The Space Between Us
Submitted by Nancy

Stats
Mountain: Mts. Galehead (4,024) and Garfield (4,500)
Date:October 12, 2009
Time: 8.5 hours
Miles: 13.5 miles
Elevation Gain: 3,848 feet
Trails: Gale River Trail -- Garfield Ridge Trail -- Garfield Trail

---
Picture Gallery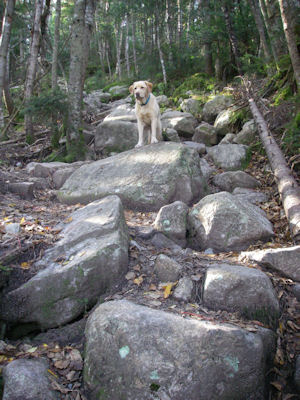 On Saturday I receive an e-mail from Pat telling me she had hurt her knee and would not be able to hike on Monday and our plans to do a 20-mile-traverse of the Bonds collapses. I am so disappointed. We only have three more hikes before Dejah can get her patch, and this is the big daddy of all hikes -- four mountains, 20 plus miles. We want to get it out of the way before winter arrives. All week I had been working myself up mentally and taking it easy physically and had reached the point of being psyched for the challenge.

At first, my disappointment takes the form of anger at Pat. There are times I don't like myself much. This would be one of them. I sit and stew for a while.

The stewing goes something like this...Blah! (really bad words)...it's supposed to be a beautiful day Monday, sunshine, foliage…my calendar is clear...I am going to spend Monday wishing I were hiking.

Then a light comes on inside of me and I realize something pretty big. I realize that I can stay at home on Monday and be mad at Pat that we aren't hiking, or I could meet Pat for lunch on Monday and feel sorry for ourselves together, or I could continue to live my life. I could hike.

More stewing...I am blaming Pat that I can't hike on Monday and that is wrong. Yes, of course I can hike. I can find someone else to hike with, or I can hike alone. Wow, hike without Pat? We have hiked more than 160 mountains, over a thousand miles together. It has been about us, our journey. I don't know if I can do that. But it doesn't feel right staying at home on a beautiful day moping that I'm not hiking either.

As I stew, I become aware of this very calm voice inside of me saying simply -- hike...hike alone. It is an empowered voice, not angry, not vengeful, just simply clear. It doesn't try and convince me or quell my fear, it just says, hike...hike alone.

I tell Don I am going. He says, "Go. Be careful."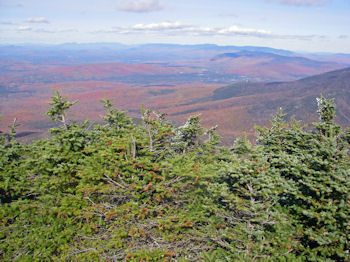 Next thing to decide is where I will hike. I am a goal-oriented girl. It's just that simple. It is who I am. I know I have to hike a mountain that counts for Dejah. It seems the only choice. I think about Pat, and decide that if Pat were to hike a mountain alone with her trail dog, that would be all right with me. So I decide on Garfield, a 10-mile hike, that Dejah needs. I e-mail Pat that I am going, but say very little else. I don't want to rub salt in the wound. I know she is feeling terrible already.
I am up at 4:30, and leave my driveway by 5 am. Being alone in the car reminds me how different this day will be. I get to the Tilt'n Diner and go in for breakfast, like Pat and I always do. I sit at the counter, instead of a booth where Pat and I would normally sit. I eat breakfast, but it doesn't taste as good alone. I eat about half of it and am on my way. I get to the trailhead parking lot, put on my boots and at 8 am head up the mountain and soon realize that I am climbing the WRONG mountain! I parked in the Galehead trailhead parking lot by mistake. I should have driven just a bit further to get to the Garfield lot. Pat would never have made that mistake. Oh well, Dejah needs Garfield too, and I keep hiking.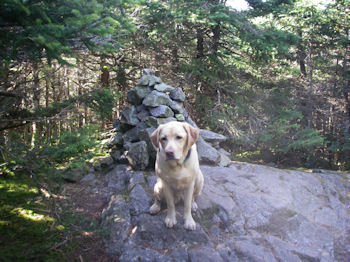 It's peaceful. I feel strong and I am sweating and panting as I move up the mountain. There are a few river crossings and I miss having Pat to confer with as we search for the best place to cross. Instead, I just start across, get half way there and realize there might have been a less-wet place to cross. I see a few people coming down from the Galehead hut and I greet them enthusiastically. Thank God, I say to myself…people! We chat, but that is what we do. Chat. When Pat and I hike, we really talk, share, and explore who we are. I let out what is in me and it falls on caring ears. But there are no caring ears around me today. Dejah is different too. She is leading me! She is usually right behind me, NEVER in front. Maybe she thinks she needs to show me the way, since Pat is not with us.
I arrive at the hut at 10:30 and immediately head to the summit of Galehead, a half a mile up. On the way I meet a woman. Her name is Pat -- can you believe that? She just got her 48 on top of Galehead. I whooo hoooo and clap for her, but it sounds hollow without Pat's cheers to complete the standing ovation. I summit Galehead at 10:50, take Dejah's summit picture and head down.
I had decided on the way up that if I got back to the junction of the Garfield Ridge Trail before noon, that I would try and bag Garfield too. It will mean I have to hike a very rough 3 miles with some short steep ups and downs. And it means that I will have to walk 1.6 miles along the River Loop Road once I get down the mountain in order to get back to my car, which is parked in the Galehead lot. I arrive at the junction at 11:52 and head out along the Ridge Trail.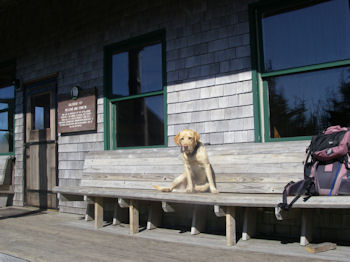 The ridge is rough, very icy and treacherous in spots where I have to find a way around tilted icy granite slabs. Dejah just slides down. I finally get to the Garfield waterfall, a straight-up section of trail leading to the Garfield summit that has water running down the same steep rock steps that you hike up. It rises 1,100 feet in a little less than a mile. Wowsers. If Pat were here, we would exchange eye-rolls and a few bad words to celebrate the challenge. I am sucking wind and resting every few steps. Inside I am very calm. The empowered voice in me has taken over and I feel sure of myself, not afraid, just in the experience. I am not thinking a lot, I'm just concentrating on the next step and I keep moving up. I arrive on the summit of Garfield at 2 PM and am gifted with a 360 degree view of red-carpeted valleys in between blue mountains. It's a bit windy and cold on the top. A fellow hiker kindly takes my picture with Dejah and I chat with some young men as we look over at snow-covered Washington.
I head down the mountain and stop at the junction of the Galehead Trail to eat my bagel. I share it with Dejah who is very appreciative. Then I head down the very gentle 4.8 mile Garfield Trail that goes on and on and on and on. On the last mile, I meet two men and an 11-year-old boy and I chat with them as we find our way around a flooded section of the trail. I realize as I talk with them that they are my ticket to my car. Perhaps they will give me and Dejah a ride to the other parking lot. They are hiking a bit faster then I, but I keep up with them and we arrive in the parking lot at 4:35. They gladly give me a ride to my car.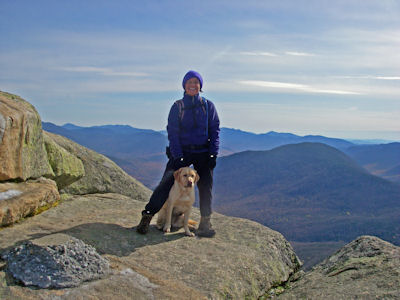 I make the hike in 8.5 hours, 13.5 miles, 3,848 elevation gain. Quite a hike. I am tired. Dejah is sound asleep within literally seconds of getting in the car. The traffic driving home is horrendous on Columbus Day evening, so all my attention is on the road. I'm home by 8:30.
******
I did it. Now I know I can hike solo. And I know that hiking with Pat is a much richer experience.
There's me. And there's Pat. And then there is this special place between us where we meet, and I think that is where friendship lives. When I am hiking with Pat and we are on the summit of a mountain, soaking in the incredible views, the space between us swells with joy, whether we share the experience verbally or not. It's like there is her joy at experiencing the views and there's my joy, and in that space in between us, that joy comes together, and…here's the magic part...it multiplies. Maybe that is synergy...the whole is greater than the sum of the individual parts. It feels huge. And we each have a choice to let in that bigger version of joy or to keep our joy at our own size. Boundaries.
When we meet someone who has just summited their 48th and we cheer, there is my whooo hooo and Pat's whoo hoooo, but together we sound stronger and bigger than just the two of us. Our enthusiasm multiplies and our cheering is magnified.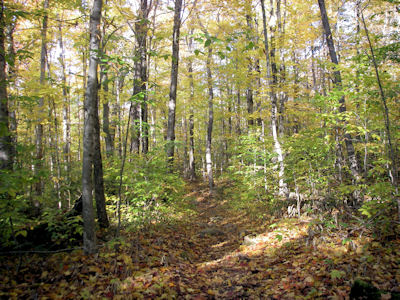 When we are sad or wading through difficult times, a similar thing happens. When I am in a tough place, and I say it verbally to Pat, the words sit in between us and the power of the struggle seems to be cut in half, just by sharing the information and letting it sit in that sacred space, next to Pat, next to me. When she is in a hard space and shares it, the same thing happens. And when the struggle sits in between us, we have another choice around our own boundaries. We can let it in and go to that struggle place with our friend, and struggle together. Or we can make a healthier choice, one I am learning to make. We can let the struggle sit there between us, see it and meet it with compassion. It is being compassionate that lessens the struggle for the other. I am learning that I can still be in my joy place and be compassionate with Pat when she is in her struggle place. It all happens in the magic of the space between us. And maybe the deeper that space, the more room for the healing and the joy to snowball. Love makes lots of room between people who care for one another.
When I hike alone, there is no Pat and therefore, no space between us. So my joy is just my joy. Worthy, wonderful, way cool, but it is just mine. There is no one to share it with, and therefore no way to multiply it and let it grow. And when I am nervous hiking alone, my fear sits in me. But there is no one to say it aloud to, no one to hold it and care that I am in it, and certainly no magic space that diminishes my fear, just by sharing it.
Although I think "the space between us" is there between all human beings, the quality of the space varies depending on the relationship of the people. Pat and I have a deep friendship that has developed over miles and miles of trails and through many out-of-our-comfort-zone-experiences that left us feeling vulnerable and dependent on one another. We are close. The space between us is blessed.
My hike alone was great. Hiking with Pat is more than just greater. It swells to fit the beautiful friendship space between us. It is our energy magnified into a power that can lesson our sorrow and fear, and help us heal just by the act of sharing our experience. And it is the combination of us together that expands our joy until it overflows the trail. It's pretty remarkable what we have.
I know that, given the choice, I choose to hike with Pat rather than alone. I choose me and Pat and that remarkable expanse between us called friendship. Am I glad I went hiking alone? You bet. I would never have seen this so clearly. Sometimes we have to experience what it is like to not have what we love to know how much we love it.