To Exhaustion and Back - Flume and Liberty
Submitted by Pat

Stats
Mountains: Mts. Flume (4,328) and Liberty (4,459)
Date: May 30, 2009
Weather: Partly sunny, occasional showers, breezy, 60's-50's
Time: 9 hours
Miles: 8.3 miles
Elevation Gain: 3,676 feet
Steps: 28,480
Trails: Whitehouse Trail to bike path to Liberty Springs Trail to Flume Slide Trail to Franconia Ridge Trail to Liberty Springs Trail to bike path to Whitehouse Trail

---
Picture Gallery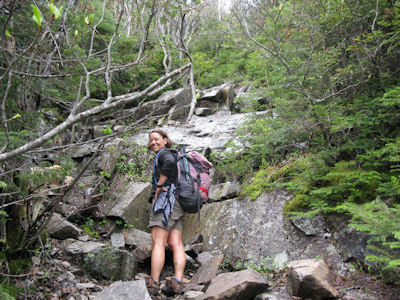 It's funny how this hike is chosen. Nancy sends me a list of five mountains that we have already climbed in winter but Dejah has not yet climbed. I choose the Osceolas. She responds to my email with surprise - I thought you were excited about the Tripyramids. I am excited about the Tri's but forget about that excitement when I first name my choice. I change my mind and we agree to meet in Keene at 5 a.m. on Saturday, May 30 for the drive north. We're doing the Tripyramids via the Livermore Trail.
The morning is foggy and somewhat overcast, but by the time we pass Tilton, the sun is out and the day looks glorious. The weather report I had seen called for partly cloudy skies with a chance of thunder storms after 1 p.m. The sky is blue and barely marred by clouds. I am confused about where Tripoli Road is, our exit, and ask Nancy if we have already passed it. She says she doesn't think so and revels in the day - Since we're so close, let's go up on the ridge and do Flume and Liberty. I jump at the chance - I love the north Tripyramid slide, but the Flume Slide is something very special.
It always amazes me what I remember and what I don't remember about experiences that are hard, painful or scary. I feel a slight nagging in my chest when I think about the last three days of rain and what I remember of the Flume Slide. Footing might be precarious, rocks and roots wet, and the trail muddy. I ignore the nag and pull into the trailhead parking area. We are on the trail at 8:30 a.m. The sun is out, the black flies have magically disappeared, the air is crisp and clean and we are off on another adventure.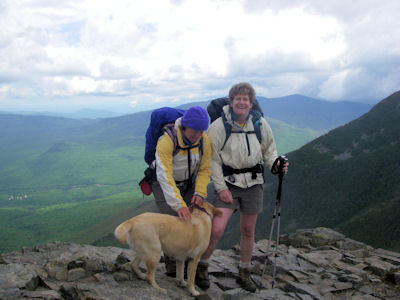 The junction of the Flume Slide Trail and the Liberty Springs Trail is a few tenths of a mile into the hike. Neither one of us thinks twice when we take a right turn and head up the Flume Slide Trail. This is a deceiving trail - I had forgotten how generous and kind the first mile or so is - I had forgotten about the many water crossings - I don't like water crossings and I am having real issues with my balance today. Over thinking my steps or something.
I remember running up to my bedroom and walking into the my own special space - all so familiar still -- my yellowed bedspread, pink flowered curtains, light from four windows filling the small corner bedroom. My dresser, with the water stains on it, my old leg cast covered with Spanish sayings on top of my bureau, my books on the shelves, my desk just as I left it. I was home and it felt so good to be surrounded by the familiar and the comfortable. I had been away for so long I was afraid it would all be different, that it would be somehow changed and I would no longer fit in. I was relieved to find that it was just as I had left it. It was good to be home.
I am surprised the Hobblebush blossoms have already gone by and the wildflowers that I expect don't materialize. Nancy and I have a very intense conversation during our hike on the lower half of the trail - it is personal, we are focused, we stop often to face each other, careful to make ourselves understood. I learn a lot about Nancy and the kind of leader she is. Our talk explains a lot of my anxiety around my role and hers in the Challenge program that we are conducting - this anxiety could have been lowered or removed if I had spoken to her a month ago instead of today.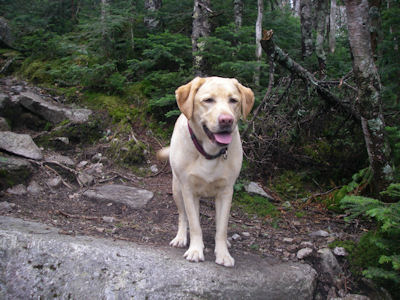 But today is the day and we jump in and clear the decks, clear the air, clear away the misunderstandings and confusion and assumptions. I feel tremendously relieved as we talk and question and clarify. In fact, I am so concentrated on our talk I barely notice the time passing and the beauty of the trail and woods through which I am passing. I remember the water crossings because some are tricky and we stop talking to concentrate, but the rest of it is pretty much a blur.
We finally arrive at the lower part of the slide and the going gets steeper and my calves start to talk to me and my breathing gets louder as I climb one step at a time. We come out to the first difficult area of the slide and suddenly I remember.
I remember being here two years ago scrabbling for a hand hold and uncertain if I could find something solid enough to bear my weight and take on the added pressure of climbing on slippery, dripping wet rock. This is the spot where two years ago Nancy came face to face with her fear of slides. She immediately heads for the side of the trail and pulls her way up using trees while I attempt to go up the rock. I barely make it to the top of the section - the footing is so sketchy that I very quickly bag the idea of trying to free climb the cliffs and head for the relative safety of the bushwhacks that line the side of the trail. The rocks are dripping with water and even handholds are tough to maintain on the slick surface.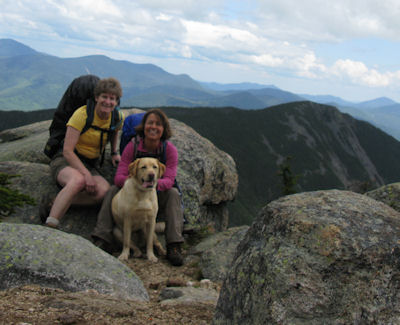 Having Dejah with us adds a layer of anxiety and complexity to the climb. She does well, having little trouble climbing on the rocks or off on the sides, but Nancy is anxious - she would never forgive herself if something happened to Dejah in her care. So Dejah climbs up ahead of us and Nancy yells, "Stay! stay," until we catch up. It works sometimes and sometimes Dejah comes down to be closer to us and climb it again. We almost miss the right hand jog in the trail - the cairn that used to be there is gone and we are well off the trail to the left before I decide to check out where the real trail actually is. I'm really glad I did or we would have had some backtracking to do.
It is steep, wet, slow going. Hand holds have to be strong and perfect because the footing sucks. We finally move off the exposed rock slabs and enter the woods, still steep and rocky and much less frightening. A few minutes after stepping into the woods I start to cough - I have had a non-productive cough that seems to be induced by heavy aerobic exercise - when I breathe deeply the cough is triggered. It's spasmodic and exhausting. My legs feel like lead - I am falling behind Nancy. If we had not been on such an impossible trail to descend I might had suggested turning around. I feel slightly nauseated; the coughing is giving me a headache and my body aches.
I am drinking water, but it's closing in on 1 p.m. and we have not eaten. I'm not particularly hungry and I am not receiving signals from my body that this feeling of tiredness is coming from low blood sugar or dehydration. I'm fine and I feel awful. It is a very long hour for me - like I am carrying up the weight of grief or despair up this mountain. I don't get it. I tell Nancy I am struggling and she is kind but continues on when she sees I am making progress albeit slowly. We finally reach the ridge and turn left - .01 miles to Flume, but as soon as we get passed tree line the temperature drops, the wind picks up and spits of rain fill the air.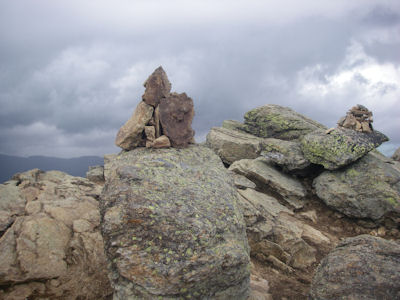 We see a bunch of people on the Flume summit so we stop a bit below and change into warmer clothes and eat. After half a sandwich, the sound of thunder and the rain urge us to pack up quickly and get moving. It's hard to tell what direction the storm is traveling but once we are down the other side of Flume we are back in tree cover and the rain is intermittent, never really breaking lose. I am still exhausted. I put lots of weight on my poles as I struggle down the dip in the ridge between Flume and Liberty. And I'm ok. I don't get any worse. That gives me hope and by the time we start the climb up to Liberty I am blessed with small second wind and get to the summit, coughing and gasping, at 2:20 p.m.
Liberty has a special view - one of our favorite pictures was taken there. We stage another shot, take a couple of summit pictures, and then the rain decides we have had enough time on the summit and comes down with a vengeance. But only for maybe 10 minutes before it stops and we are sweltering in our rain jackets. I had been feeling very cold - part of my exhaustion - and I hardly ever feel cold - that tells me to pay attention, that something could really be wrong, but I don't get any worse and eventually as we start down the Liberty Springs Trail I begin to warm up.
The sun comes out and plays cat and mouse with the clouds. I feel much better, almost normal for this part of the hike. I am relieved. Nancy and I talk some more as we descend, step after step after step. It feels like we have taken an opaque, oily covering off our friendship and underneath is what always was there - a warm, trusting friendship that craves openness and honesty. It feels great to be hiking with Nancy again and my body responds by washing away the exhaustion as my heart soars.
These two peaks are Dejah's 26th and 27th of the 48 4,000 footers in NH. Our new goal before she leaves next year is to get her patch. She is such a good girl, a great trail dog, mannered and focused and very strong. I am happy to be climbing these mountains again for her.