Mt. Equinox Rebirth
Submitted by Nancy

Stats
Mountain: Mt. Equinox (3,848)
Date: July 24, 2010
Time: 6 hours
Weather: Hot and really really really humid
Miles: 4
Elevation Gain: 2,755
Trails: Burr and Burton Trail

---
Picture Gallery

"Nature often holds up a mirror so we can see more clearly the ongoing processes of growth, renewal, and transformation in our lives."
Unknown

"Every renaissance comes to the world with a cry, the cry of the human spirit to be free."
Anne Sullivan Macy

"Heat Advisory -- Another wave of oppressive heat clamped down on a broad swath of Eastern states on Saturday, with temperatures in the high 90s and 100s and a heat index of over 110 degrees." Associated Press, July 25, 2010



I had a rebirth halfway up Mt. Equinox. The experience reminds me that the potential for renewal is ever present.

*****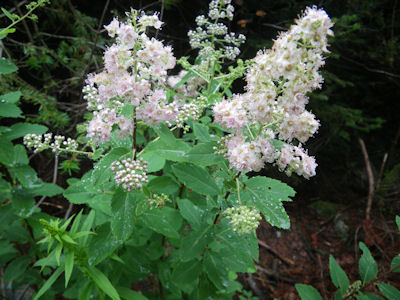 I am literally pouring sweat. It is running down my back, dripping down my legs, and streaming down the side of my face. My clothes have absorbed all they are capable of holding. My techwick top is clinging to me like spandex, which is not very becoming. I look like I have wet my pants, and it feels like I have too. My shorts fit me like a soaked diaper, full and drooping. The backs of my hands glisten in the sun and I can almost hear the "squish, squish" in my boots since all my sweat is eventually ending up in my boots. I am panting as I take one step after another up the steep incline that makes up Mt. Equinox. My outlook on this hike deteriorates the hotter and wetter I feel. I have never hiked in such humid weather. I can't really look up, because my sweat drips into my eyes and stings, and my bandana is soaked and of no use.
Dejah and Pinta are panting and there has been no water on the trail. "Isn't there a spring up here somewhere?" Pat asks about half way up the mountain. We remember a sign where the trail turns right and heads straight up the mountain. I realize we are almost there. We see the sign that says "Upper Spring." We take off our packs and head to the spring, planning on giving the dogs an opportunity to hydrate. I am hoping that we don't have to climb halfway down the mountain to find the spring. But just a minute after taking the trail we can hear water running and quickly come across a pipe coming out of the side of the mountain, clear water flowing out of it onto the hillside. Pinta checks it out timidly. Dejah puts her mouth under the heavy flow and tries to bite the water.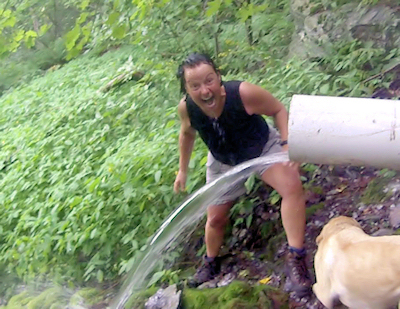 I know exactly what I have to do. I hesitate, but not for long. I move to the side of the pipe and lower my head under the water. Wow...it is freezing cold! I stay under until my head and hair are soaked and then I surface, a huge smile on my face. Whoooooo hooooooo I scream out of sheer joy. I laugh as I wipe the cold water from my face and feel it run down my neck and back. Ahhhhhh -- I laugh again. How can I not? Relief. But it is way more than relief. It is a total fix, a new outlook, a reawakening, a rebirth of sorts. My life feels back on track. The hike feels doable, and I am back in me. And I feel so alive. I am tingling. Exhilarated! Wowsers. Emotionally, I don't even resemble the woman who walked up to the spring only moments ago, dragging. Physically I am even wetter than before. But emotionally, it is like Christmas and my birthday and Easter all rolled into one. I feel great! It is as if I am seeing the world through brand new eyes.
As we hike up the second half of the mountain, I am thinking about how thankful I am that we went to the spring. And I could so easily have not gone! I was on a mission to get to the top so I could stop trudging uphill. Had it not been for the dogs, I might not have taken the extra time and few extra steps.
The dunk in the spring was a rebirth. As I think about it, I realize that today has had other moments of renewal. This morning we went to Up For Breakfast in Manchester, VT. What a great place. I had blackberry peach granola buttermilk pancakes with warm real maple syrup. Now if that doesn't push me out of my current eating rut, I don't know what will. An hour later we are walking from the road to the Burr & Burton trailhead, passing dozens of wildflowers. Seeing flowers immediately takes me out of the keep-walking-we-have-to-get-climbing mode and makes me stop and take notice. Flowers are all about rebirth. They are born this moment to bring beauty to this corner of the planet. I look at the individual petals intently; notice the colors and the intricacy and shape. I am in awe, and that brings me into a world of wonder that feels new and refreshing each time.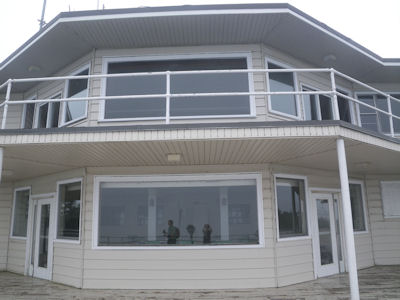 As we finally reach the tower and then the wider trail that leads to the inn at the top of the mountain, I realize that I need to dunk myself in a cold spring of life. This incredible rebirth I am feeling as a result of dunking my head in the freezing spring water is exactly what I need in my life. I need a new outlook. I need to see life through new eyes. I want to feel exhilarated, vital and whoooo hoooooo excited.
As we walk to the inn, I flash on Roger von Oech books, "Whack on the Side of the Head" and "Kick in the Seat of the Pants." Von Oech talks about how the various ways that we think and respond to the world limit our potential and how to get out of that mindset and into a creative everything-is-possible place. I remember loving the whacks in life the books gave me. Maybe I need to re-read them!
I find myself wondering what a rebirth in life would look like. Moving to some awesome place? Retiring and driving across country with Don? Having grandchildren? Taking on a huge exciting project that has the potential to change the world? Climbing a mountain in Colorado or Italy or maybe Africa's Mount Kilimanjaro? Walking the John Muir Trail in California? Winning the lottery? Applying to be a contestant on the "Amazing Race?" Taking a job guiding paddleboats down the rapids of the Grand Canyon? Moving to San Diego to live near Kelly or following Jess wherever she lands?
Or maybe my rebirth is something that I can't even imagine yet.
But here is what I know. I am ready. I want to dunk my head in the cold water of life and come up feeling like I love life so much I can't stand it. So I am putting it out there. I am ready for a change. I am sweating up a storm of discomfort with life in its current rendition and it is time for a transformation. What will that look like? And when I see it will I know it? And will I be brave enough to stick my head under the freezing cold water? I hope so.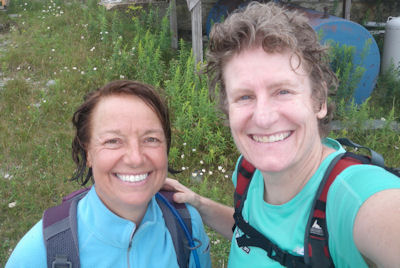 Pat and I arrive at the top where an old inn sits. It looks like it was once a beautiful building, but is now dilapidated and closed. It could use a rebirth as well. Here's the amazing thing. It looks like that is exactly what it going to happen! There is a sign affixed to the clapboards that reads, "Thanks to the generous donation of a devoted benefactor, work is underway to furnish a quiet viewing facility atop of Mt. Equinox for the benefit of our neighbors and the toll road patrons. In addition to providing excellent vantage points to enjoy the spectacular views from Mt. Equinox, this facility will be furnished with a prayer room to allow our patrons to deepen and prolong their experience of the awesome beauty of God's creation."
We have lunch on the top, scones from Up For Breakfast, amid wildflowers galore. Then we head back down the Burr & Burton trail. Although the trail is only 2 miles one way, it goes up over 2,775 feet in elevation over those 2 miles. So it is steep. We make good time going down and before we know it, we are back at the Upper Spring sign. I know I have to dunk my head again. It is not even a question in my mind. It felt too good to not do it again. Both Pat and I dunk our heads and we take movies this time so we have a reminder of the moment. It is awesome. I leave the spring feeling so full of everything wonderful. I want every day to have an Equinox spring dunking. I want every day to contain an exhilarating moment where I feel energized and refreshed and full of life.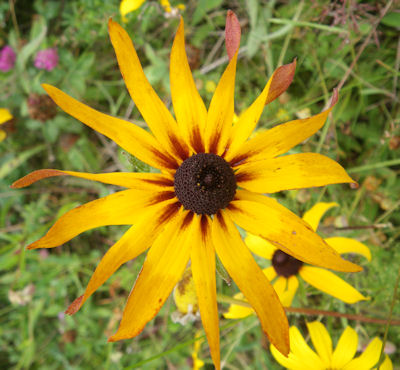 You know. I am 56 years old. Over half of my life is over. If I'm gonna have a rebirth -- a renewal of sorts where my life feels brand-spanking new, where I get out of my paradigm and into a new way of thinking and living - now would be a good time. But I have a few questions. Do I have to make the rebirth happen? I think so. Or at least I think I gotta choose it. I have to move towards it - just like I chose to go to the spring. And I have to choose to dunk my head. No one is going to do that for me. Friends might encourage me - but I have to be in the right place and make the decision to dunk. Wow - will I know the "spring of life" when I see it? Gosh I hope so!
Coming down Mt. Passaconaway on our very first hike in May 2006, we had a very special experience. The sun was out and it was a beautiful balmy spring day, perfect temperatures and there was a warm caressing breeze wafting around us. From then on, whenever we feel a beautiful warm breeze, we refer to it as a "Passaconaway."
So we have a new named moment. An "Equinox," a rebirth when in one exciting awesome moment we see the incredible beauty and awesome potential in life, and see ourselves at the center of that moment. So when the time comes, and I recognize it, and I dunk my head under the cold spring of life, and come up giddy - we will know I have had my "Equinox."
I can't wait!