Finding Clarity on Mount Equinox
Submitted by Nancy

Stats
Mountain: Mt. Equinox (3,848 feet high)
Date: December 15, 2007
Time: 5 hours
Weather: Sunny, breezy at the top, temps between 0-18 degrees depending on where we were
Miles: 5.8 miles
Elevation Gain: 2,880 feet
Steps: 17,055
Trails: Burr & Burton Trail out and back
Holy Shit Factor: strenuous, emotionally and physically
Interesting fact: Average base to summit temperature change 10 degrees
Summit Counts: Equinox is our 69th mountain out of the 100 highest and the 80th mountain we have successfully climbed since May of 2006.

---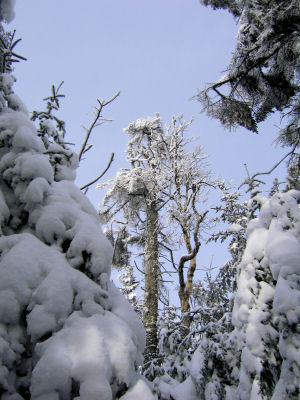 God I feel heavy and full slogging up Mount Equinox.
And it isn't because of my pack, although it has just about everything I might need for a winter hike -- extra fleece, extra mittens, liners, 2 hats, hand warmers, energy bars, a change of clothes, wind gear, down sweater, first aid kit, space blanket, rain gear, nalgene bottle with warm water -- crammed into every pocket, and every zippered section of my L.L.Bean pack.
There is new fallen snow on the well-marked Burr & Burton Trail, and although a few people had been on the first quarter mile, we are soon faced with breaking trail. Every step in my snowshoes, and I mean EVERY STEP, is a steep step up through almost a foot of new snow. As we break trail, we are building good karma for those who follow in our footsteps. The incline is unrelenting and we are sucking wind and burning fat big time as we climb. As Pat says, "This is the good stuff!"
But, today I am carrying more than usual. I have a heavy heart. It feels like my troubles have become extra baggage and I am lugging them up the mountain with me.
My father is not doing well at all at the age of 86, now no longer able to communicate or personally care for himself. My siblings and I are trying to get him into Langdon Place, but there is the worry of financing the stay and the fact that he is reticent to go. He lives with my twin brother who seems to be deteriorating right along with my Dad. As a family we have never faced this nursing home dilemma, so it feels a bit like breaking trail, hard work.
As I trudge up the mountain, concerns of my father and brother drift in and out, like the snowdrifts we are slogging through. Mixed in with family worries are personal issues that are weighing on me, which will necessitate making a few very difficult decisions that, right now, feel impossible to make. My personal and family struggles collide with my endeavor to get my body up this steep mountain and I feel myself exploding.
I can no longer hold all of this inside. I feel a trickle on my cheek and realize I'm crying. I let it out. I start talking with Pat and it feels good as it spills out all over the mountain. She knows and cares. She's seen my struggle. It feels easier once I start talking. It's literally impossible to hike and hold everything in. Hiking forces me into my body to feel whatever happens to be there. The emotional release is as powerful as the physical exertion required to get me up the mountain. The harder I work, the more the feelings arise. It is spontaneous. With the effort comes the emotion that just flows out of me like a gushing brook as I trudge, up and up through the snow.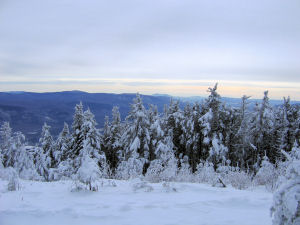 Mount Equinox is almost a 4,000 footer - 3,848 feet. There is 2,880 feet of elevation gain in a mere 2.8 miles up. That's STEEP. And what a workout! The sweat is dripping down my face and back, but the second I stop to catch my breath, I notice the chill begin to seep in immediately and realize I have to keep moving, generating body heat, or I will get too cold, fast.
I start to see sky up ahead and I am hopeful we are nearing the top. I'm going to make it, I say to myself, feeling excited and relieved. Before I know it, we are back in the thick of the woods and the sun and blue sky are no longer visible, anywhere. If anything, the snow-encrusted woods have crowded in around us and the trail is barely wide enough to get through. Wow, what a letdown! I am sure I am going to make it and all of a sudden I'm back trudging up the mountain, not longer sure of anything. It's darkest before the light.
We reach the summit at 12:35 p.m., about three hours after we start; not bad for snowshoes, a steep up, a foot of snow and a difficult-to-follow trail at the top. By the time we get to the boarded-up Skyline Drive Inn on the summit, I am soaked with sweat and freezing. My heart's desire is to sit and reflect and celebrate and enjoy. Instead I am only focused on what I need to do to get warm. I have to change. Oh God, it takes everything I have to force myself to choose to do what is right and take care of myself. Obviously, it's what I have to do if I want to warm up, but for those five minutes when I am changing out of my sweat-soaked clothes, and then trying to warm up afterwards, it is hell. Pat helps and before I know it I am in dry warm clothes and if I start moving FAST, I just might be able to warm up. We usually take summit pictures, but I can't hang around for that. I yell to Pat that she should take a picture or two as I head down off the exposed summit area to the tree-covered trail where there will be less wind. But the cold shock to my system takes a while to undo. Pat brought hot chocolate today. We take a few sips on the summit, but I don't enjoy it; it's more like I NEED it, a different feeling entirely. I can tell that it is hot in my mouth, but once I swallow, the hot chocolate flows down into the frozen cavern of my body, absorbed into the cold, leaving not a trace of its warmth as it goes down.
We are both cold, fingers and toes numb, faces frozen, so we move quickly down the trail, generating as much body heat as we can through movement. Within perhaps 10-15 minutes I am feeling like I might live through this. Once I begin to thaw, I feel badly that I couldn't take a summit picture, absorb the view, enjoy the hot chocolate, and celebrate with my friend. But that is winter hiking for me and, in that, there is learning. Winter hiking is similar to my life right now. I have to make the right decisions for me, even though at the moment they may not feel very good. Changing my sweat-soaked clothes on the freezing summit is akin to putting my dad in a nursing home or choosing more fulfillment in my life. Long term they are the best decisions for everyone; short term, they feel like shit. There is nothing easy about life or winter hiking!
We fly down the mountain and shave an hour off our up time and get back to the parking lot around 2:30. A note about parking lots: They are the WORST part of winter hiking because they are the coldest! By the time I get all my gear on before the climb, I am frozen and know the only relief will be to get going. Coming back after the hike, I take my gloves off to get my boots untied and my fingers are too numb to work. We turn the car's heater on full blast and slowly allow our muscles to release as the car warms.
When I'm on the mountain, choices seem remarkable clear. Right decisions seems to come through my body, into my heart and out my mouth as if I am all connected..as if I am all connected. Wow. I bet that is how we are supposed to live - body, mind and spirit connected. Climbing mountains gives me a glimpse of how clear and true life can be when I'm all connected. Not necessarily easier, but full of truth and guts and clarity and determination and love. Living in my everyday life, I am separated. My body is often numb, my head is too busy thinking and my heart is closed as I cope. Mount Equinox opens me up and airs out the truth so I can see it. I come down the mountain lighter and clearer, knowing what I need to do.
69 out of 100 Highest in NE