Elephant Mountain
Submitted by Pat

Stats
Mountain: Elephant Mountain (3,772)
Date: July 28, 2012
Time: 3.5 hours
Weather: Partly sunny, humid, 70's
Miles: 4
Elevation Gain: 1,159
Trail: Herd path, bushwhack and back

---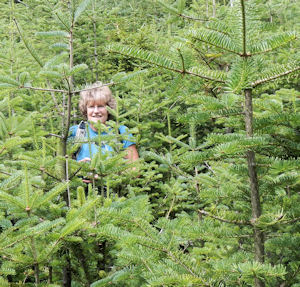 #1 of a seven-mountain adventure in the Rangeley Lakes region of Maine. Nancy, Eileen, Bernie and Pat - a week in Maine, staying in a great house in Oquossoc, ME, a real vacation. Today the adventure begins when I arrive at Nancy's condo at 6 am and we start transferring stuff from my car to her Jeep. It's amazing that it all fits, and off we go.
We drive to the Dunkin Donuts in Bethel, ME where we are meeting Bernie and Eileen. We arrive early, use the restroom, buy some snacks and greet them when I walk over to the other parking lot and find them both waiting for us. We caravan to a town near the logging road that will take us to the trailhead where we park Eileen's car and she drives the rest of the way with Bernie. I buy a new Maine Gazetteer to replace my old one. Sure wish I had had the new one while I was doing my trip research. Lots more detail. I smile. A new Gazetteer. Simple things...
The drive to the trailhead feels long. We drive on gravel dirt roads until we find the parking area where the road ends and the herd path starts. We gear up, set our various GPS devices to capture stats, and put our heads together to set a compass bearing for the summit. When I reach into my pack for my compass, I can't find it. I empty my pack and still can't find it. My compass? I didn't bring my compass? On a 7-mountain bushwhack trip? You have got to be kidding. OK, it's not here so I have to let it go. Everyone else has a compass. I have my GPS. Time to enjoy the opportunity to be the person who has the least control. Hard to swallow, and I do.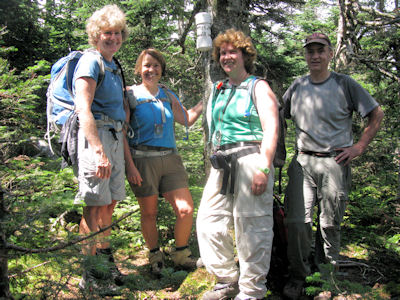 I lead out. It is noon. I like being in the lead. I feel more energized when I lead. When I am behind the leader I relax and sometimes allow the steepness of the climb or my exhaustion to get the best of me and I slow way down, struggle. I walk up an old logging road that is becoming quite overgrown. It feels good to be on the trail. The sun is out and hot and soon we are all sweating.
We reach a spot where Bernie says we need to start bushwhacking. At this point the climb starts in earnest and Nancy takes the lead. The first part of the whack is open woods with room to maneuver around blowdowns and with good footing. Eileen is the first to spot to summit canister and lets out a resounding Woo Hoo to mark the moment.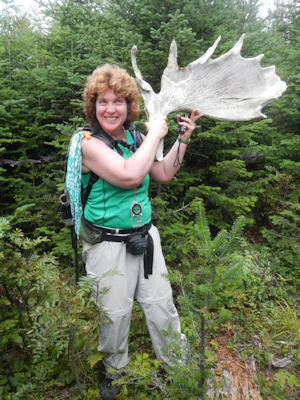 I am following my GPS and realize early on that I had marked the summit waypoint in the wrong place. My GPS is way off. If Bernie hadn't been with us with his GPS and the correct summit location I would not have found the summit. Not good. I guess I can't trust the map software I installed for my GPS. That totally sucks. In the future I'm going to need actual latitude and longitude to mark the summits. From now on I have to be very cautious when offering directions to my hiking group. Best to just keep my mouth shut and listen.
The notebook in the summit canister is soaked, stained brown and very hard to write on. There had obviously been a leak in the canister at some point. We don't have an extra notebook to leave behind so we do the best we can signing it as it is. Swarms of black flies and mosquitoes keep us away from our lunches. We take pictures and quickly prepare to get the hell out of there.
We take a different line down, following the herd path, but the path keeps disappearing. We follow a compass bearing when we lose the path and make it back to the car in three and a half hours. It feels great to change clothes and get a cold drink from the cooler. One down, six to go. #94!
We have dinner at the Four Seasons Cafe in Oquossoc, five minutes from the house. This is the restaurant Nancy and I ate at after our Saddleback/Horn hike, sitting at a table on a sloping floor in the bar, and had the most delicious meatloaf, mashed potatoes and green beans dinner ever. Tonight we opt for cheeseburgers and fight the breeze produced by the seven window air-conditioners that are pouring cold air into the room. Great first night!
94 out of 100 Highest