Then you STAND - Eisenhower & Franklin
Submitted by Nancy

Stats
Mountain: Mt. Eisenhower (4760) and Mt. Franklin (5,003)
Date: July 3, 2010
Time: 8 hours
Weather: BEAUTIFUL! warm, sunny, light breeze, clear blue skies
Miles: 9
Elevation Gain: 3,678
Trails: Edmands Path, Mt. Eisenhower Loop, Crawford Path, out and back

---
Picture Gallery
"Cause when push comes to shove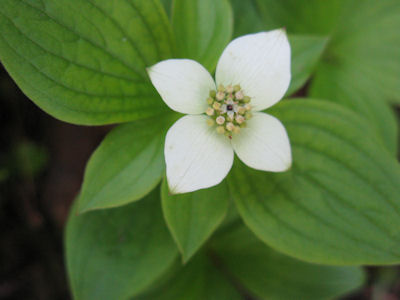 You taste what you're made of
You might bend, till you break
Cause its all you can take
On your knees you look up
Decide you've had enough
You get mad, you get strong
Wipe your hands, shake it off
Then you stand."

"Stand" by Rascal Flatts



We were on the Grace Wave on this hike. No doubt about it.

****

We decide on Eisenhower, for the views and the fact that it is not a killer mountain. Pat has been dealing with labored breathing and muscle fatigue while hiking. She has been to a number of physicians and the tests have all been negative...which is positive. But bewildering. She still has no answers. It is frustrating for me so I can only imagine what it must be like for her to wonder what is happening to her body, to not know how to fix it, and to worry that what she loves to do may be something she cannot do. I am sure she is anxious about our hike today and how she will do, but I don't bring it up. We are both hopeful that today will be different.

Our ride up to the Whites is smooth and we stop at the Mountain Bean for sandwich wraps. We love seeing Chris and Elizabeth, the owners of the Mountain Bean. They are like old friends who greet us with a smile and call us by name when we walk in the shop. They know us. I love that. We leave with a warm peach muffin that is melt-in-your mouth yummy.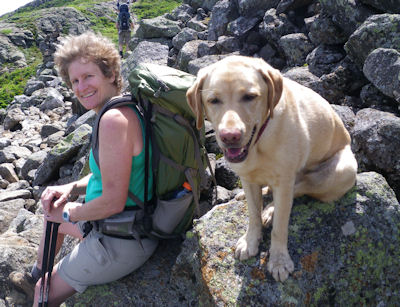 We arrive at Edmands Path trailhead at 8:30 AM. As we are getting ready, a woman walks over to us and asks if we're the two women featured in Hippo. She tells us she saw the article and then checked out our website, and read some of our hike reports. She shares that she is working on climbing the 48 4,000-footers in New Hampshire with her son, but today is hiking solo. She made our day and we haven't even started hiking yet!
It comes as a surprise to me that people we don't know have read about us and looked at our website and been touched by our experience. It's weird thinking that our message goes beyond the circle of people we know or have met in our presentations. Our sphere of influence is growing. I love that -- to think that we can touch people's lives without even knowing them. And then I realize that we all do that. Everyday. What we do and how we do it affects those around us, and those around them. We all influence others and we don't even know we're doing it! Our connectedness is beautiful. We may not notice it until someone brings it to our attention, like this woman we met at the trailhead. But when I really let in that we are all connected, it gives me goose bumps.
Dejah and Pinta bound up the trail. I stand back and let Pat take the lead. I want her to go at whatever speed feels right for her. I want Pat to have a success today. Sometimes it is hard for me to go slower than my usual pace, so I wonder if it will be frustrating for me to stay behind. But this is what I want today and I feel comfortable bringing up the rear. Pat sets a good pace going up the mountain and seems to be doing fine.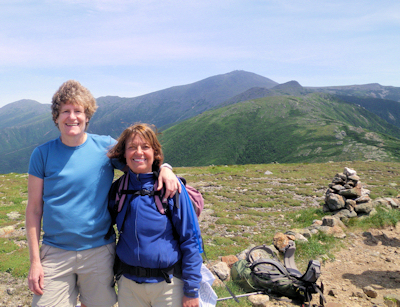 Edmands Path is a sweet trail, and takes us up the mountain without any really steep grades, just a steady up. Before we know it we are in a stiff breeze on the shoulder of Eisenhower, above tree line. Off to our left we can see Franklin in the foreground with Washington, Clay, and Jefferson lined up behind. I hear Pat say something like, "Oh, wow, I thought I might never get up here again." I am behind her, but I know she is smiling. I am too. It is this moment, when we reach the shrubs and the sky gets bigger and the woods fall away, that is why we hike. It is beautiful up here. Magical really. There is something almost heart-breakingly beautiful about being up on the mountains, more in the sky than on the earth that touches my very essence. And now that place of more sky than earth has become familiar to me; it feels like home. My response to reaching tree line is a heart sigh. Ahhh, I'm back. This is where I am supposed to be.
That's when I know I'm on the Grace Wave. But I already know that today. I knew it when we walked into The Mountain Bean and saw Chris and Elizabeth smile. And I knew it when we met the woman in the parking lot who had seen the article about us.
We reach the Eisenhower Loop junction and head up to the top. We tag the huge cairn, which sits at the very zenith of an already people-laden summit. We don't stay long. We head down the rock-lined trail, sky all around us, on a search for a nook or cranny out of the wind to have lunch. It takes a bit of exploring, but right in the crook between the mountains there is a spot out of the wind and in the sun. We park our gear and sit up on a ledge looking out at Franklin, Monroe and Washington while we enjoy our Mountain Bean wraps. And the dogs enjoy the extra turkey pieces that Chris put in with our lunches. He clearly has a soft spot for dogs, and us.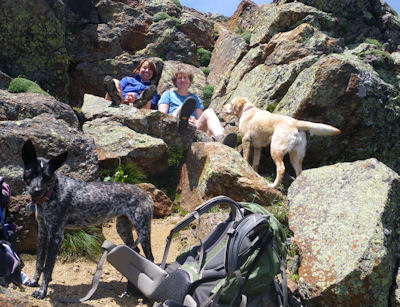 We finish lunch and don our packs and are just heading off toward Franklin when we hear a "whooooo hoooooooo!"
"Oh wow, it's Eileen!" Pat says.
I am stunned as we walk over to greet our friend. How is it possible that we would meet her here, now, today? Grace wave, big time.
Eileen came to our very first It's Not About the Hike presentation. She was throwing her newspapers away at the dump when she saw an article on the front page of The Monadnock Shopper about our presentation, which was to start in 30 minutes. She got in her car that moment and drove 45 minutes to Keene, arriving late. She came up to us after the program, in tears, touched by what she had witnessed in us. Our journey resonated with her heart and lit the light of possibility within her. She knew she was supposed to hike in the mountains and so began her own journey. She promptly climbed 30 of the 48 4,000-footers, completely taken with the experience.
I love this woman. Ever since she came to that first presentation she never misses an opportunity to tell us that our presentation changed her life. She is persistent. And that is what it takes to get me to let in that I made a difference.
As we stand on the ridge talking, I am reflective. Both of these women next to me have been through hell.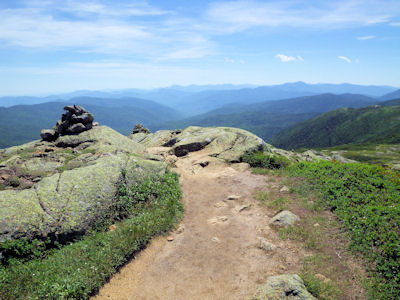 In late fall of last year, Eileen developed debilitating neck and arm pain that had her fighting just to exist every day. She stopped hiking and went on disability leave from work. Then the most devastating news; Eileen lost her beloved brother, and her life's support system in March. Pat and I went to the Calling Hours on Cape Cod. When we walked into the Funeral Home, packed with people, there was Eileen in the receiving line. Red eyes from crying. Her broken heart visible to everyone in the room. All we could do was hug her and tell her we loved her. I don't know how she has managed from moment to moment since then. But she has. She just barely started hiking again, trying to get back in shape to do what she loves most.
Pat has been struggling with hiking over the past year and was diagnosed with exercise-induced asthma last winter. While training for a marathon this spring, she came down with shingles and meningitis, which landed her in the hospital. Back on the hiking trail this summer she has been plagued by shortness of breath and severe muscle fatigue that has turned hiking from the most fun thing on earth to do into a test of will every step up and down a mountain.
As Pat, Eileen and I share in the sunlight above tree line, I realize that I am witnessing a triumphant, extraordinary moment. Pat and Eileen standing on top of the Presidential Range, seemingly so ordinary, yet I know it is extraordinary. This is their moment. Because they are here. They made it. They can do this. They are back on the mountains they love, smiling. These two women are the epitome of strength and determination, perseverance and grace. They never, ever gave up.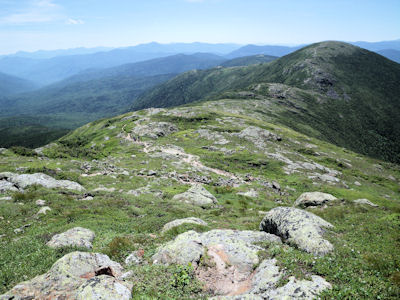 "My plan was to just bag Eisenhower," says Eileen. "I felt like maybe I could do that. And I wanted to go alone, so I wouldn't hold anyone up if I couldn't make it. Once I got there, I felt great, so I continued over to Franklin." I look at Pat who is squarely looking at Eileen, nodding, knowing. She gets it; she's been there. And I get it. I have been there too. There is a sisterhood born of the trials of being human. It's really awesome when we touch that place.
It occurs to me that there is solace here for Pat and Eileen, above tree line, closer to heaven than anywhere else. There is comfort for them in each other and in these mountains. Being here seems to have a way of taking away the cares of the world. I see it in their faces. They are not thinking about their struggles over the past year and a half. They have been relieved of that angst for the moment, swept away by the wind and the warmth of the sun on their faces and the view of the world from almost 5,000 feet up.
Eileen is headed down the mountain and we are going up to Franklin, so we reluctantly part. For at least half an hour after we turned in different directions I feel disoriented and sad, like we should have stayed together. But we weren't ready to go down and Eileen was. I realize now, looking back, that I was grieving the moment when we turned and went our separate ways. I wanted to hold onto our sisterhood a bit longer.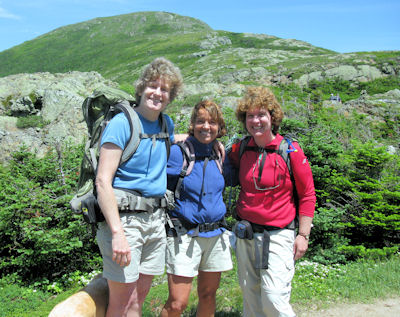 We reach the summit of Franklin, take our packs off and sit on a hot rock and rest. I love this part - we take off our boots and wiggle our toes in the wind. This is heaven. The dogs are more than glad to take a break, Pinta curling up in some vegetation while Dejah rests next to Pat, enjoying being patted. After a good half an hour, we reluctantly put on our packs and head back. The views from Franklin to Eisenhower are absolutely spectacular. Off to the left of Eisenhower are mountains that start off green and dissolve into a medium full-bodied blue, then mountains beyond that are lighter blue, and then even more farther away that melt into the sky. I want to find a way to make the view part of me so that I always have it inside of me. It is too beautiful to let go. I don't want to leave. I hike down the mountain, keeping the battle within, within. Outside I look like a hiker going down the mountain. Inside I am tearing myself away from the blue-green foreverness of above tree line.
We hike back down the mountain on Edmands Path and as we progress, Pat slows up. I can tell her legs are feeling the hike. But it seems mild compared to other hikes and I am hopeful that her symptoms will continue to gradually lessen. We arrive back at the car at 4:30 PM eager for our cold Snapple and Diet Pepsi. Pinta's in the car, anxious to get going. Dejah is lying in the parking lot, sound asleep.
*****
Today I watched as my two courageous friends fought their way back into their own lives and their own bodies. For me the Grace Wave gift was an opportunity to stand back and see Pat and Eileen in a triumphant light, instead of a struggling darkness. I have felt bad for Eileen, wishing that I could assuage her grief, and wanting to take her physical pain away so that she could hike. And I have felt sorry for Pat, dealing with illness and medical issues and difficulty doing the one thing she loves to do more than anything else in the world. On the ridge between Eisenhower and Franklin, I realized they don't need me feeling sorry for them. It doesn't feel good to me or to them. This is their path and they are doing just fine. Today was a glorious celebration of the human spirit and all that we can accomplish in spite of what life throws at us.
I got to witness courage today. Real courage. That's what I saw. Both women, battling to find themselves amid the recent remnants of a life hard-lived.
Standing on top of the mountains, Pat and Eileen announced to the world: Do not count us out. We will not give up. We will be back. Again and again and again.
Grace Wave.