Bargaining on Mts. Eisenhower & Pierce
Submitted by Nancy

Stats
Mountains: Mts. Pierce (4,310) and Eisenhower (4,780)
Date: September 16, 2006
Time: 8 hours and 2 minutes
Miles: 10.67
Elevation Gain: 3,052
Steps: 32,286
Trails: Out and back - Crawford Path
Holy Shit Factor: Minimal

---
Picture Gallery
Our past few hikes have been to wooded summits, hiking through rain, mist, clouds, mud and major puddles. I can't remember the last view. Now, I'm not complaining here. Hiking gets a 10 in my book, whether it is in the rain or not. As a matter of fact, we have the rain to thank for our new trail names -- Curly and Slick. Curly for Pat because she has curly hair and, even in the rain, looks great from trailhead to summit. Slick for me cuz, well, sadly, the rain slicks my already thin hair down against my head and I look ever so pretty. Moving on...
Anyway, we've had our fair share of wet hikes lately. And I'd be leaving out essential information if I didn't tell you that a view, a hot rock for lunch, dry boots, zippo slugs on tree trunks and no rain running down my legs makes me a happy, happy girl. The sun lifts my spirits. So the plan for this hike is to rest the rain gear and exercise our ability to identify mountain ranges from an open summit preferably flooded with sunlight and not with water. What hike will fill those requirements? Pat suggests Mts. Eisenhower and Pierce.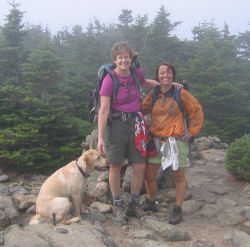 The weather forecast calls for clouds in the morning, clearing in the afternoon. Pat and I keep our fingers crossed and head out from the Crawford Path trailhead at 9:02 a.m. with Dejah, my daughter's yellow lab and MY trail dog. The trail, which the guidebooks claim to be the longest continuously maintained hiking trail in America, ascends on a pretty steady, but considerate grade (don't you just love it when the trails are considerate?). Almost the entire 3.1 miles to the Mt. Pierce summit we are climbing in the woods and so, being considerate ourselves, we make a verbal agreement with the sun. She can stay in the clouds and mist while we climb to Pierce, but once on top, she had best show her face. What a bargain! We are proud of ourselves. We take the very short connector on the Webster Cliff Trail that brings us to the Mt. Pierce summit (elevation 4,310) at 11:20 a.m. Standing on the top, the mist is literally swirling around us as Sunny tries valiantly to burn through. "Try" being the key word here. We can feel her warmth; see her face veiled by mist. We begin to cheer robustly - as if this is going to make a difference. "Come on sun! You can do it! Come on! Almost..." There is another couple on the summit of Pierce - God only knows what they are thinking as they watch our antics. Even Dejah is looking at us a little askance.
We decide to renegotiate with the sun. Okay - maybe we are asking too much. We'll give her to 1 p.m. to show her face. I mean really, we have to be fair here. We are doing an out-and-back and we realize that if we miss the views going out to Eisenhower, we can catch them on the way back. No prob, Bob. We get back on the Crawford Path and begin hiking the ridge that connects Pierce to Eisenhower (again, the path continues to be very considerate - maybe it's an age thing). As we hike, we occasionally spontaneously cheer for Sunny as we begin to catch glimpses of the mountains around us. The mist is thinning and there is hope. We meet a couple coming down the ridge who tell us they have only seen 20 seconds of sun in the past four days doing the Presidentials. Even while we are talking with them I can feel Sunny's warmth seeping through the cloud cover. I am going to stay optimistic. As we hike, we catch a glimpse of the top of Eisenhower. She looks huge and very far away - perhaps it is good we are only seeing half of her. Sunny is succeeding sporadically, we see more and more blue sky, and then clouds surround us again, then blue, white, blue, white. More hope. As we ascend the rounded dome of Eisenhower (12:52 p.m. - elevation 4,780), the clouds part and the Presidential range spreads out from our feet. Monroe and Washington look deceivingly close (we've learned perspective is a funny thing in the mountains). YEAH! A view - the kind of view that makes you so incredibly grateful to be alive and on top of that mountain at that moment.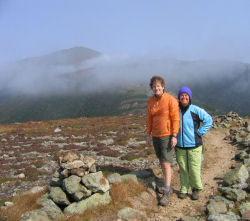 There are quite a few people on the summit. We give Dejah a rawhide bone to occupy her through lunch and we chow down. While we are eating, the clouds and mist come swirling back in to visit as if the sun is laughingly reminding us who is really in charge (certainly not us) and that any bargains we previously made with Sunny are null and void because we have no power over nature - just like the Wicked Witch of the West has no power in Munchkinland. Sitting in the wind and clouds, I put on my fleece sweatshirt and Pat's rain jacket and my winter hat (which kindly covers up the Slick). As I don extra layers, the sun is cracking up. (Now, I am not the only person on top with a hat on!)
Pat hopes to get a 360-degree movie of the view, but the view is solid white. We wait, I bundle up more, and we wait. Understanding we'd cashed in all our bargaining chips, we finally give up and start down. As if on cue, ten minutes later the sun comes out full force and stays out for the remainder of our hike. It is glorious. What astonishing views. Walking down the trail, seeing cairns and shrubs framing expanses of mountains going on forever in soft shades of blue, is truly awesome.
The hike down is uneventful, unless you consider me squirting Pat in the face with water worth mentioning. It is payback for a full-face squirt she bestowed on me a few hikes ago. Course, now I'm going to have to stay on my guard.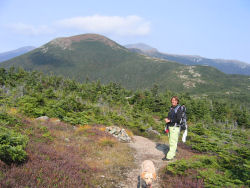 Throughout the hike we collect tiny chips of mica, glimmering all along the trail. It looks like fairy dust and makes me feel like the trail and the hike are blessed. But I have that backwards - I am blessed hiking up to the top of Eisenhower and Pierce as they sparkle in partial sunshine. So undeniably blessed.
Okay - so you guys. Let me know if you have any hints about making bargains with the weather. Perhaps there is a trick to it that we have only partially mastered. Maybe there is a special dance that Pat can do while I watch? No? We both have to do it? Or a song we can sing? Pat has a nice voice, but I'm a little challenged. What do you think?
We arrive back at the car at 5:04 p.m. Dejah is pooped. Our legs are really muddy, our techwicks are very moist and smell like something is brewing in there, and we have a pink glow on our faces. From the sun.
27 of NH 48
29 of 67 in NE
30 of the NE 100 Highest