Dorset Peak: Not a Bushwhack at All
Submitted by Pat

Stats
Mountain: Dorset Peak (3,770)
Date: August 30, 2008
Time: 4 hours and 30 minutes
Weather: Cloudy, humid, 60's
Miles: 6.3
Elevation Gain: 2,400
Steps: 18,007
Trails: Woods roads and ATV trails

---
Picture Gallery
bush-whack
v. bush-whacked, bush-whack-ing, bush-whacks
v.intr.
1. To make one's way through thick woods by cutting away bushes and branches.
2. To travel through or live in the woods.
3. To fight as a guerrilla in the woods.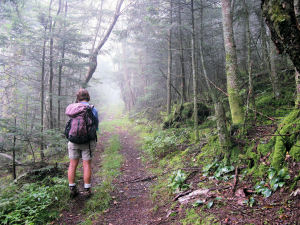 We have bushwhacked before and decided it is one of the most challenging aspects of finishing the NE Hundred Highest list. Hiking where there is no trail, no sign of someone having passed through before me, through thick brush or tall trees, is not particularly pleasant. It feeds one of my deepest fears - that of being lost. I hate being lost or feeling like I am or could be lost. Some deep-seated trauma in my past, I guess, and one I have no memory of. But I can certainly feel the tension build when I become aware that I really am not sure we are on the right path. And here I am setting off on a hike that I know does not have a marked trail. I know from reading other trip reports that it was not a true bushwhack, but I don't realize that there is basically no bushwhacking at all on this hike. It is more a matter of turning right and left at the right forks on woods roads and ATV trails.
After taking three weeks off from hiking for to meet responsibilities of previous commitments, Nancy and I are twitchy to get back on the trail again. Knowing that we are leaving for our rim to rim to rim in the Grand Canyon on Wednesday we decide to tackle Dorset Peak and maybe Mendon, depending on how we feel. We both search for trail directions on VFTT and gather maps and trailhead information during the week. My GPS still sits unopened on my desk. Why don't I want to learn the thing? I hate being lost - you would think that would be enough motivation. Maybe I am daunted by the learning process. After thumbing though the instructions and reading lots of GPS threads, it feels like a lot to learn, but I can learn that stuff. So I don't get it - on the one hand I want to and on the other I don't.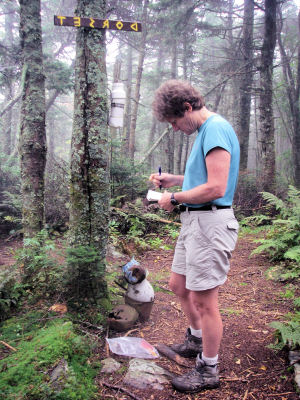 I had been working 10-hours days since August 18th and was most ready for a break. So a three day weekend, good weather for Sunday and Monday, and a hike with Nancy makes me feel like I am going on vacation! The weather for Saturday looks ok - not great - and the possibility of clearing around noon is a good thing. We decide to follow Jason Berard's advice and hit Up for Breakfast on Main Street in Manchester for some pre-hike fuel.
The drive is uneventful - Route 30 out of Brattleboro is a nice route through Southern Vermont, but the grey day and the end of summer (dead or dying vegetation) and start of Fall (leaves turning on Maples) brings me a touch of that end of season melancholy. Summer in New Hampshire is so short and I can't get excited about winter hiking yet - of course Fall is exceptional for hiking - and we have lots of plans (finish the 67 for one) - regardless of the plans we have I'm affected by the changes.
We park in front of Up for Breakfast at 6:55 a.m. and look at the menu, drooling, while waiting for them to open. A gentleman on a golfing weekend with 7 other couples (who have been doing this for 30 years) is also waiting - he says he needs to eat before he does anything in the morning. I am a breakfast lover myself. The specials on the menu are mouth watering but I go with the Hungry Hiker and Nancy a western Omelet. This should be enough to get me up AND down this mountain. Yes!
An hour later we are off to find the trailhead, the town of Manchester, VT nearly deserted and chill in the morning grey. As noted in other trip reports, the houses on Upper and Lower Dorset Hollow Road are amazing - not a hovel in sight - perfectly mowed lawns, incredible gardens, quaint New England architecture, and huge farms. We arrive at the last house where Lower Dorset Road becomes Tower Road and keep going. My RAV seems up to the task, although I do chicken out when I see a big old rock that might take out my transmission, back up and park in a grassy area. Turns out I probably could have made it over the thing and parked further up, closer to the tar paper shack.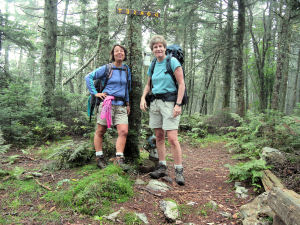 We gear up, putting on packs that haven't been on our back since our August 1-2 Presi Traverse - wow, who wore this thing last - since the packs were soaked when we last wore them, all the belts and buckles have dried tight - we loosen them, shift things around and are on our way. The "trail" is really an old woods road, wide and easy to follow. We pass the tar paper shack on our left - no one is there and the weeds have grown up so half the building is hidden. After that the road starts to climb gradually. With the humidity and the climbing we are soon drenched in sweat. It feels good to be in the woods again. The woods road is easy to follow and the directions we researched are clear and easy so far. We stay on the woods road until we reach a T junction. So far the walking has been easy and the trail clear - no bushwhacking and I start to realize that this hike isn't going to be a bushwhack at all but a maze of woods roads and ATV trails that we need to navigate.. At the T junction we take a right and head up an ATV trail. Here's where the more serious climbing begins - we still have relatively good footing but recent storms have caused some erosion.
Onward and upward until we come to a fork in the trail. Very obvious. We decide to go right and start the more serious climbing of the hike. Eventually we come to a hard-to-see wooden sign with an arrow pointing right and a cairn on the right showing us a trail leading up the side of the mountain toward the south summit. At this point we really don't know where we are and are dependent on directions we gave gleaned from other trip reports. We decide not to head up to the south summit and keep going. Eventually we reach "doorknob junction". I want to know whose idea it was to screw two doorknobs into a tree up in the middle of nowhere. It's hard not to smile at how whimsical it looks - however, here is where we get a little confused - we decide to go straight through doorknob junction and end up losing elevation immediately. This doesn't feel right so we consult our various trip reports and head back to the junction. We take what would have been a right at the junction had we been going up and eventually come to the old fire tower and the infamous grill.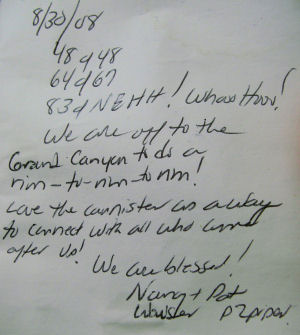 We realize we are on the south summit, no views, and head back to the junction. From there we follow the small blue sign on the doorknob tree to "north peak" - this would have been a left had we been climbing up - if it had said "Dorset peak" we wouldn't have been confused, but nowhere in my research had I heard of Dorset peak referred to as north peak. Anyway, we take the left at the doorknob and head through a muddy col for about .02 and reach the old weather Dorset Peak sign nailed into a tree at a T junction. We go straight on the trail and eventually reach the summit of Dorset peak at 11:15 a.m. Someone has tacked up a sign that says DORSET backwards on the canister tree - the pitchers form a sculpture at the foot of the tree, and the logs from the fire warden's cabin are in a heap. Nancy pulls out the plastic bag and starts reading the most recent entries in the notebook. Both of us love this canister business and enjoy reading past impressions and writing our own. Our 83rd of the NEHH - very cool. We take our summit pictures and start down the way we came up.
I take the lead, feeling strong and happy. Maybe a half hour later, Nancy takes the lead. It's an interesting dynamic this leading and following - when I lead I feel a sense of responsibility for finding and staying on the trail - not always an easy task - so it heightens the stress a little, puts me on alert, charges me up - and when I follow I tend to let down, walk slower, cut myself some slack, stop to take pictures or to look at a mushroom. Very different dynamic. Once Nancy takes the lead I start noticing that I can't keep up with her - I'm about 50 feet behind her and find that my legs are like jelly. What is going on? The footing is sketchy and we both take falls within 30 seconds of each other - no blood. My legs feel very unsteady - I keep listing to the right and am having a hard time walking like a normal person. I tell Nancy that I'm not doing so well and ask her to get one of my poles off my pack. That helps keep me upright for the rest of the hike, but I can tell something is wrong.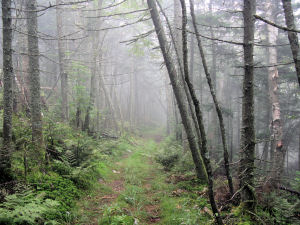 I'm not concerned, but I am puzzled, until I mention that maybe I am just feeling the effects of working 10 hour + days for 12 days straight under high stress circumstances. That clicks for both of us and I relax, knowing now that I am just exhausted, not totally out of shape and losing my edge. I weave my way back to the car and we head back to Manchester for some lunch. The quiet streets of Manchester have turned into a tourist Mecca with cars and people everywhere. A bit of a shock after four hours of solitude. We find a cafe that is serving carrot ginger soup (one of Nancy's favorites) and I order a grilled cheese. Yum - just enough to get me back on my feet again.
We hang out in Manchester for a few hours, hoping to buy an outfit that we really feel good about to wear for our celebratory dinners on the Canyon rims. I am a hot or cold shopper - I either feel it immediately or don't at all - makes it easy in a way. I am cold today and a little disappointed since time is running out. We check out EMS and Coldwater Creek and decide we have had enough of the crowds and the merchandise and drive home.
We decide to save Mendon for another day - our last 100 highest in Vermont. We need an excuse to come back and eat at Up for Breakfast. Maybe the weekend we return from the Canyon. If all the bushwhacks left on the list are as easy as this one, we are golden. I do want to learn to use my GPS. I like knowing where I am. At all times. Some little voice inside tells me to "Lighten up about the being lost thing," that control isn't all it's cracked up to be, and I get that. I prefer to know where I am. At all times.
83 out of 100 Highest in NE