Cupsuptic Snow
Submitted by Pat

Stats
Mountain: Mount Snow (Cupsuptic) (3,784)
Date: August 2, 2012
Time: 4 hours
Weather: Mostly sunny, 70's
Miles: 4.4
Elevation Gain: 1,404
Trail: Herd path, bushwhack, herd path

---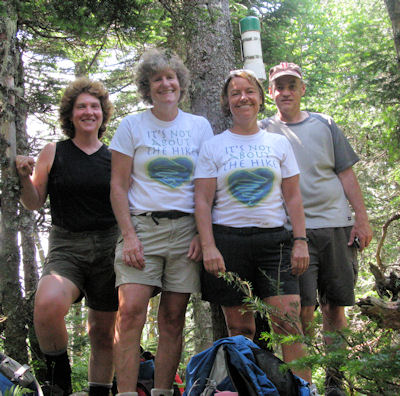 We drive back out the logging roads we traveled on Sunday to get to Kennebago Divide and White Cap, but this time we eat huge clouds of dust created by Bernie's truck ahead of us. For Nancy and me it's A/C all the way. We arrive at the mile 22 marker and park. Nancy suggests we drive up the road and park at the top, hoping it's closer to the trailhead. The road has been graded and drainage ditches have destroyed the arrow/cairn that mark the entrance to the herd path, according to a trip report we had read.
It is now that we realize no one has brought hike descriptions. Bernie had spent hours yesterday working out the correct route so we wouldn't repeat his mistake and get ourselves into bushwhacking hell, but without our notes we are on our own today. We check the GPS and head back down the road to what we think is the trailhead and begin the hike in earnest. It's mucky at first, then we find the herd path running parallel to a drainage. We follow the herd path until it peters out and we start, yes, you guessed it, bushwhacking. This leads us to an old logging area and we climb to the top and decide that spruce hell is the only way up so we start some serious bushwhacking. It's hard going but soon I look up and see the herd path again. Woo Hoo! We are back on it and it looks like it will lead us to the summit.
Nancy takes the lead and I walk behind her taking videos of our approach. The path goes on for freaking ever. It feels like we are on the top when I turn left and see the summit canister. I tap Nancy on the shoulder, point, and we are there. Our 100th peak! Success. Wow, emotional moment. Tears and joy and hugs and screams. The bugs, especially the flies, are bad but we hang around on the summit and take a ton of pictures. We also enjoy a piece of the double chocolate cake that Eileen brings to the top for our celebration. I am kind of in shock, disbelieving, not quite ready to let in, what we have done.
I don't want it to be over. I don't want the goal to be met. What's next? I don't know. I want something to be next. Nancy is heading to Denver to be with her daughter, Kelly, who is due to give birth to a baby girl in a couple of weeks. Huge changes in store for Nancy. What about me? Hiking goals include the winter 48, but what about the rest of the year? Sadness creeps into my throat and my eyes burn, but Nancy tells me to live in the moment and forget about the future, don't forward-think. I come back to the moment and give her another grin and a hug and smile for the camera as Bernie and Eileen take pictures.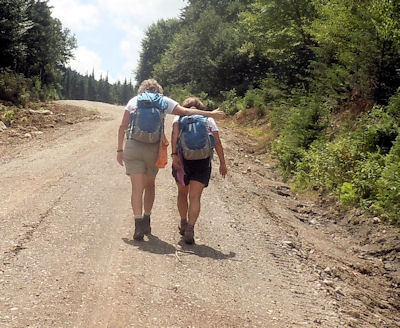 We make it. Three years and eight months after reaching the summits of the 67 mountains in New England over 4,000 feet, we finish climbing the 100 Highest mountains in New England. Years of frustration for me as I struggled with asthma and physical issues that made each hike a living hell. Years of frustration for Nancy as she watched me struggle. Last summer I decided to go for the 100 Highest on my own. A hard decision to make because I wanted to finish them with Nancy. I had taken a map and compass course, bought a GPS and climbed two of the 100 highest bushwhacks with Eileen and Bernie before Nancy decided to give it a go and we together climbed Vose Spur. Despite the fact it was a ridiculously hard hike, we did it and Nancy decided to continue. I went back with her and climbed Peak Above the Nubble and Scar Ridge so we could catch up to each other. I never pushed her, and I never stopped asking her if she wanted to finish climbing the 100 highest. That quiet perseverance made a difference. If I had pushed her hard she would have turned away completely. As it was she watched me climb away from her for two peaks and then made the decision to try to join me on Vose Spur.
We are back in Rangeley by mid-afternoon and drive to Acadia Seaplanes to meet our pilot. It's Not About the Hike is paying for the four of us to take a half hour sea plane ride around Rangeley Lake and up close to Saddleback and Horn. I get to sit in the front seat with the pilot, a really nice young guy and owner of the business. I love the experience, especially the takeoff and landing. Great views and flying up next to Saddleback and Horn was very cool. I'm so glad we did this.
We eat our celebration dinner at the Loon Lodge. A great meal, wonderful service, and Eileen pays she check. Holy moly! Thank you, Eileen! We drive back to the house and change into swimwear. Nancy drives Eileen and me to the lake in the golf cart. It is almost dark and we all wear headlamps with towels wrapped around our shoulders to avoid the evening chill. What fun, three women, hooting and hollering as loud as we can, diving into the water, finding warm spots and cold spots in the lake, refreshed and feeling so happy. We drive back in hysterics, barely able to see the road, with Nancy slamming the gas pedal to the metal. We dry off, sit down and watch the Olympics for the first time. The perfect end to a perfect day. Of course...
And there's more.
I just don't know what that is yet. Stay tuned.
100 out of 100 Highest