Mt. Cube
Submitted by Pat

Stats
Mountain: Mt. Cube (2,909)
Date: October 11, 2008
Time: 6 hours and 30 minutes
Weather: Mostly sunny, breezy, 60's
Miles: 7
Elevation Gain: +2,200
Trails: Appalachian Trail
---
Picture Gallery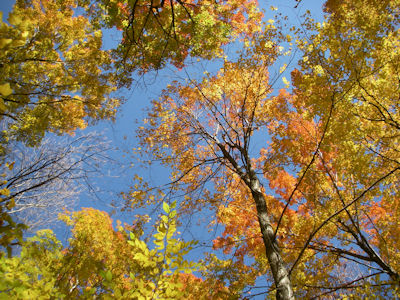 Last weekend we climbed Saddleback and Horn and my legs were pretty sore the next day - I always get sore on long, steep hikes, no matter how much I train. It's frustrating - I can't find a pattern to it. Sometimes I'll be sore after a 4 mile hike and sometimes I won't. Sometimes I'll be crippled by a 12 miles hike and sometimes I just feel fatigued. There's no pattern, except that I almost always feel some kind of leg soreness on hikes over the 8 mile mark. Blah.
Anyway, I started this week with my usual workout regime - spin class on Monday to ease myself into the week and warm up the old legs and heart, then a 4 mile run on Tuesday and a weight class right after. I felt something pulling, hurting in my right hamstring during the last hundred yards of the run. Then during the weight class, I felt it even more and every time I bent over to get my weights I felt it twinge. By the end of class, I told Nancy I was calling my massage therapist - I knew something was not right and we were running in the Tufts 10K on Monday, October 13. Not a good sign.
I took Wednesday off from exercise and was cranky and sad. Exercising makes me feel good - it gives me balance and reduces stress. I took Thursday off and saw my massage therapist who did a little searching around for the hurt spot and found it was in my butt - sacrotuberous ligament - instead of the upper hamstring. She also found nasties in my IT band. Since it's all connected, it fits. I'm a tight muscled person - probably part of the reason I get so sore, despite how much I stretch. She worked deep into the tissue, using her elbow to try and break up the spasms - ooowwwwwwwwwwwww. She had to remind me to breathe.
So I iced and told myself it would heal in time...or not. I took Friday off as well and started feeling better, although sore from the massage. I figured I could do a gentle hike and be fine for running a slow 10K on Monday. So I started looking for something fairly close to Keene that wasn't too short or too long and ended up choosing Mt. Cube from the 52 With a View list. 6.6 miles, 2,200 elevation gain, an hour and a half from Keene - who could ask for more?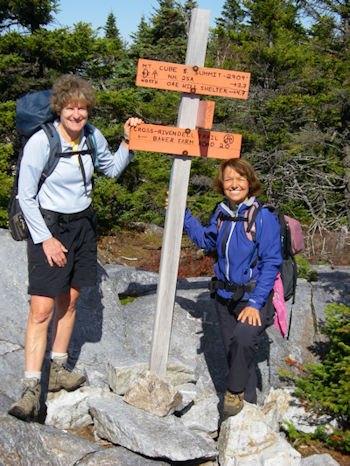 On the drive up 91 we drove in and out of river fog to bright sunlight and incredible color in the trees. Our hope was to stop at the Fairlee Diner for breakfast before hitting the trail, but when we pulled into the parking lot we saw a line of people standing outside the door in the cold. We discussed the situation and decided to move on and hope we saw some place we could buy a breakfast sandwich. No, we didn't find any place so ended up at Cumberland farms. Then off to find the trailhead.
Since this is a popular hike with dogs, we saw lots of cars parked at the pullout near the trailhead and several dogs (with their people) getting ready to head into the woods. We followed close behind. The 3.3 miles to the junction of North Cube and South Cube were relatively gentle - the usual rocks and roots, water bars and rock steps. The leaves were beautiful and the air temperature perfect. We didn't see anyone on our way up. We took the short spur to North Cube - great views of Moosilauke - and we walked on quartz rock - slippery and gorgeous - very different from the usual granite.
We sat, ate our apples, some trail mix and then a large group of hikers - an AMC group led by the NH Chapter - came up and stood a short way away enjoying the beauty. We stopped to talk as we passed by and then headed up to Cube. Another wonderful view of Smarts Mountain, the Dartmouth Skiway, and points southwest. Lots of people at the top - we found a hot rock out of the way and sat in the sun in bliss mode. We stayed at the summit for close to an hour before heading back down.
Despite how much I dislike going down the trip down passed quickly and using my poles from the beginning of the descent kept my knees from complaining too much. We reached the car at 3:45 p.m. and went through our ritual of taking off the boots - aaahhh - putting on sneakers, pulling a cold Diet Pepsi and a cold Diet Peach Snapple out of the cooler and sitting down - oh my god, what a great feeling. Our bodies felt like they were still hiking but we were sitting still. It's an incredible moment to look back on the day and realize how lucky we are to love this so much and to be able to do it as often as we can.
Next weekend we are taking off and then we head back to Stratton, ME where we will complete our 67 on Saturday, October 25 - it will take a hurricane or a blizzard to keep us off those summits. I think I will always feel a sense of awe when I think about the last two years and the mountains we have climbed, the adventures we have experienced, the sights we have seen, the emotions we have felt, the summits that took several attempts before relinquishing themselves to us, the laughter, the tears, the incredible connection I feel with my hiking partner, Nancy, the responses we have received to our trip reports and our web site, the lives we have touched, and our own lives will never be the same.
And even though we will meet our goal of climbing the 67 4,000 footers in new England, it's not over yet. There's always more. Always.
Of course.
---
Cube Car Report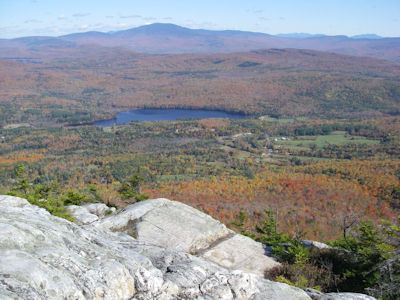 Submitted by Nancy
We don't usually document our conversations in the car. But Pat and I have spent almost as many hours in a car as we have hiking. For most of our hikes, we get up early in the morning and leave Keene by 5 a.m. We arrive at the trailhead anywhere between 8-9, hike all day, then drive the 3-3.5 hours home. In addition, there are a few mountains in Maine that were too far away for a day trip and required overnight stays. So Pat and I have done as much of our friendship building in a car as on a trail. The conversations on our drive to Cube and back seemed really important.
The Trip Up
*****

"The greatest joy in my being is helping others see their greatness by celebrating them, and in so doing I celebrate myself.

I cry each time we cheer someone to the rim. Each time my chest fills with emotions and my throat clogs with feeling. And in that cheering for them, I also find a love for myself and what I have accomplished that fills me with joy.

The cheering changes me, and maybe everyone else forever."



----From my Rim to Rim Hike Report, 2007

*****

This summer I subbed for Richard Clough at MoCo Arts teaching his weight classes because he was working at a summer camp. I came home one day and Don asked me how my day went.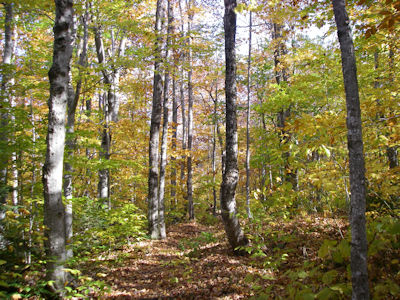 "I taught a weight class...and I loved it!" I said, emotion clogging my airways unexpectedly.
"And we're not pursuing this more because...?" he asked. "I haven't heard you say you loved doing something professionally in a very long time," he added.
Since that conversation, I have decided to get my Personal Training Certification and to teach morning weights and aerobic classes at MoCo.
In the car driving to Mt. Cube yesterday, Pat and I started talking about our journey that began with walking between the hospital and the College, grew to walking up and down hills in Keene, and graduated to running races and hiking 4,000-footers. How awesome would it be to help other woman make that same journey; to be a witness and support for woman becoming stronger, fitter, happier and more fulfilled. And we could do it! There is nothing in life I love more than helping others see their greatness and celebrating with them.
We started talking about having an "It's-not-about-the-hike" Pat & Nancy challenge once a quarter where we invite women to commit to a challenge and then work towards it achieving it. The challenge would start with a presentation of our journey together, so people could see that there is nothing overwhelming about what we have done -we've taken one-step at-a-time -- and they can do it too! So for instances - the challenge could be running in the July 4th 4-On-The-Fourth race in downtown Keene. For 3-4 months, we would prepare for the challenge, establishing an exercise routine, walking then walking and running. In addition to exercising, there would be opportunities to support each other as a team and as individuals. Then we run the race together and celebrate! The next challenge could be climbing Mt. Monadnock, riding a 20-mile bike route, walking 20 miles or climbing Mt. Washington...whatever! The idea would be to prepare for a challenge together, then do it together, celebrating ourselves, our strength and our spirit as a team. And, because Pat and I have learned that it's not about the hike, it's about what we learn about ourselves in the process, everyone would write a trip report about their journey.
Anyone interested?
The Trip On the Way Home
*****

"When thousands of people celebrate together, it creates something larger than our own individual experience. This is the experience of community. And that is the true gift of Center Stage and the Pumpkin Festival"
----Nancy Sporborg, making the announcement of the number of pumpkins at the 2000 Pumpkin Festival



A conversation between Nancy and Pat in 2006, walking the hills of Keene:

Pat: I've always wanted to climb Katahdin in Maine.
Nancy: Me too. Let's do it!
Pat: Maybe we should climb a few of the White Mountains first, to see what we are in for.
Nancy: OK, good idea, I'm game.
Pat: You know there is a list of all the mountains over 4,000 feet in New England and there are people who climb them all and get a patch.
Nancy: Let's do it!!!



*****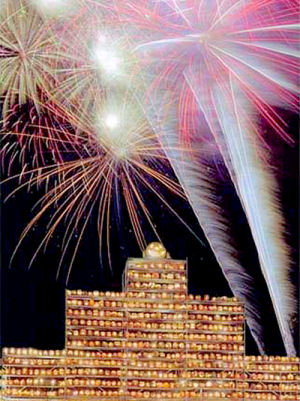 Pat and I plan to go back to Maine on Pumpkin Festival weekend to bag our last two mountains on the 67-4,000-footers-in-New-England list. Incredible that we will hopefully reach our goal that we set just two and a half years ago. And just as incredible that we will do it on Pumpkin Festival, an event I started in 1991 and ran for 8 years. I left Center Stage in 2000, and have not been able to go to Pumpkin Festival since then. It is my baby and I still struggle with all that it means to me.

Pat and I have been searching for a way to celebrate bagging our 67th peak. On the ride home from our Mt. Cube hike, we were full of ideas.

Our plan so far:
Carve pumpkins that spell out 67 4,000 footers! Take a picture of Pat and I with the pumpkins. My husband Don has graciously offered to bring the pumpkins to the festival. Use the picture on the 67 4,000 footers page on our website.
Carve two very small pumpkins that say "6" and "7" and stick little mica chips (that we have collected on our hikes) into the pumpkins. It should look like glitter!
Bring the 2 small pumpkins (67) with us to the top of the Bigelows with matches and tea lights, ready to light the pumpkins on the summit. We plan to leave them there, a way to include anyone else who comes along in the celebration.
Take lots of pictures!
Make laminated signs that say "67 today!" and safety pin them to our backpacks. It is one way we can share the excitement with fellow hikers.
We plan on bringing some yummy food for our after-the-hike dinner. Most likely we won't get down until after the Stratton diner across the street is closed. Last time we hiked in Maine, we got down late, and we were caught without dinner in the middle of nowhere Maine! And we were starving!
When we get home, we will take my husband, Don, out for a scrumptious dinner to thank him for everything. He has supported me every step of the way and both Pat and I are so grateful. And he hiked three of Vermont's 4,000-footers with us!
That's the plan so far - we are psyched! Let us know if you have any ideas to add to our celebration!
18 out of 52 with a View