A Canister of Connection on Redington
Submitted by Nancy

Stats
Mountains: South Crocker (4,050), Redington (4,010) and Crocker (4,228)
Date: June 14, 2008
Time: 8:47 am - 7:15 pm - 10.5 hours
Weather: Sunny in the am, clouds in the pm, 70s
Miles: ~10
Elevation Gain: 3,699
Steps: 32,964
Trails: Appalachian Trail and a bushwhack to Redington



"We come to know ourselves, then, through coming to know each other. And the deeper that knowledge, the richer and more creative the world we build together." --Danny Martin, Director of International Communities for the Renewal of the Earth
---
Picture Gallery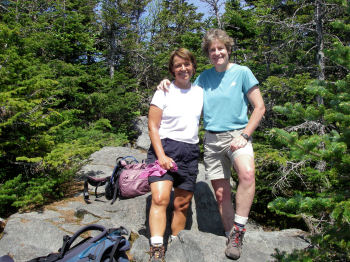 Shared joy - that is my passion. I love it when we can share our summit moment with others who are just as excited about getting there as we are. I will never forget one of our early hikes. We were in Acadia National Park and Pat and I climbed the Precipice Trail. It is the steepest trail in the park and has iron ladders drilled into the rock faces, and rungs here and there to help you climb. Without them, it would be a technical climb, requiring ropes and who knows what else. It was short but straight up and my heart was in my throat most of the time. As I reached over the top rock and grabbed onto the last rung to pull myself to the summit I heard lots of clapping and whooo hooooos. As my head peeked above the granite, I saw a group of people cheering for us! I was absolutely overflowing with joy as I stood on the top, joining them in the peak celebration. Pat arrived and we just couldn't help but be filled with the experience. Our cheering squad introduced themselves to us and took our picture, sharing the thrill of making it up this incredible scary, steep, dangerous trail. Before they left, we all had the opportunity to cheer for the next group of people as they pulled themselves up onto the summit. What an experience. I have always held it in my heart.
I doubt our Acadia cheering squad will greet us on the top of Redington, the only 4,000 footer on the NE 4,000 footer list that does not have a maintained trail. But there is supposed to be a canister on top that promises to hold the names of those who have summited before us. It's not the same as arriving to a standing ovation, but it has an element of shared joy that is irresistible in its mystique.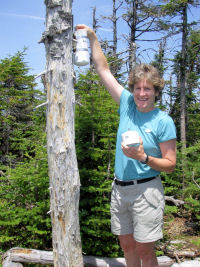 We arrive at the trailhead at 8:47 and head up the Appalachian Trail in the sun. In two hours we are on the top of South Crocker, surprised at the energy we have left. No worries - we will use it! The herd path made by others on the same bushwhacking journey from the summit of South Crocker to the top of Redington is relatively easy to follow, most of the way. There are a number of overgrown areas where you can see the path in front of your feet, but branches obscure the way at eye level and my body is taking a beating. About half way to Redington, we enter a cleared area. As we follow the orange tape that someone thankfully put up, I think about the canister on top. Renewed enthusiasm helps me push and fight my way through the closed-in woods towards the summit.
When we get to the top of Redington at 12:20, the first thing we see is the tower that has blown down and lies useless on the top - wires and stuff everywhere. Ugly! Pat and I find a place for lunch in the sun, but can't wait to look for the canister. So we start searching.
"There is it!" I shout, pointing to a nearby tree trunk.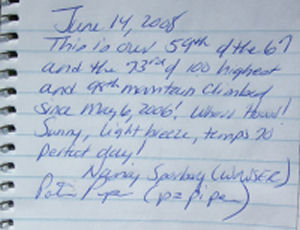 I am really glad Pat is tall because there is no way I would have been able to get to it. She stands on her tip toes, unscrews the top of the canister, reaches in and pulls out a plastic bag with a pencil, pencil sharpener, and a notebook and single sheets of paper overflowing with names and experiences of those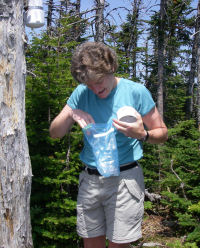 who have summited Redington. So very cool. It's not other hikers in the flesh, but it is the next best thing. The canister holds the moment at the top for everyone and in opening it up and adding our own words, we join in the joy with everyone who has gone before us.
You know, I understand there are a whole lot of people who want to leave the mountains exactly as they are, with no sign of man left behind. But I love the canisters - just as I love the cairns and summit signs. For me, they represent the shared joy of hiking. It allows me to connect with others who have walked the same path. It's like we join a unique club - just like when we get our patches for the 4,000 footer club - we are with others, together, united in a really cool effort.
The canisters, just like cairns that have grown with people's contributions, remind me that I am not alone on this journey, that there are others out there walking the trails, experiencing their own journey through the woods. And being reminded that I am not alone, that there are others sharing my path, is an awesome thing.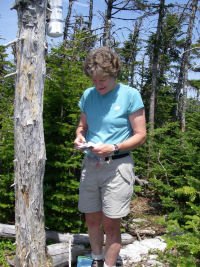 Life can be isolating, because we are, in the end, alone. We are just ourselves and it is our own choices that make our lives. I am the only one who can live my life. But knowing there are others who are making the same journey, up the same mountains, bushwhacking, getting scratched and bruised by the branches, then writing their stories and putting them in the canister to share, that is what life is made of - it is the connections we make with others that matter most to me. Every connection matters. Every person matters. Every moment matters. The deep connections I have with my husband, Don, and with Pat when we hike are blessings. But there are also those magic moments when I look into a stranger's eyes and I know for that one second we are connected. When the hikers in Acadia were clapping for us as we pulled ourselves up to the top - we were one in a spirit of triumph. I love the moments when I know someone is really with me. When I look at Pat and I know she is feeling the connection between us and I let that in. That's the best!
We sit down and eat lunch, then write our entry into my little notebook that I have in my pack, which I donate to the canister. Our entry recaps our mountain climbing history -- but the numbers are irrelevant. What we are really saying is - this is where we are on our journey. Where are you? Through those words, we offer connection to the next group who summit and we leave a piece of ourselves on the top of Redington.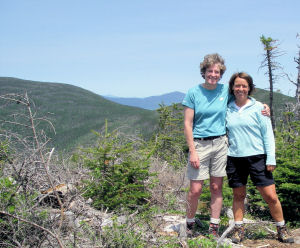 A canister of connection...how cool is that? So if you aren't hiking with a group of friends, and you don't get a standing ovation when you reach the peak, maybe there is a canister that holds the dreams and accomplishments of fellow hiker's that touches you. Or maybe there is a cairn standing tall from all the rocks fellow hikers have added -- and you can make your own contribution. Or maybe you pass others on the trail, who join you for a short portion of your hike. Fellow travelers all of us. We're all on the journey. There is nothing that separates us but the walls we put around ourselves. The cairns and the canisters and the standing ovations take down our walls and offer connection.
Pat and I get lost in the spruce bushwhacking down Redington, following the tape trail of someone else who also must have been lost. But we finally figure it out after getting scratched and scraped and slapped around a bit, and find our way back to the summit of South Crocker by 2:20. Then off to North Crocker. Ahhhhhhhh...we are on a trail. Boy, all it takes is four hours of bushwhacking to remind you that having a trail is a pretty wonderful thing. We arrive on the summit of North Crocker at 4 pm, my feet killing me from my new boots, and both of us feeling the effects of our hiking. From there it is relatively gentle 5.2 miles down to our car.
As I write this report I realize I did not read the entries other people had written and placed in the canister. That missed opportunity makes me sad. Why didn't I? I guess I just didn't take the time or make the effort. I was intent on leaving a piece of myself, but not in the reciprocal of letting in the joy or the dreams or the accomplishments of others. We had three mountains to climb and our ritual is have lunch and go. But I wish I had taken the time to connect with others through their entries. As it was we offered a piece of ourselves, but we didn't get the joy of connecting with those who had come before.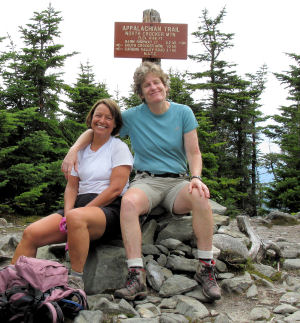 That makes me think about life every day - how easy it is to go through my day and not connect with others. It takes courage and a belief in myself to make a true connection. Often I am on a mission to get done whatever has to get done and I miss the moment when I could connect with someone. It requires conscious effort to lift my eyes and meet the eyes of another. It might be looking eye to eye with a person on a sidewalk, or in a meeting, or on spin bikes...anywhere. It might be showing my love to those I care for when they walk into a room. It might be taking the time to ask a friend how she is and then waiting patiently and listening for the real answer, my heart open. Connection comes in all kinds of ways, in seconds and over hours. And I know it when it happens because I feel the excitement of that connection. And I get to see the unique beauty in another human being. And it's available to me all the time! Little moments of connection waiting to happen - how exciting is that?
I don't want to be the person who isn't available, or only half available. I always want to be present and courageous enough to put myself, just me, out there, so I can take advantage of every precious connection moment there is. That would be really living, present in the moment, consciously. Wow - can I do that? I know it would make every encounter more personal, more beautiful, more meaningful. And I crave meaning in my life. Every moment, every day.
Like hiking up to the summit of Redington, connection takes work. Like bushwhacking, connection requires a big effort to really meet another human being, heart to heart. And like the canister on top of Redington, the connection opportunity is always there.
Heart open, eye to eye, wanting to know you, here I am.
A note to Sue and her standard poodle, Knucklehead, at the Stratton Motel - thanks for the ride to the trailhead and for your kindness to all hikers. We will see you again! Seven Maine mountains left in order to complete the 67 4,000 footers in New England!
60 out of 67 NE 4,000-Footers