Mts. Crawford and Stairs
Submitted by Pat

Stats
Mountains: Mt. Crawford (3,119) and Mt. Stairs (3,463)
Date: November 3, 2007
Time: 6.5 hours
Weather: Cloudy, 40's - 30's
Miles: 8.93
Elevation Gain: 2,451 feet
Steps: 28,503
Trails: Davis Path out and back
Holy Shit Factor: Comfort zone all they way

---
Picture Gallery

Video Clips
Nancy is cold
Stairs summit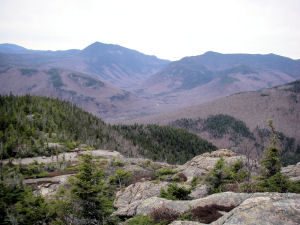 On the Wednesday before the hike, I see a big fat sun (BFS) on the weather report for Saturday so we decide to climb two of the 52 with a View mountains - Crawford and Stairs. Then the weather report shifts and begins to look more and more indecisive because of the track of Hurricane Noel. Late Friday night, we decide to go for it. Neither of us wants to hike in a cold pouring rain, but I figure we can stand a few showers and we have't been up to the Whites for a hike in weeks. I am suffering withdrawal.
We leave Keene at 5 a.m. and the sky doesn't brighten until we almost reach Lincoln. We stop at the Mountain Bean in Twin Mountain for our favorite sandwich (The Lost Pilgrim) and arrive at the trailhead around 8 a.m. Dejah (3 year old yellow lab), Nancy and I are geared up and heading out of the parking lot by 8:15 a.m. The sky is overcast and the temperature in the low 30's when we start out. The cloud deck is high enough that we can see Mt. Washington so I am optimistic that we will have a good day.
The first part of the trail is covered in leaves - nothing remains on the trees but bare branches. We shuffle through the leaves until we start to climb. That is a sweet little climb and my calves are feeling it by the time we reach the first view. [It's strange - last Saturday Nancy and I ran 10 miles in the rain and we recovered without any muscle soreness at all - they were slow miles - but after this 8.9 mile hike, I woke up on Sunday morning with my calves tight and sore. There is definitely something different and more strenuous about hiking that slow running doesn't touch.]
I walk up onto the naked rock and stand looking out over Crawford Notch, the Tripyramids proud in the distance, and feel such a powerful sense of completeness that I say to Nancy, "I love it up here."
Standing farther down the cliff feeding Dejah a treat, she turns, smiles at me, and says, "I do too."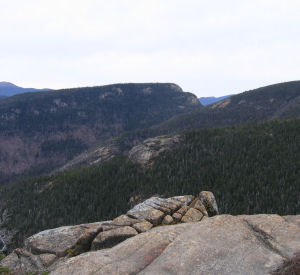 I turn back out to the view and say, "It is so incredible to be up this high, seeing this view that few people have seen, during weather that most people wouldn't even consider going out in. And here we are."
Nancy responds, "Like life. We hike like we live. We see things from a different perspective than many and we put ourselves in circumstances many people would not consider."
It's true - despite the thousands of people who hike these mountains, it is still a minuscule percentage of the world's population who actually see these views, get to know the flora and fauna of these mountains, test themselves against the steep rocky ascents and scrambles, and learn to love all kinds of weather. We are a couple of lucky women.
Once we hit the tree line, we encounter lots of ledges to walk on. It is amazing to walk on a bare rock trail while around us is a thick layer of moss and vegetation. Hundreds and thousands of feet created this thin naked path. So cool. We take a spur trail to the summit or Mt. Crawford, arriving at 10:10 a.m. Take some pictures, stand in awe of the view, such a different perspective of Mt. Washington. My thermometer says the temperature is 33 degrees and there is a skim coat of ice on the puddles in the pools on the summit. We head back to the Davis Path intersection before we become too chilled.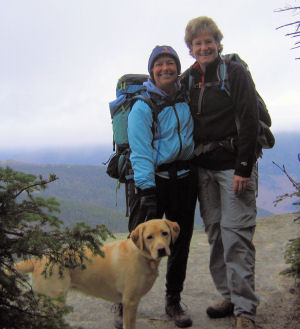 An hour or so later, we are both starving so we stop along the trail where there is some protection from the breeze that is starting to come up. Temps hover around 33 and despite Nancy changing into dry clothes both of us start to get colder and colder as we sit eating our sandwiches. It maakes me remember how hard it is to eat a relaxing lunch in the winter. Just isn't possible. Gotta eat and walk at the same time. Sandwiches freeze so it's a diet of gorp and power bars on colder days. Peanut butter and jelly does ok but the bread starts to freeze. Not like sitting on a hot rock in the summer with boots off feeling the breeze cool the sweat. Nope, winter hiking (or fall hiking in this case) is very different.
We arrive at the cliff overlook of the Mt. Stairs summit at 12 p.m. Clouds are starting to lower here and there but still no rain. We take a summit picture, high five number 11 of 52 with a View and start to hustle down, uncertain whether it is going to rain or not. The walk down is easy, even the steep stuff. We talk occasionally and walk in silence as well.
So much in my life is changing. So many fears are falling by the wayside. I swallowed a couple of pills last week, something I haven't managed to do in 20+ years. Hiking has helped me overcome my fear of heights. And I'm scheduled for Lasik surgery on the 19th so that I won't have to wear glasses while I hike or swim or river raft or play softball or run... I feel hopeful for the first time in my life and I am exploding into myself. We talk about this and I revel in how many fears are simple evaporating out of my life.
We reach the parking lot at 3 p.m., psyched to sit down, drink a hot coffee, and fall into the easy camaraderie Nancy and I share after every hike. Our bodies tingling with the exercise and exertion, our minds dancing with thoughts and feelings, our hearts full and present. The drive back to Keene flies by and despite the fact that we go out for dinner, I am always a little sad at the end of a hiking adventure when I have to drop Nancy off, say good bye and start the journey back into my other life. It usually takes a day for me to feel fully back at work and at home because I keep reliving moments during the hike, the sights and sounds and smells and feelings experienced when I'm in the mountains. And though I live my life fully in my work, when I exercise, when I spend time with friends, and at home, I am always thinking toward our next adventure. It is the food that feeds me.
11 out of 52 with a View