Mother's Day on Chocorua and the Three Sisters
Submitted by Nancy, dedicated to Marge Pyle, my birth mother, on Mother's Day.

"The life which is not examined is not worth living."
--Socrates

Stats
Mountains: Chocorua (3,500) and Middle Sister (3,340)
Date: May 11, 2008
Time: 9 hours and 30 minutes
Weather: Sunny, temperature in the 70s and 80s, light breeze
Miles: 9.2
Elevation Gain: 2,851
Steps: 32,237
Trail: UP - Piper Trail to Nickerson Ledge Trail to Carter Ledge Trail to Middle Sister Trail to Piper Trail
DOWN - Piper Trail
---
Picture Gallery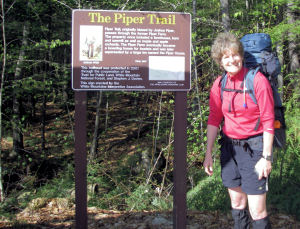 Whoooo Hoooo! Pat and I are back on the White Mountain hiking trails and it feels SO incredibly good.
We leave Keene at 5 am. I'm so happy to be heading north I don't even make a crack about getting up before dawn or whimper, "It's kinda early, Pat." As we approach the White Mountains, I am used to seeing clouds clinging to the highest summits. But today there is nothing but blue over our heads. We arrive at the trailhead and don our packs. Clearly I have forgotten that it is spring, not winter, and I brought everything imaginable and my pack weighs a ton. Instead of having to choose a fleece to leave behind, Pat offers to share the load. Aware there is still some of the white stuff above 3,000 feet, we hitch our snowshoes to our packs, which is where they stay all day.
We start up the Piper Trail at 8:30. Piper Trail - how fitting is that? And the trail is beautiful. But of course it would be, named after Pat. On the Piper Trail, enclosed in the woods, we talk about our February trip to Chile and all that we learned from the adventure. This self-examination and processing can be tough at times, but we stay honest and caring and grow from the experience.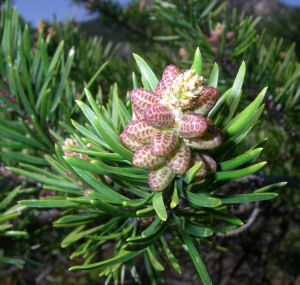 As we climb we can see two of the Three Sisters and Chocorua standing proud in the sunlight. Our hike up has lots of ledges, steep pitches, beautiful views, crystal blue sky, light breeze and new life bursting forth all around us. It's so wonderful to see the budding trees and delicate flowers -- nature springing into action after a tough winter. It is a PERFEECT hiking day and we are both reveling in the glory of the scene at our feet, the lakes getting smaller and smaller as we get higher and higher, the horizon filling in with bluish-purple mountains.
I had been worried that maybe my body had atrophied during our spring hiatus from hiking while we waited for the snow to melt. But I'm chugging right along; even the ledges aren't sending me over the edge of angst. We reach the top of the Third Sister at 12:15 pm, and I am filled with relief and joy that I can still get myself up the mountains. We have lunch, then do a brief dipsy-doodle and find ourselves on the summit of the Middle Sister where there are the remains of an old stone fire tower. We can see snow-covered Washington in the distance. As a matter of fact, we can see everything there is to see; a 360-degree view that includes many of the 4,000 footers we have climbed over the past two years. We continue on to the top of First Sister and head up to Chocorua .6 miles away. Some of the trail is covered with easily negotiable snow, from which I make a snowball and throw at Pat, amazingly hitting my target. The last half of the trail to the top is open ledge surrounded by only sky and anchored by gorgeous scenery. The top is crowded when we arrive at 2:15, but thins out quickly.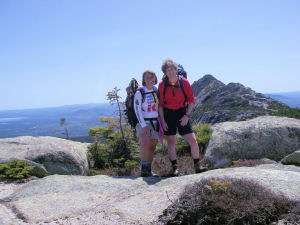 As we stand on the summit of Chocorua seeing the foreverness of the world laid out like a patchwork picnic blanket at our feet, I know in my heart this is why I hike. I love getting to the top under my own steam, and reaping the rewards of my efforts, standing with my best friend on top of a gorgeous view that always gives me a new perspective on the world. My problems seem smaller, the gifts of life feel larger, and I have a sense of wellbeing that settles into me. I feel like I could stay on the top forever.
Pat and I find a semi-flat ledge and lay our bodies down on the hot rock for a bliss moment in the sun. Ahhhhh.... As I lay there I am thinking this is the perfect way to spend Mother's Day. After all, it was becoming a mother that gave me the impetus to look for my birth mother. And that incredible search was the beginning of a committed quest to know myself from the inside out, which now manifests itself in climbing all the 67 4,000-footers in New England.
After maybe 15-20 minutes on top of the world, Pat and I reluctantly stand up. Before heading down, we chat with a young man on the summit.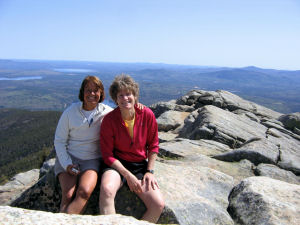 "What trail did you take?" he asks.
"We came up over the Three Sisters," Pat says.
"Wow, that's the hardest trail!" he says. "How many miles is that?"
"Oh, probably 9 or 10," she answers.
"When did you guys start?" He asks.
"8:30 this morning," Pat says.
"Wow" he says.
As we make our way back down on Pat's namesake trail, I find myself thinking about his last word - "Wow!" Wow is right. I have been profoundly changed by my experiences with Pat in the mountains. And it all started 20 years ago on a search for my birth mother. And it was on that journey that I found all I would need to summit mountains.
********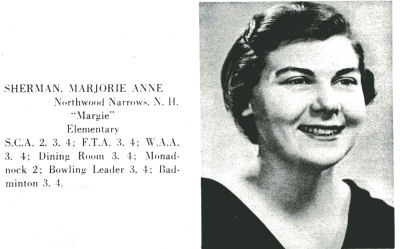 My parents adopted four children, including my twin brother, John, and me. I grew up having no resemblance, in any way, to my siblings or my mother and father. My parents told us we were adopted and were very clear that we should never need to know any more.
It was 1988 and Don and I had Kelly, age 5, and Jess, age 3. Watching the miracle of children unfold and blossom, like the flowers along the hiking trails, is amazingly beautiful. And it was even more amazing for me because Kelly and Jessie were mine. As they grew, I saw how they looked like me, smiled like me. I loved watching their personalities develop, seeing pieces of Don and myself in both Kelly and Jess. And in that realization, I knew I wanted to know more about where I came from.
At this same time my life was profoundly changing. Everything I though I knew, I no longer knew. The foundation of my life had shifted and was not strong enough to hold me up. I had started to remember my childhood and was coming to grips with those memories. My mother was a very unhappy woman who knew only anger. For 34 years I had been praying that someday she might love me. But, knowing what I had finally allowed myself to know, it didn't look promising. Maybe, if I could find my birth mother, I would have a second chance at having a mother who would love me. It felt very scary. But one step at a time, just like climbing a mountain.
I knew I was adopted through a State agency and, from my years volunteering for the United Way, knew of only one: Child and Family Services of NH in Manchester. I called them up on May 27, 1988, and asked if I was adopted through their agency. It took a few phone calls on my part and some searching on theirs, but the answer came back - yes. I had formally started the search and I felt alive with anticipation and fear, not unlike how I feel climbing over ice on a windy day in the Presidentials.
I asked the agency what they could share about my adoption. They explained that it was a "closed" adoption and that the only thing they could give me was an adoption summary with all the names, dates and places crossed off. They told me if I wanted contact with my birth mother, I would have to petition the court to find her and if she wanted contact with me, they would facilitate the process. I never considered going this route. I knew I would do this my own way.
I received the adoption summary, an 8-page typed document with dark black splotches covering all the important information. It was emotional reading, learning about my mother and her family and a bit about my father. It took me weeks to assimilate the information. Months to let it in. Tears came often in those days.
Through the summary, I started to find myself. "Mother is 5'2" with green eyes and brown hair. She uses her face and hands in an expressive way for indicating her feelings. She verbalizes easily and well, thinking through her feelings as she talks. She has been a stimulating person to work with." There I am, I thought, in my mother.
After months of reading and re-reading the document I had a few clues. First there was this sentence: "Miss. ______is a high school graduate and has completed two years of Teachers' Normal at Keene, New Hampshire, where she hopes to return in September 1954."
I also knew that my mother had to live in New Hampshire in order to put us up for adoption in a state agency. And I knew that Keene Normal School was Keene State College.

I noticed something very interesting about the adoption summary. It was typed using an old "pica" typewriter where each letter was exactly the same width. So I could draw vertical lines through the document and count the number of letters in the crossed off words. I knew my mother had a 7 letter last name, and a 17-letter hometown. I also knew I had a 7-letter first name, and John a 5-letter first name. When I figured this out, a memory surfaced from childhood. I remembered finding a piece of paper in a baby book in my parents' library. On top of the paper were the words "David and Debbie." Huh, David - 5 letters and Deborah, 7 letters -- it fit. I had been Debbie.
I called Keene State College and asked if they had old yearbooks available to the public. The woman said they did, on the 3rd floor of Elliot Hall. On a hot August day, during my lunch break, I went to the college, climbed the spiral staircase and settled down on the couch with my yellow-lined pad. I knew my mother returned for her junior year in 1954, so would have graduated in '56. I pulled out the 1956 yearbook and started writing down the name of every graduating senior with a 7-letter last name who lived in the state of New Hampshire. I had almost filled a piece of paper, and was in the S's. I turned the page and froze. Oh my God! I felt a wave of electricity run through me and I stopped breathing. There she was! I was sure of it. She looked LIKE ME. Marjorie Anne Sherman from Northwood Narrows, NH. Looking at her picture I finally felt like there was a reason for how I look, for who I am. I checked the number of letters. Her name fit, the hometown Northwood Narrows, 16 letters and a space, it fit. I was shaking, forcing myself to take huge gulps of air, tears stinging my eyes and rolling onto the yearbook page near my mother's picture. I slowly got up and gathered the '55, '54, '53 and '52 yearbooks to make sure she was in all except the 1954 yearbook, when she was having me. It all fit.
I had found my mother: Marjorie Anne Sherman.
I went downstairs to the Alumni Office, trying desperately to look normal and casual, and asked if they would look up Marjorie Sherman in their records for a current address. No luck. The woman said she was either dead or married. I asked if they had a married file and could she check it. "Here she is," the woman said. " Marjorie Lawton in Dover NH." Oh my God! She could be anywhere in the world and she was still in New Hampshire. I thanked the woman as calmly as I could and slowly walked to my car talking to myself the whole way. "Oh my God! I found her!"

I worked at NGM Insurance Company at the time and they sold insurance in the state of New Hampshire and had all the state's phone books. I went back to work, looked up Lawton in the Dover phone book and there she was. I had found her in one day!

It took me two months before I took the next step. Two months of holding onto the fact that I had been Deborah Sherman. That I had a natural mother who was alive, and living an hour away. Would she want to hear from me? Would she be angry with me for finding her? Did she want to have contact with me? Would she acknowledge me? Although I was afraid to write, I never questioned whether I would - I knew it was something I just had to do.

Nancy, Marge and John, the day John met Marge
In October 1988, I wrote her a letter. "Please read this when you have some quiet time alone. My name is Nancy Sporborg. I am a 34 year old, brown-eyed, brown haired woman with a twin brother and I'm looking for my biological mother...I want to tell you how sorry I am that you went through the pain and trauma of an unwanted pregnancy in the 50s. I can only imagine how hard that must have been...But I want you to know that all you went through was a gift to me. You gave me life. And now I owe it to you, and to myself, to make the most of this wonderful opportunity you've given me...I hope this letter has not caused you pain but perhaps has touched your heart - maybe enough for you to take the risk to write back."
A month later she responded saying, "Since I received your letter I have and am still examining and processing my pain and all those feelings I squelched for 34 plus years. I have never told anyone including my ex-husband and my children...Do you think we could meet somewhere? I long to see you."
On January 15, 1989, I drove to Dover to meet Marge. As I got closer, I could feel my heart pounding so hard I was afraid it would come right out of my chest or that I would have a heart attack. The noise and pressure of the pounding made me feel my head was going to explode. I was talking to myself, trying to calm myself down. "It's OK, Nancy. You're OK. You can do this." I drove in the driveway and a woman, who looked like me, around my age, was shoveling snow. I parked, opened the door and she came over to me. She took my hands in hers and said, "Hi, I'm Martha, Marge's daughter and I want you to know how happy I am that you are here. Go on in, Mom's waiting."

Already in tears, I rang the doorbell. The door opened and I found myself eye-to-eye with a white-haired woman with a big warm smile. She folded me in her arms saying, "Oh Nancy, I am so glad you are here." Then she pushed me away from her to get a good look at me, then pulled me to her again for an embrace. I went inside and over the next few hours she shared the story of my birth and I shared the story of my life. I felt found, re-claimed, loved and wanted.

Fast-forward almost 20 years. A few weeks ago we had a wedding shower for my daughter Kelly. Marge and Martha came. They were my only family there and I was touched to the core by their presence. And, I let it in. I knew they were there because they loved me.

Martha, Anne, Nancy and Marge this past winter
*******
I cannot imagine the strength it took for Marge to weather the difficulties, discomfort and loneliness of an unwanted pregnancy in the 50s. I cannot begin to understand the suffering and devastation of being sent away by furious parents to a home for unwed mothers in Boston, or the courage it must have taken Marge to deliver twins, alone, no visitors, and no contact from family or friends. Only days later in the hospital, a woman came and took her babies away while Marge sobbed. And then Marge lived her life as if it never happened. It took tremendous fortitude for Marge to acknowledge me, and tell her children and her family about her firstborn son and daughter.
There have been many times on the trails where I have been challenged and afraid, and I have had to dig deep to find the strength and courage to take the next step. I know where I get my strength and courage, along with my brown hair and short stature - I get it from my mother, Marge.
As we descend into the woods on this Mother's Day hike, my knees start to hurt, the 3-mile trail back to the parking lot feels more like 6 miles, and I am filled with gratitude. I am grateful that I am the mother of two beautiful daughters who look like me, laugh like me, love life like me. I am grateful that I have the opportunity to hike in the glory of the White Mountains almost every weekend, with the blessings of my husband, Don. I am grateful to have Pat, my friend and hiking partner, to share this healing journey. And I am so incredibly grateful to my mother, Marge, and my sisters Martha and Anne. They opened up their hearts and their families and welcomed me home.
On my journey of self-discovery, blessed by my husband and children, my experiences hiking mountains with Pat, and my birth family, I am sure I am the luckiest person in the world.
15 out of 52 With a View