Climbing from Summer into Winter on the Carters
Submitted by Pat

Stats
Mountains: South (4,430) and Middle Carter (4,610) with Carter Dome (4,832
Date: September 19, 2009
Time: 10.5 hours
Miles: 14.2 miles
Steps: 49,659
Elevation Gain: 4,449 feet
Trails: 19 Mile Brook Trail to Carter Dome Trail to Carter-Moriah Trail and over the Mt. Hight Loop and back down 19 Mile Brook Trail
Dejah: 36, 37 and 38 of 48
Pinta: 14, 15, and 16 of the 48

---
Picture Gallery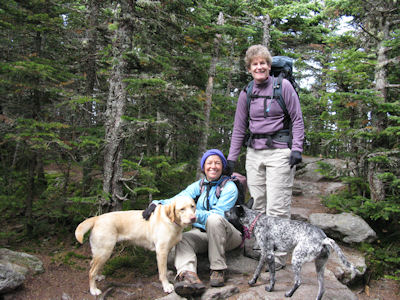 #36-#38 for Dejah the wonder lab and #14-#16 for Pinta the Puerto Rican rescue. Nancy and I start out this hike feeling physically tired. Long days running into the night, but decide to give the Carters with the possibility of bagging Carter Dome as an option. We know the drive is going to be a long one so we don't stop at Tilt'n Diner for breakfast - Dunkin' Doughnuts does the trick. The weather looks variable - windy, partly sunny, and when we get to the trailhead, it's actually cold. Wow, when did fall happen? I missed it when I packed my backpack. Although I bring gloves and some extra clothes, I'm not in full on winter mode.
Once on the trail, it doesn't take long for both of us to pull over and take off some layers. The 19 Mile Brook Trail is relatively flat and we walk fast. Both of us are quiet. I am fairly quiet by nature; Nancy is quiet and today is an exception. In companionable silence we reach the intersection of the Carter-Moriah Trail and start the real climbing. Switchbacks make our ascent more reasonable than some of straight up pitches we have found in the Whites. Through the trees I can see Carter Dome, and yes, that white stuff on the pines is rime ice. Oh my - I'm not ready for this.
The wind is brisk and the dogs are full of themselves as they explore the trail - Dejah stays close to us while Pinta runs back and forth up and down the trail and off into the woods, mouths open in a constant panting grin. They are happy girls. We reach Zeta Pass and meet a couple of hikers resting on the bench - we say hello and one of them volunteers that this is the day they will be getting their 48th on Moriah after tagging Carter Dome in the morning. Nancy and I whoo hooo and I hug one of them and high five the other. I love when we can celebrate someone's accomplishments. I am so happy that they tell us so we can share in the fun.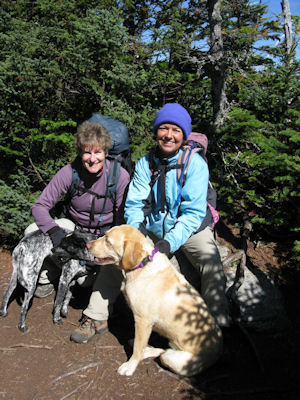 We know we want to bag South and Middle Carter, but don't know if we will have the poop to tag Carter Dome as well. We do not really want to come up and do this hike again - not that it's not beautiful, it's just that we are getting ready to move on to the 46 ADK's and are looking for new territory. The ridge walk on the Carter-Moriah Trail is beautiful - I love ridge walks - the wind is blowing all the ice off the trees so it was almost like it is raining up there - ice melting and falling onto our heads and shoulders. And it is cold - neither of us is used to it and it comes like a splash of cold water. We both add extra layers and Nancy can really use some chemical hand warmers. I know I had them in my hand and asked her if I should bring them and she said sure. So I look in every nook and cranny of my pack before looking at her with a sad face and telling her I can't find them.
It doesn't take us long to reach the cairn that marks South Carter's summit. So interesting to walk this trail in the summer - our first and only Carter trip was a winter hike and everything looked so different. This feels almost like a new hike. Very cool. We find the lunch spot we stopped at on our winter hike and eat our lunches. The dogs stand by hoping for a bite or two. My peanut butter and jelly sandwich tastes wonderful. Sometimes PB&J is the best hiking treat ever.
We head out after lunch and tag Middle Carter in short order. Adams, Madison, and Washington are beautiful in the stark mid-day fall sunlight. We take human and canine summit pictures and head back to Zeta Pass for our decision point. We sit on the bench and eat a snack, change socks and decide to go for Carter Dome. Both of us still have some legs left and off we go. The climb surprises us - it's not steep and we reach the summit in a little under an hour. We take summit pictures and capture the views and head back down, very pleased to have had the strength to bag all three peaks.
As we pass the loop for Mt Hight, Nancy asks if I'm up for it. I don't spend much time thinking about it - I take the detour and we break tree line shortly after. The wind, however, is not in a playful mood and is battering us about - no other hikers around - we take some pictures but don't hang around too long - we miss the trail to head down and find it again. And what a descent that is! Steep, rocky down, down, down, down, down - we look at each other, imagining what we would have felt like if we had chosen to ascend on this part of the loop. It would have killed us - I had heard that one side of Mt Hight was a challenge - we lucked out on this one.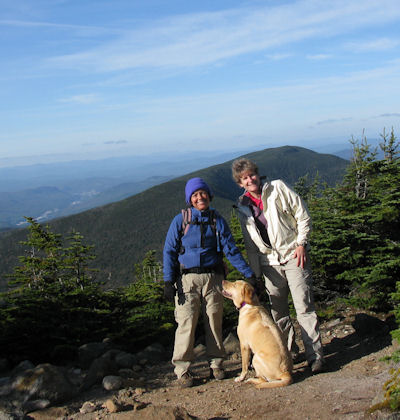 It seems to take forever to get back to Zeta Pass and we don't stop for long before heading back down the Carter-Moriah Trail to the 19 Mile Brook Trail. Another lesson learned - I need to check the batteries (and make sure I have spares) in my headlamp every time I hike, not once in a while. When I put on my brand new headlamp it is dead. I know I have extra batteries, but they are buried deep in my pack so I follow Nancy's light until we reach the intersection of the 19 Mile Brook Trail - I stop, dig into my pack, change batteries and KAZOWW bright amazing light! While I'm doing this I hear Dejah barking back up the Cater-Moriah Trail. I don't think much about it until we are ready to start down and Pinta is missing.
I call her and call her, walk back up the trail, look for her in the brook, listen for her barking or crying - what is she doing? Is she dead? Drowned? Injured? Attacked by some forest monster? She's not even my dog? What am I going to tell her owner? We're not spending the night here waiting for her, I can tell you that. Each time I feel myself going to the place of paralysis and panic, I pull myself back and keep calling. I walk the trail for ten minutes and nothing - Nancy is worried - she thinks we just might be spending the night. I don't even let myself think those thoughts. It's 15-20 minutes since she disappeared when I see her eyes glowing from my head lamp as she runs as fast as she can down the Cater-Moriah Trail and back into my arms.
We celebrate her return and I assure Nancy that I will watch her like a hawk. It must be because it's dark that she is wild to go off trail and check everything out. Her wildness finally drives Nancy to ask me to leash her and I do. The tension of her being free is quickly reduced and we make our way to the parking lot, where we change into clean clothes and sit down while the car warms up. The relief of having Pinta in the car - both dogs immediately crash on their beds in the back - is powerful. We talk about what we would have done had she not returned - how long would we have waited? I don't even want to go there so we cut it short and head into Gorham for dinner. At least Sunday we have a day off - no exercise, just rest and recovery. We feel good about our decision to go for it - bag all three peaks - and that puts us in position where we only have 10 more 4,000 footers to get Dejah's patch. Success!