South and Middle Carter
Submitted by Pat

Stats
Mountain: South (4,430) and Middle Carter (4,610)
Date: March 24, 2007
Time: 8.5 hours
Weather: Sunny, calm, temps near 50, clouds in the afternoon
Miles: 11.9
Elevation Gain: 3,380
Steps: 33,462
Trails: Nineteen Mile Brook Trail to Carter Dome Trail to Carter Moriah Trail and back
Holy Shit Factor: It was a long way back...

---
Picture Gallery
Up early (3:45 a.m.) to meet Nancy in Keene by 5 a.m. Load the car and we are off. I am coming into this hike with a sore knee and wonder how it will hold out. But I push the worry out of my head and turn my attention to the task at hand. The weather forecast is calling for a quick moving storm to hit early evening and drop anywhere from 1-6 inches of wet snow on the area. I am hoping it will hold off until we get home safely.
We park at the trailhead and start out at 8:38 a.m. It is 27 degrees, cold enough to bareboot our way up the trail. Outside of an icy section close to the trailhead, the rest of the trail is coarse and provides pretty good traction. We aren't sinking into the snow at all, but I know that is going to be short-lived. Nineteen Mile Brook is much more talkative than it was last week. More melting and I can feel the difference in the air and hear new bird calls. We walk in good spirits, the sun shining, enjoying the day and each other's company and reach the Carter Dome Trail an hour later.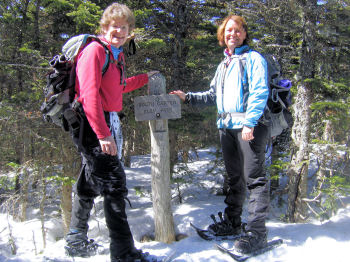 Last week we put on our snowshoes at this point, but the trail is packed and we continue barebooting up toward the base of the mountain. Through the leafless trees we can see Carter Dome looming above us, so daunting and the distance so deceiving. We are glad we are heading to the north and can't see where we are going. When we hit the steeper section of the climb the trail starts switchbacking up the ridge through mostly coniferous forest. This is territory we covered last weekend so it isn't as fresh and new as most trails. Both of us are feeling good, enjoying the day. Nancy is sweating and I am too, although not quite as profusely.
We reach the top of the ridge and the Carter-Moriah Trail at 11:06 a.m. Yes! Virgin territory we have never seen before. I am psyched. No one has been on the trail since last weekend and we start post-holing almost immediately. On come the snowshoes and on they stay for the rest of the hike. The ridge trail up to South Carter undulates through boreal forest. The sky above the trees is so blue it pierces my heart. Views off to the west show the eastern side of the Northern Presidentials. Stunning. Views ahead show the northern Carter Range and behind us Carter Dome and the Wildcats. We feel so lucky and so happy to be up there with the sun shining on our faces. There is really nowhere we would rather be.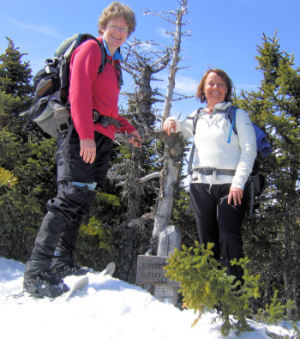 We reach the South Carter summit (elevation 4,430) at 11:45 a.m. and take a couple of summit shots before moving on across the ridge and immediately we start a steep downhill climb. I love going up. It is my thing. I get into a rhythm and just go. My muscles hurt, my calves burn, I can feel the power in my quads, my lungs suck air, and I know this is the good stuff. But downhill - downhill sucks for me. I don't like it. My toes jam into the toe box of my boots and my knees start their descent into throbbing pain with each downhill step. I can almost feel the microtears that I am told happen in the quadriceps during the constant braking motion going downhill. And in snowshoes, it's even more challenging - my feet suddenly become twice as wide and long and there are crampons on the bottom. Stub one of those crampons without keeping your weight back and you are a faceplant waiting to happen. On maybe the third or fourth steep downhill pitch I have to run down the last ten feet or fall on my face. I turn back just in time to see Nancy do the same thing but can tell she is going too fast and boom she falls face first into the snow. At least it is soft snow and not a tree - I laugh so hard I cry. The look on her face, her windmilling arms, the out of control descent is a funniest home video in the making.
Half an hour later we come upon a rock where the snow has melted. It is calling to us - sit here and eat your lunch, it says - and so we do. What a view! Northern Presidentials to our right, South Carter, Carter Dome, Mt. Hight and the Wildcats to our left and behind us the peak of Middle Carter jutting out into the blue sky. This is the first lunch we have eaten on a cold weather hike where we can actually sit down and eat a sandwich that isn't half frozen. I love peanut butter and jelly and it withstands the cold really well, but I am tired of eating PB&J and am ready for a turkey and Swiss roll up. Yum. We lunch from 12:20 p.m. to 1 p.m., a much needed and thoroughly enjoyed respite.
We reach the summit of Middle Carter (elevation 4,610) at 1:22 p.m. The summit sign (yes, two peaks with summit signs!) is buried in snow so we almost walk by it. We take a summit picture and start back down, knowing after 6 miles that this is going to be a long slog back to the car. I am feeling the effects of the climb up and know we have a few steep uphill sections to go before downhill is all that is left. Although I am tired, I enjoy the uphill climbs and dread the miles of downhill ahead. It takes only an hour to reach the Carter Dome Trail intersection and down we go. Mile after mile. The clouds have overtaken the sky and the temps drop a bit, but it is still in the 40's and comfortable.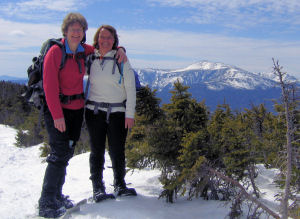 My knees are tired and sore, but my feet are the hardest hit. Nancy is also dealing with foot pain - blisters and boot pressure making the last miles closer to torture than pleasure. We are mostly silent - both lost in our own thoughts, dealing with our pain in silence. Maybe a mile and a half from the trailhead, Nancy slips and goes down hard on her hand, over-flexing her knee. She recovers quickly but something is damaged and she feels the effects for the rest of the hike. Both of us are absolutely ecstatic to get to the parking lot and take off the snowshoes. Heaven, bliss, ahhhhhhh. And the bliss keeps on coming - sitting down feels like - well, it is wonderful. We drive down to Pinkham Notch and change clothes and boots, open our post-hike beverages - Diet Pepsi for me and Diet Peach Snapple Ice Tea for Nancy - and begin our 3 1/2 hour drive back to our dogs and homes and husbands and day-to-day lives. But not before we spend those 3 1/2 hours talking about the hike, reminiscing about other hikes, wondering at the will and the passion and the courage and strength it takes to climb 48 peaks in less than a year, anticipating our Rim to Rim to Rim Grand Canyon adventure this June and what new adventures lie ahead. Kilimanjaro in 2008?
42 out of the NH 48
48 out of NE 67
50 out of the NE 100 Highest