Mt Carrigain - Peeling Away Another Layer
Submitted by Pat

Stats
Mountain: Mt. Carrigain (4,700)
Date: December 29, 2006
Time: 8+ hours
Weather: Sunny, windy, cold - teens
Miles: 10+
Elevation Gain: 3,299
Steps: 24,682
Trails: Signal Ridge Trail
Holy Shit Factor: A Struggle


---
Picture Gallery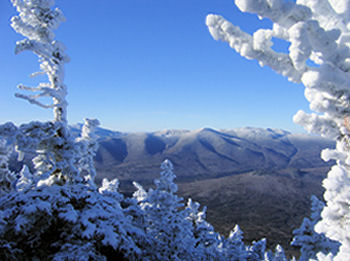 This hike report is mine to write because this hike is a canvas on which I choose to paint with my anger, my depression, my withdrawal, my blank hopelessness. The emotional shift about which I am going to write started around four to six weeks ago. There is no exact day - it has all happened subtly and without much fanfare. Prior to Christmas vacation, I blame the pressures of work for my short temper, my inability to be at peace with myself and to enjoy life. I have explored this through various means and come up with different possibilities as to causes but no definite answers and no clear way out.
The hike day begins when I arrive at Nancy's house and reintroduce Luna (my 2 year old Aussie) and Dejah (Nancy's daughter's 2 year old lab). They haven't seen each other in a while and had been best of friends. Dejah bounds out of the house with her favorite stuffed animal in her mouth, tail wagging, so happy to see me, and Luna takes her down. She stands over her, growling and won't let Dejah move. It isn't a full blown fight, but the assertion of dominance is strongly proclaimed by Luna before she finally lets Dejah go and off they go chasing each other all over the yard. Not an auspicious beginning, but I chalk it down to the fact they haven't seen each other for a while and hope that is the last of it.
Dawn comes just north of Concord and by the time we see the Franconia Ridge, the pink glow of early sun looks stunning against the icy summits. I can't get enough of looking at those big peaks. They are absolutely perfect. It takes a while, but we finally find Sawyer River Road (gratefully still ungated by the National Park Service) and two miles down to the Signal Ridge Trail parking area. There are four or five cars in the lot when we pull in, which gives me some qualms. I thought for sure we would be alone - I don't know why - it is a beautiful day for a hike, sunny and cold with views for miles. Luna surprises me and ignores everyone we meet. I think I have dodged another bullet...
It always takes more time than I expect to gear up at the trail head, especially in winter. The pants, the boots, the socks, the gaiters, another layer, what goes in my pockets, what goes in the pack and where. What a production! And by the time I get everything on, my hands are freezing and I am ready to head to the closest diner for a good breakfast. We start off at 9:08 a.m. and maybe 2 tenths of a mile later run into our first problem - a stream crossing. The low rocks that are not submerged are coated with ice and the only decent footing is provided by the rocks that are large enough not to get wet at all and those below the level of the water - they are just slick. We walk up and down the bank trying to find a good crossing spot. A lone hiker comse up behind us and makes it across; he stays on the other side and encourages us, offering us a hand and his guidance. We both make it across only to find a second crossing immediately afterward.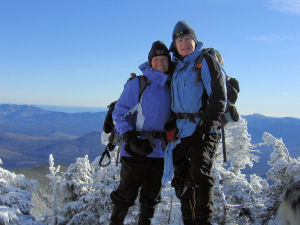 The first crossing makes me tense - the second one sends me close to the edge. I am angry at myself for not suggesting we bushwhack to avoid the crossings altogether. I feel stuck and anxious and when Nancy suggests she inch across a tree trunk, I tell her that if she falls in that will be it for the day. She turns back toward me on that note. After scoping out the situation I start to cross and less than ten feet from the shore, I slip and fall - soaking my rear end, the bottom half of my pack, both arms and two layers of my shirts. I look at the hiker who has been trying to help us, thank him and tell him that I am done. I drag myself back to shore and start to walk back to the car. I am beyond fury. This is supposed to be my birthday hike - how can this be happenening? And why me? Stupid, unanswerable questions and I silently ask them anyway. Nancy asks me how she can help and I shun her. What can she do? I am angry and frustrated and embarrassed. I can't think of any way she can help me except to make dry clothes appear and to build a couple of bridges to cross the streams.
With black thunder roiling around my head, we walk back to the car. I mentally inventory what dry clothing I have left and how wet I am where I have no clothing to replace. I decide I am not going to give up and take off my outer two layers and put a dry one over my damp long underwear. Nothing I can do for my wet ass. I figure it will dry out or freeze. Thus prepared, we start bushwhacking at 9:54 a.m. to avoid the water crossings. I feel none of the resilience I have felt on previous hikes when confronted by adversity, none of the joy or the ability to find humor in the moment. Nancy gives me the space to talk if I want to and I try to make sense of how I feel as we trudge through the woods. We finally find the trail and continue our conversation. I usually look around, notice things, enjoy the moment, but this time I just look down at the trail and move forward.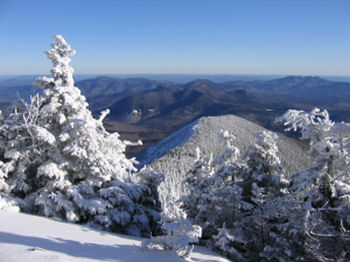 The first 2 miles of the trail are gentle and fairly flat. The lower half of my pack is frozen from the fall which makes it feel heavier than usual. My poles have also frozen in position so I can't telescope them and put them away. It is hard for me to be with myself with the anger and self-recrimination that I feel. I can only imagine what Nancy is feeling. Onward we trudge. When the path begins to climb it is exactly as the guide book states: "a long steady climb". It isn't what we usually climb, no huge steps and boulders to scramble over. We only find one spot where we have to use the trees at the side of the trail to pull ourselves up. This is a good thing. The snow is packed down and we have great traction - no need for STABILicers.
After having talked for a bit, I feel better but remain pretty firmly ensconced in silence for the most part. I can't find my joy, the love of what I am doing, and the enjoyment of being with my hiking partner. I feel dead inside.
Luna starts acting up when we meet a pair of hikers who have a female dog with them. I don't see them in time and Luna attacks. She comes when I call and I pull her off the trail so they can pass. From then on she acts aggressively toward any other hikers that come down the trail - and we see maybe ten more people come down. It is high stress for me since I have to pull her off the trail while they pass by. All the hikers talk about how cold and windy it is crossing the ridge. We are ready...or so I hope. This is our first real experience with wind and cold. As we approach the tree line and the ridge exposure, I stop so I can change into warmer clothes and put on a face covering and mittens with liners. Nancy does the same, but unbeknownst to me she is having trouble finding her glove liners - they are inside her hat - and her fingers become very cold. Thank goodness she has chemical hand warmers already warm to put into her mittens. When she warms up we head up to the ridge. It is cold and windy but not scary. I don't feel like the wind can knock me off my feet, although I certainly can feel how quickly exposed skin can freeze. I have little of that so I am not too worried. I try to look around - the Presidentials are in full winter majesty with a coating of ice and snow. My eyes are watering and I can't wear my glasses because they keep fogging up from my breath through the face covering.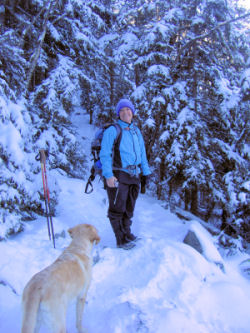 After we cross the ridge, we still have a ways to climb to reach the fire tower at the Carrigain summit. I try to imagine what the ridge and the climb up to the tower looks like in the summer. It is a pretty trail. We finally reach the summit at 1:54 p.m. We take some pictures, but my tension is high - my feet are cold and I am still suffering from the emotional crap brought about by the fall in the water, Luna's behavior and the cold. I am also hungry and have waited too long for food. We walk a ways down from the summit where we are more protected to eat. As we are getting the food, Luna attacks Dejah - this time it is a full out attack and I have to pull her off twice before I finally grab her and tie her to a tree. I am so angry, so finished with her behavior, that I nearly lose it. My sandwich tastes like cardboard and even the Hazelnut cocoa that gave us such pleasure on Mansfield barely brings a smile to my lips.
It am too cold to linger so we pack up and head down. I try to keep Luna on a leash but I am so angry I keep yanking on her so I let her go and she and Dejah work out enough of a relationship to be near each other without fighting. But I am on guard the entire three hour descent. Nancy and I are both feeling pretty tired but we, well, better said, she puts on her best face and we head down. I am still stuck inside my head. The walk down is not as hard on my knees as other hikes and I think it is the hard packed snow evening out the trail bed that provides that luxury. When we hit the flats and know we have around 2 miles to go we put on our headlamps and keep on going. There is something really special about walking in the woods at night with only a LED headlamp for light. We find the bushwhack spot and hit the parking lot at 5:47 p.m. It is such a relief to stop moving and head to the local convenience store for hot coffee.
Nancy offers me space to talk on the drive home and I try. My state of being has been less than optimal now for 6 weeks or so. I react to everything. I take it on. I feel like I have a constant low grade fever and can't get full blown sick. The joy I felt during the summer and fall when we were hiking was palpable. Even when bad things happened, I took them in stride. I was resilient and laughed a lot. Lately I hardly even smile and everything is hard. I don't know how to get out of my own way. I'm not sure what's going on. But I do know I don't want to live this way. I don't want to abuse my friendship with Nancy by being such a drag all the time. I want my other self back.
On the eve of my 52nd birthday, I feel determined not to stand by and be beaten by whatever is happening to me, with me, in me. Somehow, some way, I will pull myself out of this and regain my inner peace, my sense of joy, my sense of humor, and my love of hiking.
1 out of the Winter 48
37 out of NH 48
43 out of NE 67
44 of the NE 100 Highest