Mts. Cardigan and Firescrew
Submitted by Pat for Dejah

Stats
Mountains: Mt. Cardigan (3,121) and Mt. Firescrew (3,064)
Date: October 6, 2007
Time: 6 hours and 30 minutes
Weather: Sunny, hazy, 60's - 70's
Miles: 6.18
Elevation Gain: 1,922
Steps: 19,609
Trails: Holt Trail to Clark Trail to Mowglis Trail to Manning Trail
---
Picture Gallery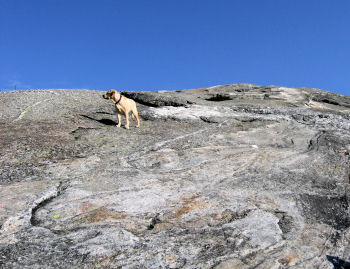 Hi, my name is Dejah and I'm a Yellow Labrador Retriever from the English line, shorter and stockier than my lighter American cousins. I'm almost 3 years old and my person is named Jessie. But my person on Saturday's is definitely Nancy. On Saturday's she takes me hiking and I love hiking. It's my best favorite thing. Better than chasing the tennis ball or chewing on a pig's ear. It's the best. When Pat's car comes in the driveway on Saturday morning at 5:30 a.m., I am ready to rock and roll. Me and my stuffed animal - all 65 pounds of me - say hi to Pat when Nancy opens the garage door. Whoo Hoo! Party time! Of course, I have to ride in the back, but I don't care. We're going hiking.
The drive up to the AMC Cardigan Lodge is pretty boring. I sleep most of the way. I don't care much about seeing colored leaves or talking about work stuff. I'm a dog and I'm perfect. I don't have to work. I just play and hike and sleep and hang out. Pat and Nancy talk and their voices lull me to sleep. When we arrive at the parking lot, my people put on their boots and leave me to wait it out in the back of the car. I am sooo ready to get out I keep bouncing up and down like my front legs are pogo sticks. Boing, boing, boing. Let's go! Finally they open the door and I run around the parking lot, sniffing everything, peeing, and checking out the lay of the land. "Come on, you guys, let's go!"
We finally starte up the trail at 7:53 a.m. The sun is trying to come out, but it is still pretty hazy and the temps are just right for a dog hike. I run ahead and stop, making sure Nancy and Pat are with me, run back to them, then run ahead again. That's my usual pattern when we first start a hike. Smelling where other dogs have peed and people have walked. Leaves and dirt and lots of smells - perfect for dogs. We head down the Holt Trail and come to a bridge over a stream. Yes! Water! I jump in the deepest dippy pool can find - then I look at them, dripping and smiling and waiting for something to happen. Pat throws some sticks for me but I am too excited about the walk and can't concentrate. I feel cool and wet and ready to shake myself all over them. Several times. Yes!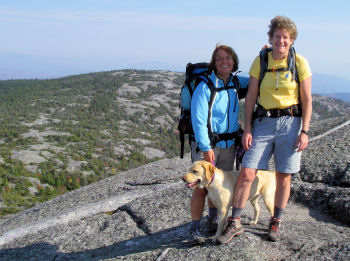 Pat wants to hike the upper Holt Trail, which is a class 3 trail, but I don't, so for the first time, she gives in and we go up the Clark Trail instead. It is so much easier not to have to scrabble up ledges and feel anxious about whether or not I can do it. I love going down, but sometimes going up is hard and scary and I cry even though I'm not a baby. I just can't help it. I cry and then I jump and I almost always make it. When I don't make it, Nancy or Pat is there to give me a boost. It's all good.
Anyway, we go my way and it is easy to walk on the rocks as we come out above tree line. Huge open areas of all rock, with these mounds of rocks called cairns that Pat and Nancy have to take pictures of or put rocks on every time we pass one. I think we'll never get to the top. But we finally do around 9:40 a.m. I am pretty thirsty by that time and the sun is out and Pat and Nancy are taking pictures and oohhhing and aahhing over the colors and the beautiful day and the fact that there are hardly any people on this popular peak. I am hoping I'll find someone who is up there eating a sandwich that I can mooch. No such luck. When Pat and Nancy sit on a rock in the sun for half an hour, I busy myself sniffing around in the bushes and even find some things to eat. I am a happy dog. There are a couple of kids hanging around and they want to pet me but I am more interested in hanging out with Nancy. Pat takes pictures of us sitting there and then we start down the rock pile toward Firescrew.
Nancy and Pat stop and eat their sandwiches around 11:30 a.m. - Nancy gives me a rawhide thing to gnaw on. But when I look at what they're eating and what I have, I am more interested in their food than mine. But they won't share so I settle down and chew my rawhide. I gulp that thing down in three chews and am ready to go, but Pat and Nancy lie in the sun for hours, talking and laughing. I'm bored. Finally they pack up and we start off. I am bounding around minding my own business when I see something out of the corner of my eye and I think it's a bear so I charge at it and bark. Rouf!! Scare Pat out of her mind. Teee Heee. I see it wasn't a bear but a man who is taking a picture of some old mountain cranberry. Boring. And then we have to stay and apologize and talk to the guy for ten minutes before we finally move on.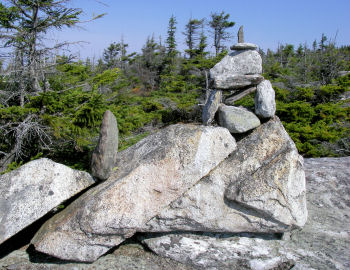 By the time we're half way down the Manning Trail I am finally getting a little tired. I'm really thirsty and we stop so they can siphon some water from their camel backs into my plastic fold-up water dish. Takes them three refills to make me happy. After that I assume my favorite end-of-the-hike position - right on the heels of the person leading. I get clocked on the jaw a couple of times but it doesn't hurt. I'm tough and besides I'm exactly where I want to be. Sometimes when Nancy is leading and she whacks me on the mouth with her foot, she lavishes me with sorries and pets me and talks to me in a way that makes me wonder what she is doing. I forget about the tap on the jaw three seconds after it happens. I am a happy dog. I live in the moment. I am perfect.
When we get down to the lodge at 1:40 p.m. I find a pond - oh joy! Oh rapture! I jump in full bore and drink and drink and throw up and drink some more. It's great! Then Pat gets a big fat stick and throws it for me. I run and jump into the water - soooo happy - get the stick, bring it back, shake myself all over my people, and do it again and again and again. Finally they've had enough and we walk back to the car. I jump into the back and sit there grinning and dripping all over everything. Then I settl down and sleep all the way home. It's a perfect end to a perfect day.
9 out of 52 with a View