Cannon in Winter
Submitted by Pat

Stats
Mountain: Cannon Mountain (4,080)
Date: January 28, 2012
Time: 5.5 hours
Weather: Sunny, 30's to low 20's, light breeze
Miles: 5.6
Elevation Gain: 2,432
Trail: Lonesome Lake Trail to Hi Cannon Trail to Kinsman Ridge Trail and back


---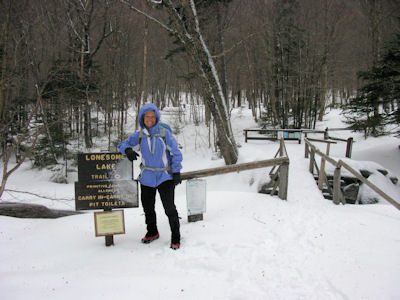 We know we have limited time because tonight we are presenting our 100th performance of It's Not About the Hike at the AMC Highland Center so we pick a mountain and a trail that will get us up and down and back to the lodge in time to shower, eat, set up, and present. So we choose Cannon. Smith and Dickerman's Four Thousand Foot book talks about the trail options. One being the Kinsman Ridge Trail, 2.2 miles of steep up that opens into what is called the glade and is sometimes difficult to follow. The second option is the Hi-Cannon Trail at 2.6 miles. We've been up this one twice before so it's a known entity and even though we are cautioned that the ladder can be slippery in winter we give it serious consideration.
I hate being lost, and even though I am much better now with map and compass, and probably couldn't even get lost, I shy away from the Kinsman Ridge Trail. I acknowledge to myself that my anxiety is that of a five year old in a crowded department store having misplaced her mommy, and I remember that panic and it seeps into me even now at age 57. Hi-Cannon Trail wins.
After a quick breakfast at the Tilt'n Diner we head up to Franconia Notch and park at the Lafayette Campground. The lot is almost full and we're lucky to get a space. Gearing up always takes a while - boots and gaiters and layers and last minute things that we feel sure we'll need, like crampons. Finally we're ready and we start off wearing microspikes as we wander along the relatively flat Lonesome Lake Trail. Very soon we reach the intersection of the Hi-Cannon Trail and decide to put on our snowshoes. We wear snowshoes for the rest of the day.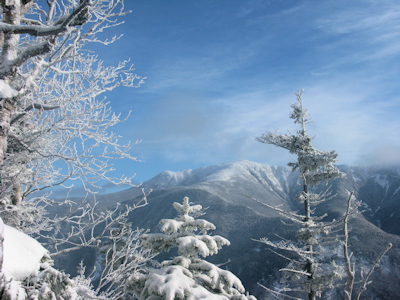 As we climb the sun comes out and the wind that had been predicted doesn't materialize. It is a soft, blue, hazy white day. The trail had been broken out by one person days/storms ago so we are breaking trail through a couple of inches of powder and a thin ice crust. Traction is good with snowshoes. And up we go. It's warm, temps in the 30's in the valley - what a treat!
The trail starts out steep and remains steep, with small variations between impossibly steep, fairly steep, OMG steep, and reasonably steep. We trade off breaking trail and stop often for water. The unexpected warmth has us both sweating and we drink more water than we usually do on a winter hike. The first part of the trail is a series of switchbacks, so it could be worse. This is the fairly steep section. When we are high enough to start seeing views of the Franconia Ridge we begin traversing the mountain and have to take care not to step too close to the edge or risk slipping down the side of the ravine or falling into a spruce trap.
I'm using my poles today and getting a great upper body workout. Nancy borrowed a pole for the two water crossings but she almost always climbs unaided. Every so often we ask each other where the ladder is, but neither of us has an answer, so we keep climbing. Finally, there it is. There are two ladders bolted together to aid the hiker up and over a steep 30' rock. Nancy starts up first wearing her snowshoes because the ladder is covered in snow and ice and is more like a ramp than a ladder. Footing is tricky so we move slowly. Nancy is out of her comfort zone. She doesn't like this. I tell her she's doing great, keep going, nice and easy, I am right behind you. I make sure since I am following her that I have good, solid foot and hand holds as I'm climbing, just in case.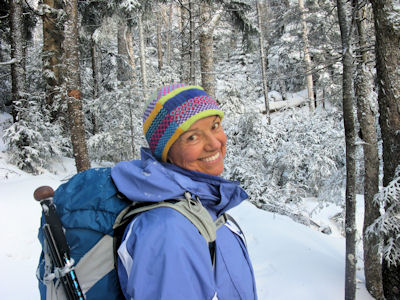 As she reaches the top and is trying to find a handhold and purchase for her feet, she slips and starts sliding down toward me. It's a horrible feeling to lose purchase on a downward slope covered in snow and ice without much (anything?) to stop your fall. She slides a few feet before I brace myself and put my hand up and stop her by holding her snowshoe steady. She is able to recover her balance and get passed this nasty section, but the adrenalin burst leaves her feeling a little shaky.
Now the trail is unrelentingly steep, the trees are more stunted and we can see the sky. White, rime ice coated trees and branches against a backdrop of bluebird sky. I love it up here. It's so special, so incredibly beautiful, so wild, so dangerous, so perfect.
Nancy and I are quiet on this hike, spending our energy moving our legs so we can get to the top and every step is an effort. Step after step after step….effort. We reach the intersection of the Kinsman Ridge Trail and though the trail signs are clear and we check the map, when we merge on the trail I feel a sense of something not being right with our direction. I look again at the map and Nancy explains, but I still feel like we are going the wrong way. I question Nancy who is certain we are on the right trail going in the right direction. I even start back so I can re-read the trail signs but stop half way and decide to trust Nancy and let go of my sense that we are going the wrong way.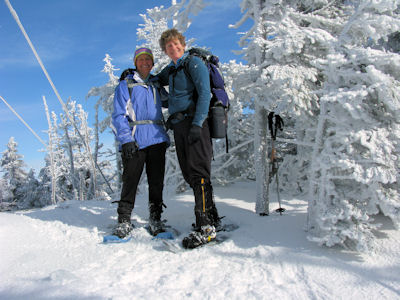 Ten minutes on the Kinsman Ridge Trail and we spot the top of the Cannon Tower. We made it! It takes us 3 hours to get to the summit, but we stopped to rest and drink and delayer so 3 hours is just fine. I eat a PB&J sandwich while Nancy strips to bare skin, takes off her wet layers and puts on dry ones. It's cold up there, but not as cold as it has been on other climbs and we're able to enjoy a snack though we don't climb the ice rimed tower to check out the view. Three young hikers reach the summit and immediately go up the tower.
We start down and wow it is really hard to go down these steep ledges on snowshoes. We can't really glissade because of the ice crust under the snow and a few times I have to literally go down backwards because it feels like I'm going to fall forward and I really don't want to fall. So it's a slow, and for me, torturous descent. We arrive at the top of the ladder and decide to take off our snowshoes and put on microspikes for the descent. I start down first and although the backclimb is hazardous, it doesn't frighten me as long as I am slow and careful and focused. Nancy makes it down and we go through the process of taking off microspikes and putting on snowshoes.
Back to it we make good time and find ourselves in the switchbacks before we know it. We may have made good time, but I am ready for the end of the trail way before it finally shows up. It seems to go on forever and my knees are hurting. I fall a couple of times, nothing dangerous, no bruises or blood, just down on my butt in slow motion. For some reason getting up is almost impossible. What is happening to me?, I ask myself. Here I am in a squat and I can't find the muscles to push myself up to a standing position, despite using both my poles and with Nancy's help. Nothing is there, no strength at all. This doesn't feel so good. Guess I had better start working on strengthening my legs. I don't remember it ever being this hard to stand up from a squat. I fall twice more with similar results. It's exhausting and I feel ashamed that I need help to stand up. Tears leak out of my eyes.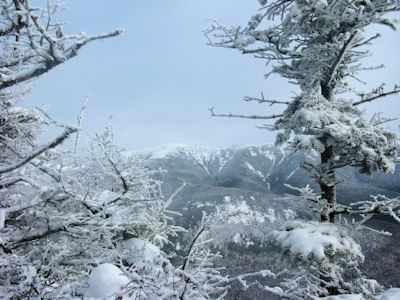 Come on, buck up - you can do it. Get to your feet and no more falling!
So I get to my feet and continue down the trail, following Nancy. We arrive back at the car and it feels so good to sit down, but we are still wet and quickly find ourselves chilled. I start the car and head off to the Highland Center where the young woman at the desk gives us keys to a room on the third floor. Wow, we've never been up on the 3rd floor before. Nancy opens the door and cries out with delight - we have a suite, a double bed, a bunk bed, even a chair AND a private bathroom. Nancy showers first so I can get online and check on my cyberlife. When it's my turn the water is hot and feels so good I sit on the molded bench in the shower stall and let the water flow over me, breathing, eyes closed, rapturous with delight.
That evening Nancy and I present our 100th It's Not About the Hike Presentation to an enthusiastic audience of around 25 people. Present in the audience is Eileen, the young woman who saw our very first presentation in Keene and went on to climb the 67 4,000 footers in New England on her own, inspired by her own passion and by listening to our stories. So great to see her. She brings us four dishes filled with 100 chocolate hearts. And next to her is Bob, the man who became Eileen's hiking mentor, sharing his vast knowledge of hiking safety and the importance of preparation and responsibility when climbing these big mountains. I love hearing him exclaim when he sees a slide of himself that we took this past summer when we climbed Jefferson and Adams. The audience is warm and appreciative. A perfect 100th presentation.
But after getting up at 3:45 in the morning, driving 3 hours, climbing a mountain and doing a presentation, I am ready to go try out those flannel sheets on my bed, lay my body down and - finally - rest. My last thoughts as I drift off, "#23 of the winter 48. We can still do it. Woo Hoo!"
23 out of the Winter 48