Cannon and Our 100th Presentation
Submitted by Nancy
---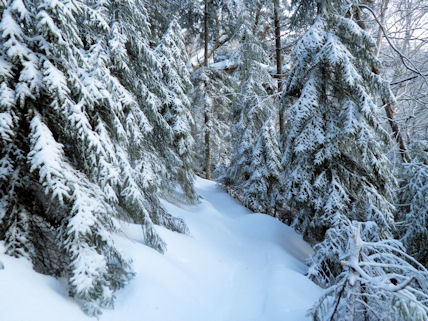 Our 100th It's Not About the Hike presentation is coming up and I want to mark the moment. I ask our Facebook fans for ideas. I think about what the number 100 means to me - it's easier to eat 100 calories than burn them off (not helpful). I call the Highland Center to see if they can make a cake. When they can't, I consider making one. Nothing feels right. The days fly by and before I know it Pat and I are driving north, the car packed full of presentation equipment and hiking gear, and we are no closer to a celebration idea.
But we've got time. We're going to take a six-hour detour and hike Cannon on the way up to the Highland Center, hopefully bagging a winter peak before giving our presentation in the evening. Cannon Mountain is a short 2.6-mile hike straight up 2,350 feet to the tower atop the 4,000-footer, so maybe the sheer effort will stir up some creative energy. The temperatures are warm and the sun shining. We are following the snowshoe steps of a lone hiker, breaking through an inch of crusty snow, giving us good solid footing on the Hi Cannon Trail.
Zigzagging up the switchbacks, we come up with an idea. What if we get everyone to yell as loud as they can right before we start the presentation? We laugh, imagining it. Whenever Pat and I are feeling anxious or emotionally clogged or angry, we yell as loud as we can -- a full-on, give-it-all-you've-got, louder-than-loud scream of vitality. The effort always makes me all tingly inside; it feels like my body is made of carbonated love and it's whizzing around inside filling me with an I-can-do-anything life-is-full-of-possibilities attitude. Actually…that's how I feel after bagging a peak. Huh...it is also how I feel after giving the presentation.
As I negotiate the Cannon steeps, vignettes of past presentations flit through my consciousness.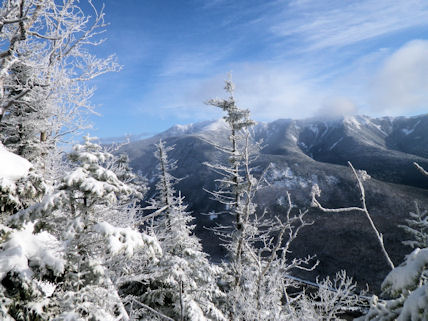 I am standing in a half-historical-society-half-library amidst 150-year-old baby carriages, signs, and gadgets in a 100-degree church attic in front of 8 people. The fan in the window way up near the ceiling is whirring loudly in concert with the piercing beep…beep…beep of the low-battery fire alarm too high up on the wall for anyone to reach.
A loud unexpected commotion just as we finish speaking makes me look up from my computer to see people moving, pushing their chairs back, standing and applauding. Everyone in the Hancock Public Library is on their feet, clapping their hands, smiling back at us. I remember the buzz of feeling both embarrassed and overjoyed.
We're used to speaking to adults who laugh, tear-up, smile, nod their heads and ask questions. We give our presentation four times in a row to teenagers. Many of the kids have their eyes on the floor or in a book, others have their eyes closed, some looked at us with blank faces. After the third program a young woman with red curly hair walks up to us, and says, "Can I give you a hug?" The next day a woman says to me, "Hey, did you speak at KHS? My daughter told me about it and she never tells me about school. She was really inspired." Another woman shares, "Hey, my son told me about your presentation. He loved it!"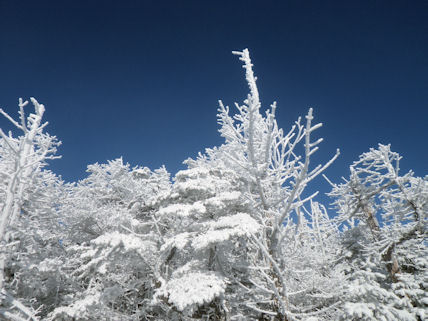 The man is older, with white hair, dressed in outdoor working clothes and carries himself with a sense of gravity and sincerity of purpose. He walks into the town hall with my book. He tells me he is adopted and is very touched by my adoption story. He looks directly into my eyes and asks me if I will autograph his book.
The local audience is assembled, waiting patiently with anticipation. But we cannot get our projector to recognize our computers. There is a big fat nothing on the screen. At the last minute Pat calls a co-worker at Keene State College who hops in his car and brings us another projector.
The Balsams Grand Resort gave us a free room and delicious 5-course gourmet meals in exchange for a presentation. I picture us speaking to hundreds in a huge theatre. Instead we are in the tiny first-in-the-nation Voting Room, speaking before the man who hired us, and two women who announce they are tired and will only stay for a while.
"Not many people come to hear authors speak," the librarian says. She has 40 chairs set up in Heberton Hall, a large auditorium next to our local library. I silently pray someone will come. People start arriving. Then more people, and then more. We scurry around setting up chairs. After we start, people continue to stream in, setting up their own chairs wherever they can. Over 100 people!
Back on Cannon, the rhythm of my audible breath and effort of my steady steps up, coupled with the sound of my snowshoes breaking the thin ice crust, act like a meditation and I find myself back in the moment, aware of winter's beauty all around me. We reach the tower on the summit, have a snack, and head down the steep mountain. We arrive back at the car feeling exhilarated. My iPhone gives me the following close-enough stats: hiking time: 5:33, distance: 6.59 miles, ascent: 2326 feet, calories: 1055.
---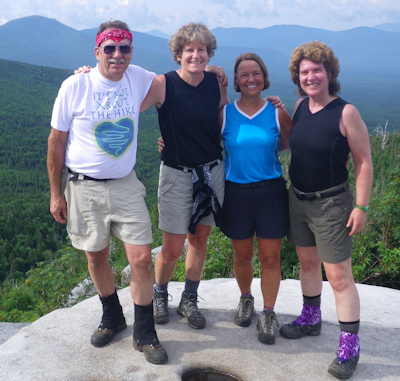 Eileen and Bob are sitting in the front row of the Highland Center Webster Room, elbowing each other and laughing every time they see a picture of themselves in the opening slideshow.
Bob Humphrey was eight years old when his Dad took him on his first hike up Mt. Washington. He loved it the second his feet hit the trail. "When my Dad passed away I started hiking again, this time as a healing thing," says Bob. "I got the idea to set foot on the tops of New Hampshire's 4,000-footers in my Dad's memory." After climbing the 65 highest peaks in New England (now the 67), Bob decided to attempt the New Hampshire peaks again in winter. He tried registering for AMC hikes but was often turned down due to lack of winter experience. Bob met Kevin Rooney at an AMC meeting, they became fast friends and hiked most of the 48 in winter together.
But, it's not really hiking that makes Bob stand out. It's his desire to share the experience with others that makes him so special. In 2000, Bob and Kevin created the Winter Hiking Series, a course that teaches the dos and don'ts of winter hiking and includes winter hiking experience on 4,000-footers. Bob's hope was that none of his students would be turned down on a winter hikes for lack of experience. He's taught the course each year since to 20-25 students. "I get a kick out of watching people in the Winter Hiking Series and seeing it click for them. I love winter hiking so much that I want to give it to anyone who wants it."
Eileen Scannell was one of those people. Eileen was on her way to the dump when she happened to glance at the newspaper she was about to throw away. On the front page was a story about our It's Not About the Hike presentation taking place that morning. Eileen drove to Keene, arriving a few minutes late for our very first presentation in 2009. Inspired by our story, she signed up to climb her first 4,000-footer, Mt Hale, with AMC leader Bob Humphrey. Bob and Eileen hit it off. "Eileen was like a sponge, asking questions and wanting to learn. She was ready for it," remembers Bob. Bob became her mentor, helping Eileen begin her quest to climb the 48 highest mountains in NH. They went on many AMC hikes together and then Eileen took the Winter Hiking Series. She has since climbed the 67 4,000-footers in NE, many with her friend Bernie, who is also in the audience. Eileen is working on the hundred highest and the 48 in winter. She never misses an opportunity to tell Pat and me that our presentation changed her life.
We are about halfway through the presentation. We are telling the story of our winter hike down Mt. Kinsman when Pat and I told each other what we love about ourselves. "I love that I find meaning in everything," I say. The thirty people gathered in the Webster Room at the Highland Center are completely silent. As I continue, my voice catches as the emotion welling up inside starts to seep out into the open. "I love the mother in me." A sob clogs my airway and I struggle to keep it down. I've been near-tears giving the presentation, but this is the closest to crying I have come. "I love that I lived through a difficult childhood because that has made me who I am today." I take a deep breath and look at the audience, then immediately lower my eyes.
Then it occurs to me. It is this very act of saying something truthful about ourselves out loud, to others that helps us more deeply understand and appreciate who we are. The audience members are our witnesses. Each person sitting here tonight, and the thousands of audience members before them, has kindly, patiently, encouragingly and enthusiastically witnessed us telling our story. In essence, the audience holds us up as we share the shame of being overweight and the addiction of alcohol, our fears of strong winds and deep snow and exhaustion, our learnings from the mountains and our moments of triumph. Each audience member is a kindred spirit joining Pat and me on our journey.
Eileen, Bob and Bernie come up and give Pat and me big hugs after the program. And as people leave, they thank us. Then I finally get it. We didn't need a gimmick to celebrate our 100th presentation. The audience, special because of those we know, and those we don't, graciously joined us on our journey back into the mountains, witnessing and honoring our experience.
When we yell as loud as we can, bag a winter peak, give our presentation or share a hike report - it is all the same. Each experience puts us out there in the world, in our hearts and vulnerable, reminding us of who we are. These are the acts of being fully alive and they are celebration enough.