Blessed by Winter in October
Submitted by Nancy and Pat

Stats
Mountain: Camel's Hump (4,083)
Date: October 21, 2006
Time: 5.5 hours
Weather: Cold and windy for October!
Steps: Forgot to check my pedometer
Elevation Gain: 2,562
Miles: 4.8
Trails: Burrows Trail to the Long Trail to the summit and back
Holy Shit Factor: High with the surprise of winter

---
Picture Gallery
The plan: drive to Burlington, VT, Friday night and climb Camel's Hump on Saturday. Weather forecast looks favorable - sunny with temps in the high 40s. Get psyched! And Pat and I bring a very special guest - my husband, Don. When he climbed Camel's Hump with me a year before, he had a very hard time, so he is a bit apprehensive about this hike. But he wants to join Pat and me as we claim our 36th peak - he's such a good guy.
We leave at 5:30 p.m. from Keene, have dinner in a steak house near Quechee, VT, and meet a snowstorm head-on along 89 North. OK, folks, we're not talking about a little bit of snow, here. We're talking about wind gusts that threaten to blow the car into the other lane, snow pelting the windshield and sticking to the highway, in close to whiteout conditions. There are cars off the road everywhere, hazard lights blinking on vehicles all around us; we are in a white-knuckle-oh-my-God-please-may-we-make-it blizzard. Pat is a hero and gets us to Burlington safely. We all slowly take a collective breath, bring our shoulders back down from kissing our ears, loosen our clenched teeth, take major pain relievers and hit the sack.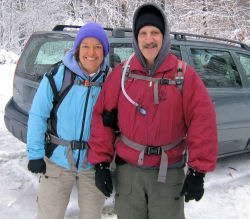 We are at the trailhead at 9:37 a.m. Saturday morning. OK folks, I have in mind a nice fall hike, NOT. There are four inches of snow on the ground at the trailhead. I expect it on the summit - but at the trailhead? And it is 35 degrees when we start up. I am worried about Don, knowing he's already apprehensive about the hike and now has snow to contend with.
We each make a mistake in judgment getting ready for this hike - keep in mind the sunny-with-temps-in-the-high-40s thing. Pat didn't think she'd need stabilicers, why would you on leaves? So she didn't bring them. (But she brought those chemical hand warmers which more than made up for the stabilicers in my book. Of course, it would, because I got to use the hand warmers and I brought my stabilicers.) I didn't think I'd need my warm mittens so I just brought a pair of light fleece gloves. Don, believing the weather report, brought his mesh-topped Merrills to hike in - no need for heavy winter boots on a beautiful fall hike. These were all wonderful opportunities to learn important lessons before the mistakes become more costly.
At the trailhead we plan to take the Burrows-Forest Connector to the Forrest City Trail to the Long Trail and do a loop. It is my favorite trail. But no one has broken the trail yet and I remember there is a steep section with a warning not to attempt it in winter without a compass because it is very hard to follow. We make a wise decision and take the Burrows Trail, which had already seen many boots before ours.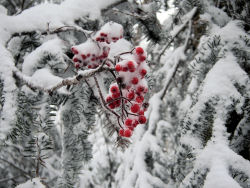 The trail is gentle; paralleling a brook for much of the way, then ascending more steeply as we near the summit. The trees are covered with snow and it is white all around us - no color, no fall leaves, no blue sky, no bright sun - just white under us, around us, and over us. We are literally in a winter wonderland and it is breathtakingly beautiful.
I say something about the weather not being what I expected and Don says in reply, "We are blessed." Wow - what a gift his words are. He reminds me in three words that I am one of the luckiest people in the world. To be hiking in the beauty of winter, together, with my hiking partner and my life partner - I am truly blessed.
Every once in a while we come across a "Hi" written in the snow, a greeting from hikers before us. Pat replies with a "Hi" etched in snow with her pole -- hikers gracing each other's journeys, sharing in a way only winter intends. As we ascend, the temps go down to the low 30s and the wind picks up and I start adding layers. About three-quarters of the way up, Don and I stop to put on our stabilicers while Pat puts on her rain pants (not that her rain pants will help her walk on ice - but they will keep her butt warm as she slides down the ice!) I fool around with the stabilicers for what feels like forever, and freeze my fingers in the process. I break out Pat's hand warmers and stick one in each glove and give two to Don whose hands are also freezing. Within five minutes I feel the icy hot pain of my fingers coming back to life. Wow - those things really work! Pat is again a hero in my book. I'm pretty sure I hear Don singing an ode to Pat in thanks as we begin our ascent again.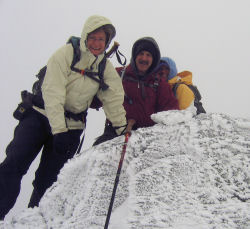 Although footing is pretty good much of the way, there are definitely icy spots where the stabilicers provide peace of mind. Pat makes her way along the trail carefully with the help of her pole.
We reach the tree line and all of a sudden find ourselves in a cloud of white, rime ice on the tree branches on our left, snow covering all the shrubs on the right. We hit the summit at 12 pm. It is 23 degrees, but with the wind chill it feels like it is in the teens. My guess -- the wind is a steady 25 miles an hour with gusts up to 40 miles an hour. All I really know is it reminds me of when I was skydiving, free falling over Australia - holy SHIT! I can't hear a thing -- and if the wind isn't loud enough my rain jacket hood flapping next to my ear is the icing on the frozen ice cream cake. It looks like we are in a white freezer with a high-speed mega fan blowing directly on us - feels like it too. It is difficult to find the summit because visibility is probably 10 feet at the most. We see a cairn, no summit sign, don't see any more up and assume we're on the top. Before we are blown off the peak, we decide to take a picture and head back. Pat sets up her camera and puts on the timer while I shiver for a wild and woolly moment and Don becomes one with the extreme elements. We get a picture of all three of us in the freezer. We marvel at the force of nature all around us - it is freeze-your-ass-off cold and blow-you-off-the-mountain windy -- a wild, exciting, exhilarating, amazing adventure.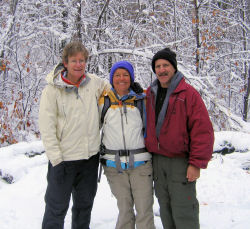 We head off the summit back into the safety of the tree line. Once in the cover of the white rime iced trees, Don says in a voice full of wonder, "That was great!"
By this time the trail has seen lots of hikers and the path is a kind of ice and dirt stew with chunks of snow, rocks and grit floating in the muddy slush. We are surprised to meet lots of people hiking up the trail. Some are in short sleeved shirts, others in jeans, many are trying to keep their boots dry -- not going to happen, don't even bother.
Hiking down the mountain is a bit anti-climatic, especially for Don whose head is still on the summit being blown away by the thrill. As we near the car, Don says, "That was easy!" He is a hiker after all!
We arrive back at the car at 2:16 p.m., change our soaked boots and head off to Mirabelle's in Burlington for Cafe Latte's and whoopee pies. Whoooo Hoooooo!
36 out of 67 NE 4,000-Footers
37 out of 100 Highest